Who said you cannot eat yummy food when on keto diet? Healthy food does not need to taste bland, and this keto Tex-Mex wrap is one of the best examples to proove this. Try it for yourself!
Flavorful Tex-Mex-style beef filling is used with egg wraps and vegetables. The main "trick" to make this meal really keto is to use this carb-free homemade egg wrap instead of a traditional tortilla.
Egg Wraps And Taco Filling
You can find both the egg wrap and the Tex-Mex taco filling recipe in this website, just click on the links for more detailed instructions.
Other then these main ingredients, I use some vegetables to make it a complete meal. My choice are red onions, cucumber, cherry tomato and avocado. (BTW the latter two being fruits technically…) But of course you can use your choice of vegetables to make this dish even more versatile.
As far as the sauce, I simply leave it out. First and most importantly, you won't miss it. Really. This recipe is complete in itself. And the other reason behind leaving the sauce out is that using a diary based product might be controversial for some of you on the Keto diet. But if you're good with sour cream or full-fat yogurt, mix them with some dried dill and keto-friendly oil, and you got a nice sauce to complement your keto wrap.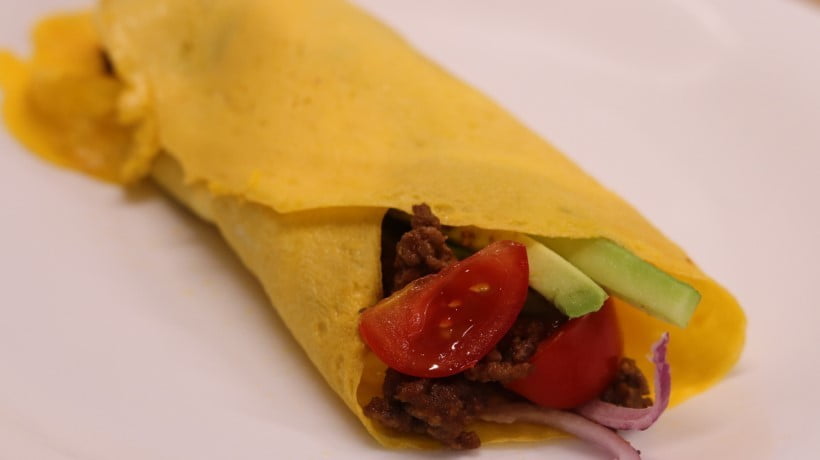 Keto Tex-Mex Wrap
Yummy keto wrap with Tex-Mex style beef filling
Ingredients
Tex-Mex Filling
1

pound

ground beef

⅔

cup

onion

chopped

2

cloves

garlic

2

tbsp

oil

use keto-friendly oil or fat

2

tbsp

ground cumin

½

tsp

cinnamon

½

tsp

chili

½

tsp

salt

¼

tsp

black pepper

ground

6

tbsp

tomato purée

1

cup

water
Egg Wraps
8

eggs

salt

to taste

oil

use keto-friendly oil or fat
Vegetables
1

avocado

1

red onion

1

cucumber

8

cherry tomatoes

cilantro leaves

optional
Instructions
Beef Filling
Start by chopping the onion and mincing your garlic. If you use whole cumin, grind it.

Sautée onions in a pan in the oil over medium heat for 4-5 minutes. Add cumin, sautée for 1 more minute. Lastly add garlic and sautée for another minute.

Add ground meat and cook for 6-8 minutes over high heat. Wait for all the liquid to evaporate and meat to become brown.

Add remaining spices: salt, black pepper, cinnamon, chili peppers. Also add tomato purée and water.

Fry for 6-8 minutes over high heat, let all the liquid to evaporate.
Egg Wraps
Prepare your egg wraps one by one, using only 1 egg at a time. Beat 1 egg very vigorously for 30-60 seconds. Heat your pan over high heat until hot, than turn the heat down to low before adding the fat and the egg mixture.

Lightly oil your pan. Pour in the egg mixture and with a slight left-right-forward-backward motion let the egg spread over the whole surface of the pan.

Cook your egg wrap over very low heat. After 1-2 minutes, when the surface of the egg is completely solid, detach it from the pan with a rubber spatula with delicate motions. Turn the egg wrap with the spatula or just simply holding it in your hands. Cook the other side for 30 seconds. Cook all your eggs one by one until all your wraps are done.
Assembling
Prepare the vegetables (red onion, cucumber, cherry tomatoes, avocado) by slicing them or cutting into small strips.

Place one egg wrap on a plate. Add 2-3 tablespoons of the beef filling on one side.

Add some vegetables, according to your taste. Top with some cilantro leaves.

Fold in the lower part of the egg wrap, then turn it over to form a wrap. Be careful, it is much more delicate than a regular tortilla wrap.