Making chicken soup from a whole chicken is not only probably the easiest way to prepare a soup, but it is also one of the most delicious, flavorful, nourishing meat soups that you get as a result. Make this warming treat on a cold fall or winter day, and your life will become happier as if by some magic!
Preparing the soup is really a no brainer. You literally put the ingredients in a large pot with some water, bring it to a boil and let it simmer for some time.
But there are still a couple of tricks that make this soup exceptional, tasty and crystal clear; The latter being one of the most difficult challenges when making whole chicken soup.
7 Tricks For Clear Whole Chicken Soup
Blanche the meat first. Put it in a pot, cover with water. Bring the water to a boil on high heat, boil the chicken for 1 minute and pour off the water.
Rinse the chicken after blanching.
Wash the pot thoroughly after blanching the chicken. Or use another, clean pot for the soup.
Only use medium heat to heat up the water. Never let it boil, turn down the heat before it even starts to simmer. This way it will take more time, but if you let the soup boil even just for a couple of seconds, it can easily become cloudy.
Don't boil the soup, just simmer it on the lowest heat.
Once ready, strain the soup through a fine mesh sieve before removing the meat or the vegetables.
Leave the last 1-2 cups of whole chicken soup in the pot. Don't strain it as it will definitely make your liquid cloudy. You can discard it or use as a chicken broth.
The Best Chicken Soup From Whole Chicken
Other than my tips above, there are really only a couple things that you might pay attention to in order to make the best chicken soup from whole chicken.
Maybe the most important tip, as with literally all recipes, the ingredients. For the chicken, I find that free range, larger chickens work best in this case. Try to find a 3 1/2 – 4 pounds (1.5 – 2 kg) chicken.
As for the vegetables, you are free to use any root vegetables or anything that you would put in a broth. I used carrots and celery, but feel free to add parsnip, turnip, kohlrabi, celery root, parsley root etc.
Last but not least, simmer the soup for 2 hours. This is needed in order to that full umami flavor to develop.
Preparing The Ingredients
It doesn't matter how large you cut the veggies and the chicken. They will cook for a long time, and I find it does not affect the taste yet it makes it much easier to prepare this soup if you leave everything in large pieces. My chicken came prepared like that (with just one leg LOL), didn't even had to bother cutting it.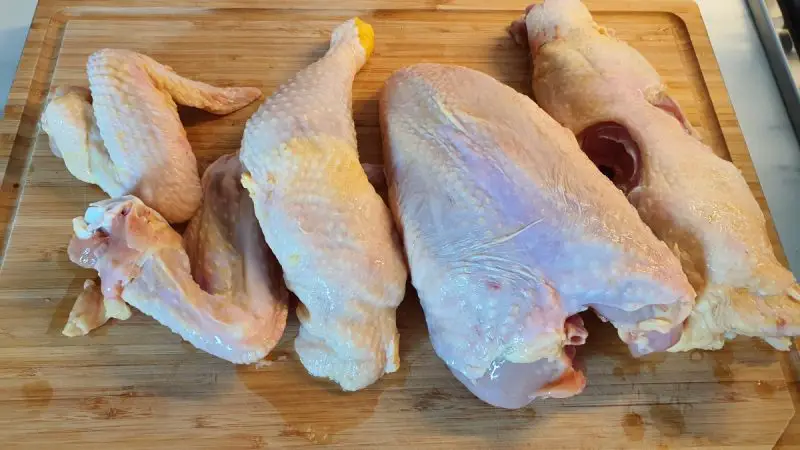 Very important though! Don't throw away the back and wings and other bones. They are the most important part of the chicken when it comes to making a good and warming chicken soup. And this is a whole chicken soup recipe anyways, use the whole bird!
Remove the very fatty parts though. Free range chickens sometimes have some loose fat added, or any loose skin. Back in the day this was important as this gave "strength" to the soup in the form of calories, but today you would just skim the excess fat anyway at the end.
How To Serve Whole Chicken Soup
Regard this as a base recipe, and serve this chicken soup as you like it most.
Basically it is a nice soup even by itself, just the broth. I guess it's some kind of souped up – literally? – bone broth.
The easiest way to serve it is with the carrots and the meat you cooked it with. Don't worry, if you follow my recommendations the meat will be soft and juicy even after being cooked for 2 hours. It is in fact more poached then cooked due to the very low heat.
Matzo balls are a common way to serve this soup with, but you can add pasta or even cook other vegetables just to serve them with the soup.
Whole Chicken Soup
An extremely easy to make warming treat
Ingredients  
1

whole chicken

2

carrots

about 10 ounces or 300 g

4

celery stalks

about 8.5 oz or 250 g

2

bay leaves

10

black peppercorns

3

quarts

water

17

g

salt

about 3 tsp, but use according to how salty you like your soup
Instructions 
Cut the chicken into larger pieces. Don't throw away the back and the bones.

Peel the vegetables and cut them into larger pieces.

Put the chicken pieces in a large pot and cover them with water. Bring it to a boil over high heat and blanche for 1 minute. Drain the water, rinse the meat and clean the pot. This is an optional though very recommended step if you want a crystal clear broth at the end.

Put the meat in a large pot. Add all other ingredients, including the cold water. Cover with a lid.

Start heating over medium heat. Turn down the heat way before it starts simmering. Simmer on the lowest heat for 2 hours.

Skim the excess fat if necessary with a spoon.

Strain the soup through a fine mesh sieve and serve.