When you are cooking rice, or making any kind of rice dish for that matter, the quantity can be an important question. In other words, you need to know how many cups of rice you should use per person.
The Simple Answer
I have a very simple answer to this question. I am going to give you some more tips below on how to measure your rice, but let's see how many cups of rice per person first.
If no other instructions are given, use 1/2 cup of rice per person or 1 cup of rice for every 2 persons.
1 cup of rice is around 200 grams (the exact value depends on the type of rice), so 100 grams of rice per person is what you should use for a general recipe if using weights instead of cups.
How Do You Use The Rice?
The more elaborate answer to the question 'how many cups of rice per person?' is of course it depends. This 1/2 cup per person ratio is a good rule of thumb for any dish where rice plays a main role. Fried rice, rice pilaf comes into my mind to illustrate this to you.
But there are other situations where rice is only a side dish or maybe just one of many other ingredients. Say you want to serve some Indian food or a bowl of chili con carne over rice. You would definitely need less rice per person.
But the exact quantity really depends on the situation; how you serve your food, and of course how hungry the people you are feeding are. I would say 1/4-1/3 cup, or 50-70 grams of rice is what you should calculate with per person in that case.
It's Always Better To Overcalculate Rice
There is another way to look at this, and that is not to worry about making too much rice. And not only because rice is such a cheap ingredient; I don't really want to encourage anyone to make food just for waste.
But there is our old friend, fried rice, that was invented for such situations. Not only the tastiest way to reuse leftover rice, but this dish specifically needs day old rice in order to be perfect.
So don't worry about making too much rice, you can make good use of it later. Check out my basic egg fried rice recipe, learn how to perfect this favorite Asian dish and never again worry about how much rice to use per person.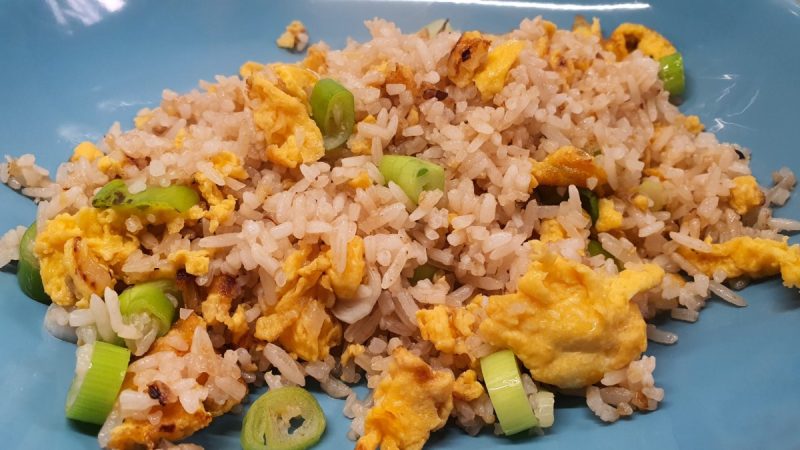 How Much Cooked Rice Per Person
Please note that when you measure cooked rice, it's generally double the quantity of raw rice by volume. So if we need 1/2 cup of raw rice for every person, that means that you can count with 1 whole cup of cooked rice for everyone you want to feed. That's also a great measurement tip for fried rice by the way.