Egg fried rice can be one of the most controversial recipes, just watch a couple of Uncle Roger videos. But still it is one of the staple dishes of Asian cuisine, very delicious and easy to make at home.
In this recipe, I'm going to show you a very easy egg fried rice version. We can call this the basic egg fried rice recipe. What's important though that while it is very simple indeed and we use just the minimum amount of ingredients that's needed to make authentic egg fried rice, it is perfect in at least two ways:
It is extremely delicious. You'll learn that by being easy, a recipe still can be mouthwatering and something that you want to cook every other day.
It gives you the most important basics of making perfect egg fried rice. You need to start with the basics if you want to perfect any knowledge, no exception here. And this might be the missing link for you to be able to prepare some Asian food that your friends and family will be asking for again and again.
A Few Tips On Making Perfect Egg Fried Rice
The most important tip for making a perfect fried rice is to have all the ingredients prepared and at hand before starting to assemble the dish. This is called mise en place and it is essential for the preparation of Asian food.
The preparation of egg fried rice is so fast that you won't have time to prepare, chop, or wash anything wile you are cooking. Therefore put everything on the counter, including your measuring cups, chop all the ingredients beforehand and only then start heating up your pan.
Wok Or Nonstick Pan
The first question you should ask is okay, but what kind of pan should I use for my egg fried rice?
This is an Asian dish, originally prepared in a wok. It will have a distinct taste when prepared that way, what Asians often call wok hay, or breath of the wok. I also give you the details using a wok, but that's not a must.
You might not have one at home, and even if you do, you might not have the necessary heat power of your stove what's needed for an 'authentic' egg fried rice.
You can follow the same recipe with a regular non-stick pan. Just don't regulate the heat as much as I suggest below for a wok, use medium-high all the way through. And of course don't overheat your non-stick pan.
If, for some reason, you have a wok with a nonstick coating, that behaves like a regular pan rather than a wok.
Use Day Old Rice
The main ingredient of egg fried rice is of course rice, but not any rice. Jasmine is the best type, but you should cook your rice a day before and keep it in the fridge. Follow my instructions on how to cook jasmine rice to get perfect results.
Don't worry though if you haven't prepared it in advance. Uncle Roger might not approve, but believe me, you can still enjoy an egg fried rice made with freshly cooked rice.
Make Your Own Version
Fried rice, unfortunately, have become something that many people think they should be ashamed of making if not adhering to some imaginary egg-fried-rice-police standards.
It is not. Egg fried rice is one of the most simplest recipes out there, 'invented' to make good use of leftover rice. It is simple and versatile. Doesn't have a set rule of how to make it or what ingredients you should use.
This is a base recipe. Good as it is or use it as a starting point. You can add basically any ingredients to your egg fried rice. Some kind of protein, like chicken; shrimp; or even tofu and vegetables, such as carrots; green peas, are often used. But use your imagination, and whatever you find in your pantry.
More Tips
Don't chop the onions and the garlic too fine, otherwise they burn easily.
Serve egg fried rice warm, right after making it.
Don't make more than 2 servings in one batch. This is stir frying, it needs a lot of heat to really fry the individual grains of rice.
You can use 1-2 teaspoons of fresh chopped ginger instead of dried ginger powder.
Egg fried rice is traditionally eaten with a spoon.
The amount of salt might depend on your taste, whether you salted your rice when cooking, and the type and quantity of soy sauce. I generally advise to be liberal with salt, but not this time. You can always salt it later, but generally soy sauce is salty enough to make a delicious fried rice even with unsalted rice. Traditionally, rice is not salted during cooking.
Adjust the quantity of soy sauce according to your taste. Note that on the pictures I used half the quantity of soy sauce that you find in the recipe, resulting in a lighter dish.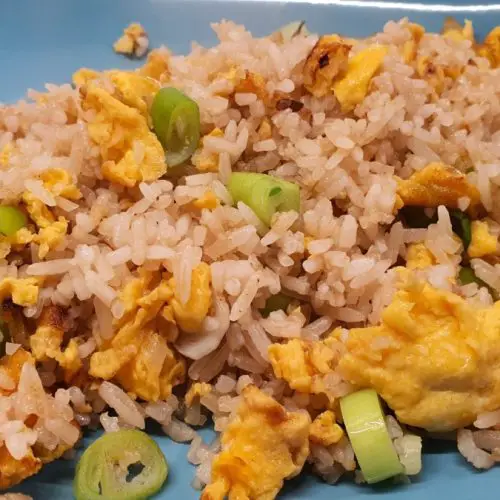 Simple Egg Fried Rice
A simple version of the delicious Asian staple food
Ingredients  
2

cups

cooked rice

day old, 280 g

2

eggs

1

tbsp

vegetable oil

more for the wok

1 ½

tbsp

onions

chopped, 15 g

1

clove

garlic

chopped, 5 g or 1 – 1 ¼ tsp

⅛

tsp

dried ginger powder

2

tbsp

soy sauce

½

tsp

sesame oil

2

spring onions

salt
Instructions 
For making simple egg fried rice, prepare all your ingredients first. Beat the eggs with a pinch of salt. Chop the garlic and the onion. Slice the spring onion ½ inch wide. Have all the ingredients, including measuring cups, at the countertop.

Heat the wok on high until it starts smoking. Add 1-2 cups of room temperature cooking oil, swirl it to coat the wok and pour it off immediately. This is just to make your wok non-stick, not necessary when using a non-stick pan.

Turn the heat to medium. Add 1 tbsp of vegetable oil, then the onion and garlic. Stir for 10 seconds.

Add the beaten egg. Wait for 10-20 seconds, then stir so that all the egg can solidify. Break it with your spoon, ladle, or spatula into bite sized pieces.

Crank up the heat to maximum, add the rice, ginger powder, and sesame oil. Stir vigorously for 2-3 minutes. Make sure the rice separates into individual grains.

Add the soy sauce and continue stirring until the brownish color of the soy sauce covers every grain of rice. Then add the spring onions and toss for another 30 seconds.

Serve immediately. Egg fried rice is traditionally eaten with a spoon.