Monte Cristo Sandwich, an all time favorite, is basically a crossbreed between the classic Croque Monsieur and a French toast. It is an egg-dipped ham and cheese sandwich that is pan fried or sometimes deep fried. It is extremely easy to prepare, and you can serve a hearty and tasty meal in just 15 minutes.
Monte Cristo is mainly served savory, though it can be eaten as a sweet sandwich with powdered sugar or even some jam on top.
Best Ham And Cheese For Monte Cristo
Ham and cheese play a crucial part in this sandwich. They basically determine the main flavor profile, as all other ingredients, bread; butter; and egg dip, have a fairly mild taste.
If you use some mild flavored ham and cheese, the overall result will be somewhat bland. I would suggest to use a sharper or more characteristic filling in this sandwich in order to get a great and flavorful result.
As far as the ham goes, my favorite is the famous Italian prosciutto cotto. But of course any cooked and sliced ham will do.
For the cheese, use a good quality Emmental (Swiss) or Gruyere. A nice Cheddar would also go great in this sandwich.
How To Serve Monte Cristo Sandwiches
Monte Cristo is mainly eaten as a savory sandwich, see the recipe below for this presentation. If you like it sweet, you can add some sugar to the egg dip, or dust it with powdered sugar after being fried. Some people even spread jam on top.
Monte Cristo sandwiches are best warm, just out of the pan. Cut them in half, triangle shaped sandwiches always look more appetizing for some strange reason, and serve them right away.
But you shouldn't worry if there is some left. These sandwiches are also good the next day. Warm them in a skillet or toaster, or you can even eat them cold.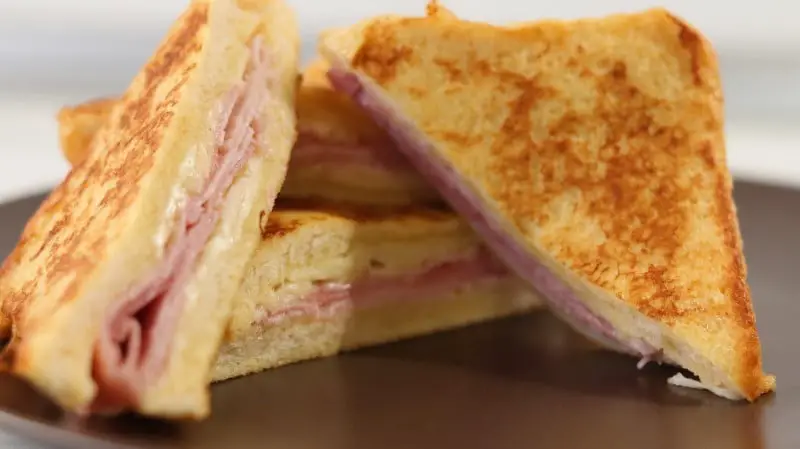 Different Variations
As most sandwich recipes, Monte Cristo Sandwiches can be easily altered to your own taste. See the above thoughts on what type of ham and cheese to use as an example.
I use butter, but you can use mayo or mustard or all of the. Each will give a distinctive and somewhat different taste to your sandwich.
As far as the egg dip, I use quite a lot of heavy cream and full fat milk. This combination gives this sandwich a lighter flavor, keeping it very rich because of the high fat content. Feel free to substitute skim milk for these high fat dairy products, or simply leave them out and dip your sandwiches only in beaten egg.
Pan frying or deep friyng can also be an option and will alter the end result. I think pan frying it in a half oil and half butter mixture will give it an even richer taste with somewhat reducing the fat content compared to deep frying. Still, this sandwich is not for the faint of heart, as it is packed with carbs and fats and of course calories.
Serving it rather sweet than savory will produce an almost entirely different meal.
Ingredients Per One Sandwich
To make your Monte Cristo sandwiches easier to prepare, I list here the ingredients needed for one single sandwich.
2 slices of bread
1 oz slice of ham
1/2 cup shredded cheese
1/2 tbsp butter
Monte Cristo Sandwich
A classic American sandwich with ham, cheese and eggs.
Ingredients  
For The Sandwiches
8

slices

sandwich bread

4

slices

cooked ham

1 oz slice, Prosciutto cotto is best

2

cups

shredded cheese

Swiss, Emmentaler, Gruyere, Cheddar

2

tbsp

butter

2

eggs

10

tsp

milk

3 tbsp + 1 tsp

10

tsp

cream

3 tbsp + 1 tsp

salt
For Pan Frying
1

tbsp

vegetable oil

1

tbsp

butter
Instructions 
Assembling The Sandwiches
Use 2 slices of bread per sandwich. Butter one side of each slice, use about ½ tbsp butter per sandwich.

Put half the cheese on one slice, about ¼ cup per sandwich.

Place the ham onto the cheese. Shape it to cover the bread.

Pile the other half of the cheese, about ¼ cup, on top of the ham.

Place the other slice on the sandwich, buttered side down. Press down with your hand.
Frying
Beat the eggs with the salt, add the milk and heavy cream and whisk. Preheat a skillet on medium-low. Add ½ tbsp vegetable oil and ½ tbsp butter to the pan per batch (2 sandwiches).

Dip your sandwiches one by one in the egg mixture, make sure all sides are well covered. Place the sandwich immediately in the pan. This step is quite messy, wash your hand between batches.

Cook for 1½-2 minutes on one side on medium-low to your liking. Turn with a spatula and cook for another 1½-2 minutes on the other side.

Put your Monte Cristo sandwiches onto a plate. Cut in half if that's the way you like them. Serve immediately. Rinse your pan between batches.
Notes
Nutrition data per sandwich.
Ingredients per one sandwich
2 slices of bread
1 oz slice of ham
1/2 cup shredded cheese
1/2 tbsp butter
Nutrition
Serving:
1
sandwich
Calories:
437
kcal
Carbohydrates:
25
g
Protein:
24
g
Fat:
27
g