Bacon wrapped chicken livers are one of the simplest yet most delicious and versatile dishes. They are an excellent choice for parties, or even for everyday meals. This dish also proves to be suitable for certain popular diets, more information on this below.
This recipe is a low-fat version, as the bacon wrapped chicken livers are baked in the oven without any extra added fat and during the cooking process the bacon will release some of its fat.
It's important to note that preparing bacon wrapped chicken livers in the oven doesn't require any more hassle than cooking it the traditional way in a pan with added fat. Therefore this low-fat version is definitely an easy one to make and it never disappoints!
Serving Recommendations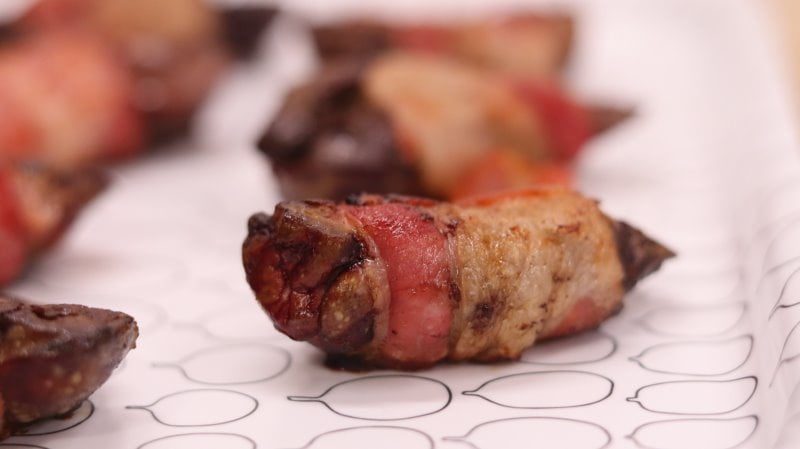 No doubt chicken livers wrapped in bacon are perfect on their own. You can eat them warm out of the oven, or even at room temperature.
If your diet allows it, you can eat bacon wrapped chicken livers with fresh white bread or any type of bread for that matter. This makes for a really delicious and filling appetizer or even a full meal. Make sure to check out a few tips below on how this dish fits into your diet.
Bacon wrapped chicken livers are also a perfect welcoming snack for your guests. They go well with all types of salads.
Don't be shy to get creative! You can even place a few pieces between two slices of bread to make a quick sandwich.
Bacon Wrapped Chicken Livers And Your Diet
Finding a perfectly balanced diet is challenging, and I'm not here to argue what's good for you and what isn't. If you're here reading this recipe, I hope you have no issues with eating chicken liver.
It's important to note that this recipe is suitable for the popular keto and paleo diets. If you follow any of these, then this bacon wrapped chicken liver is definitely a good choice for you.
It is also a popular dish for those who are following a weight-loss diet. It is very nutritious and filling enough that it keeps you going without having to eat a lot of it.
Re-heating bacon wrapped chicken livers
Another good thing about chicken livers wrapped in bacon is that you can always store them in the fridge. They keep extremely well for days, and they're just as delicious reheated!
You can easily reheat the bacon wrapped livers in a hot pan without any additional fat. It takes only a minute if you turn them regularly on all sides. With this they will taste almost as fresh as if they were straight out of the oven.
A Few Notes On Baking Bacon Wrapped Chicken Livers In The Oven
The livers don't have to be completely cooked in the pan, as we will cook them fully later in the oven. What you are looking for is a beautiful golden color on the bacon.
If you pre-fry the bacon wraps the way I describe it in the recipe, seam side down and without moving them while frying, you ensure that they won't stick to the baking tray later on.
Depending on your preference, your oven, and the size of livers, they may be fully cooked just under 10 minutes in the oven. However, I don't think chicken liver is nice if eaten raw, that's why I gave 15 minutes in the instructions for them to be baked. This ensures that they'll cook through properly. In 15 minutes on the other hand you won't overcook the wraps. The bacon ensures that they stay soft on the inside.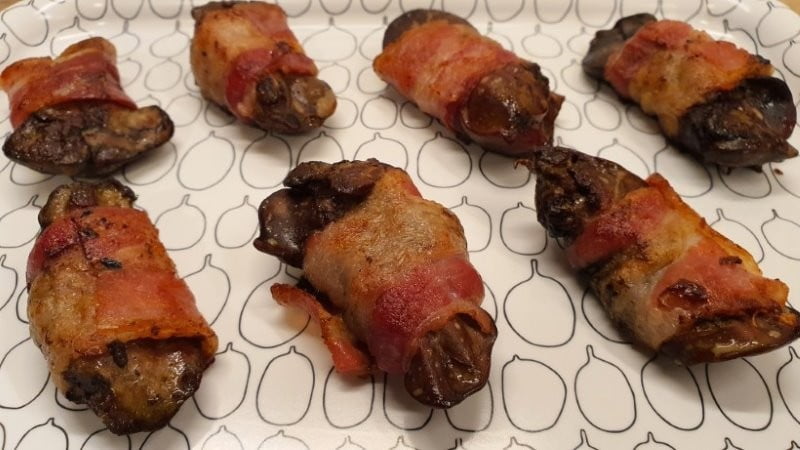 Oven-Baked Bacon Wrapped Chicken Livers
Low fat version of the classic chicken livers in bacon recipe
Ingredients  
1

lbs

chicken liver

10

slices

bacon

about 180 g or 6.5 ounces
Instructions 
To prepare oven-baked chicken livers wrapped in bacon, first preheat your oven to 350 F (180 C), no fan/convection required.

Clean the chicken livers, remove any veins or connective tissues. Cut the livers in half, roughly where they would separate.

Cut the bacon strips in half. For wrapping one piece of liver, use a 4-5 inch (10-12 cm) long strip of bacon.

Place one piece of chicken liver on one half slice of bacon. Roll the bacon around the liver tightly. Make sure the seam side is at the bottom, this will prevent it from falling apart.

Heat a non-stick pan on medium-high heat without any additional fat. Once hot, place the bacon wraps in it, seam side down.

Fry them for 6 minutes on one side, turn them carefully and fry for another 6 minutes on the other side. Try not to move them around while frying.

Grab them with a tong or two spatulas and move each bacon wrap over to a baking tray. Bake for another 15 minutes in the preheated oven.
Notes
Makes about 14-16 wraps. One serving is 3 wraps. Nutritional data is approximated.
Nutrition
Serving:
3
wraps
Calories:
227
kcal
Carbohydrates:
1
g
Protein:
19.8
g
Fat:
16
g
Potassium:
279
mg
Iron:
8
mg