Let me present to you the original Wienerschnitzel (a.k.a. Wiener Schnitzel, Schnitzel) recipe, made from veal.
This, in my opinion, is actually schnitzel elevated to a level of perfection. And not only because of the meat, although veal is crucial if you want a tender and crispy Wienerschnitzel experience. But I think the way they make schnitzel in Vienna (Wienerschnitzel literally means Vienna cutlet in German) is the impeccable way of preparing this otherwise simple dish.
So to begin with, I give you the 3 most important tips that will make your Wienerschnitzel perfect every time.
3 Tips For A Perfect Schnitzel
I find that there are 3 tips or secrets to making a perfect Wienerschnitzel. Follow these, along with the recipe, and I guarantee you'll make a perfect, delicious, authentic schnitzel that everyone will like.
The first secret is to pound the meat very thinly, 2-3 mm. That's about 1/8 of an inch. Pounding it so thin will make the meat extremely tender. Continue reading for more tips on how to pound the meat for a perfect Wienerschnitzel.
The second secret of the perfect Wiener schnitzel is to fry the meat in very hot oil. This way, the meat not only gets completely cooked, but it will remain wonderfully soft and juicy in the protective covering of the crumb, while the crumb itself becomes totally crispy!
The third secret is to almost constantly move the hot oil with a spatula over to the top of the meat while frying. The slices sink to the bottom, and the oil cools down on top of them. This may be one reason why your Schnitzel turns out soggy and not crispy. On the other hand, if you continuously move the hot oil from the free parts of the pan onto the meat slices, the top will also fry and remain crispy. Be extremely careful though, always moving the spatula away from you, you are working with very hot oil after all!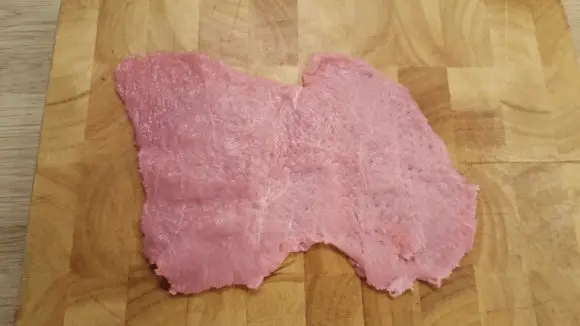 How to Serve the Original Wienerschnitzel
The most important thing is, you should serve your Wienerschnitzel warm and fresh, as this is the way to preserve crispiness.
Make sure to serve it with lemon wedges or rings. People can squeeze some lemon juice over their schnitzels, which is the traditional way of eating this dish and in my opinion this raises the flavors to absolute perfection.
The traditional side dish of the Wienerschnitzel is Austrian potato salad. This is the way you actually get schnitzel in most restaurants throughout Vienna. Parsley potato is also a preferred side dish.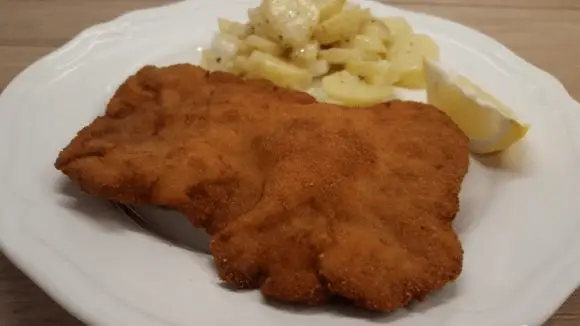 Preparing the Veal for Wienerschnitzel
Veal loin, tenderloin, or cutlets (leg slices) are best for making an authentic Wienerschnitzel. In any case, use only lean parts, and remove any fat or silver skin.
You can either buy pre-sliced veal or you can slice a larger piece of meat at home. Either way, one slice should be between 120-140 grams or about 4-4½ ounces. So a 2 pound or 1 kg piece of veal should yield approx. 7-8 slices of schnitzel.
Pound the meat slices very thin one by one. For this, I recommend that you use a meat pounder like the one on the picture, which is completely flat on one side. This way you can keep the meat in one peace even when pounded very thin. Click the link to find it on Amazon.com.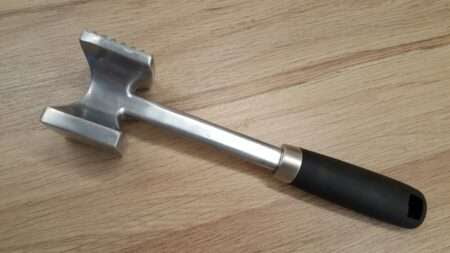 Use both sides of the meat pounder alternately. First you soften the meat with the serrated side, then with the flat side you thin it a little more, and so on. You can also cover the meat with plastic wrap, this way it will stay in one piece even better. The thickness of the meat for a perfect Wienerschnitzel should be around 2-3 mm or 1/8 of an inch.
Veal or Not Veal?
When making original Wienerschnitzel, there is also the question of whether to use veal or other type of meat. After reading and researching many sources, I can say that what is called Wiener Schnitzel in German (literally Vienna slices or cutlets) is usually made from veal. According to some opinions, in Germany (not in Austria) you can't even call it Wienerschnitzel if it's made from pork, it can only be called Schnitzel Wiener Art (Vienna-style schnitzel).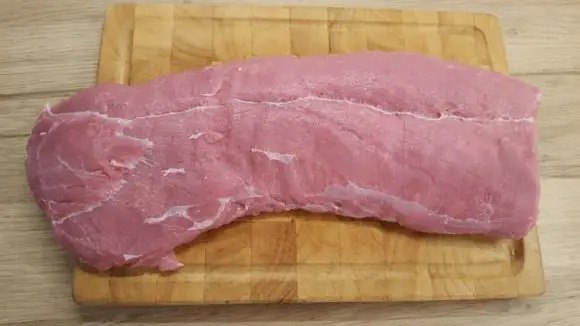 But in general I can say that, especially when making it at home, this should not be a strict rule. Use either veal or pork, you will love this food. Believe me, even in Vienna sometimes schnitzel is being prepared with pork meat.
What's more, my experience is that if you follow my tips and the recpie, you can make a very delicious Wienerschnitzel even from pork!
Breading the Meat
For making Wienerschnitzel, use the classic flour-egg-breadcrumbs breading method. Please note that ingredient amounts are just approximates as you cannot tell exactly how much flour, breadcrumbs or eggs you are going to use.
Use one plate or a plastic bag for each of your breading ingredients. You might need another plate for the unpreperad meat and a fifth one for the slices that are already breaded.
Season your eggs with some salt and beat them lightly. There is no need to use any other seasoning when making a classic Wienerschnitzel.
Dip the meat first in the flour, making sure that it's covered everywhere. Then transfer it into the beaten egg, also making sure it is 100% covered. Finally finish it with the breadcrumb, also covering it completely.
One tip to make a perfect Wienerschnitzel, or any other breaded food by the way, is to make sure there is no excess breading ingredient on the meat. That is, shake off the surplus flour and breadcrumbs, and let the eggs drip a bit before transferring the meat to the next phase.
Tips for Frying the Meat
The most common ingredient for frying Wienerschnitzel in is regular vegetable oil. You can also use lard or any other type of fat that has no particular flavor.
Use a large pan or a deep fryer. When frying schnitzel in a pan, make sure the oil is at least an inch (2.5 cm) deep. I can't stress enough that the way to prepare classic Wienerschnitzel is deep frying. That is, you don't want to experiment with less fat, you want your meat to completely submerge in the hot oil. This is the way to actually create a crunchy coat.
Also make sure the oil is very hot. As I wrote before, this is one of the real secrets to making an excellent schnitzel. If the fat is not hot enough, it will result in a suggy an unpleasant cutlet. On the other hand, using hot oil will produce a very tender meat in a pleasantly crunchy coating.
Your oil should be at 355 F or 180 C. If you are using a deep fryer, just set the thermostat to this temperature. Using a regular pan, you can test the oil with a small piece of breading. Drop it into the oil when you think it's hot enough. It should start to fiercely bubble at the moment it hits the oil, and it should also float to the top.
Don't overcrowd the pan. Usually, an authentic Wienerschnitzel is so big that you can deep fry only one at a time. But as you can see in the photos, I made smaller slices, still not overcrowding my pan.
As for the cooking time, the best way to explain it is to fry the schnitzel until is't golden brown. This usually means 2-3 minutes on the first side, than flipping the meat and frying 1-2 minutes on the other side.
Use the spatula trick while frying, but taking extra care. Gently and constantly move the oil over the meat slices to let the upper side also fry in the hot oil. Please take extra care with this step, always making sure you move the oil away from you.
Your Wienerschnitzel will be ready in no time using this method. I usually need only 2 minutes for the first side, then flip it and fry for another minute on the other side.
Finally, when your schnitzel is golden brown, take it out from the pan, drain off the oil and place it on a plate or wire rack. Don't use a paper towel for draining off your schnitzels as they could get soggy.
What's An Authentic Wienerschnitzel Like?
Legend says this dish is the Austrian version of the famous Italian costoletta milanese or piccata, brought to Austria by General Joseph Radetzky von Radetz.
As with every traditional recipe, there is not really one exact way of making Wienerschnitzel. But this being a traditional recipe, you can be sure it's not an overcomplicated one.
When looking online for Wienerschnitzel recipes, Parmesan cheese, parsley, nutmeg, and other spices – yes, Parmesan cheese can be used as a spice – are often added. While some of these ingredients might sound pretty posh, and they can even add some extra taste to your schnitzel, the traditional Austrian method uses only salt and pepper for seasoning.
As far as the cooking fat, the easiest is to use oil. Believe me, most people in Austria use just regular vegetable oil. Some recipes call for ghee (Butterschmalz in German), it sure adds a nice extra flavor. But then again, this is not needed for making an authentic schnitzel.
And the last question: should you use milk or not? In some Wienerschnitzel recipes outside Austria you can find milk as an ingredient. Either adding it to the egg or even marinating the meat in milk before breading. Again, I find that in traditional recipes there is no milk. It is kind of a new trend to add milk or even cream to your egg though in Austria, so of course you can make your schnitzels that way also.
Anyhow, use nice thin cutlets, fry them in hot fat, and make sure you move the oil over your meat. And voila, your Wienerschnitzel just will turn out to be perfect and yummy.
Wienerschnitzel
Ingredients  
2

lbs

veal cutlets

900 g

3

eggs

approximately

⅔

cups

flour

100 g, approximately

2 ½

cups

breadcrumbs

300 g, approximately

Salt

Pepper

Oil

for deep frying

Lemon wedges

for serving
Instructions 
First, prepare the veal. Using a meat pounder, tenderize your meat and make sure it is very thin (about 1/8 inch or 2-3 mm). Season you schnitzels with salt and pepper.

Next step is breading your meat using the classic flour-egg-breadcrumbs method. Beat up the eggs with a bit of salt, and use a separate plate for the flour and the breadcrumbs. Coat the meat evenly with flour, then dip it in the beaten egg to coat it also evenly, and lastly cover the whole cutlet with breadcrumbs.

In a large pan, heat up the oil. Make sure it is at least an inch (2.5 cm) deep. Put the breaded cutlets into the hot oil. Make sure not to overcrowd your pan.

Fry for 2-3 minutes on one side, than flip. Move the hot oil with a spatula from the empty places onto the meat, with motions always away from you. Be very careful!

Fry the meat on the other side for 1-2 minutes, until golden brown. Take it out, let the excess oil drain off and place it on a plate or wire rack. Don't use a paper towel as the coating can get soggy. Serve fresh and warm with lemon wedges or rings.