Elderflower fritter is one of the signature dishes of Austrian cuisine. It is an easy to make and definitely special dessert perfect for your spring meals.
Essentially it is a pancake batter made with whipped egg whites, which the flower are dipped into and then deep fried. The result is a lightly brown, golden, and crunchy dessert with the distinct flavor of elder flower.
Picking Elderflowers
Elderflowers are not usually found in any supermarket, you need to pick them in the nature. They are ready to be picked around late May to mid June, depending on the year and your location.
They're best when the buds are freshly open on a sunny day, well away from heavily trafficked roads to avoid pollution. Remove any insects and rinse them briefly in cold water before using in the recipe.
Make sure to leave enough stem to hang onto when dipping the flowers into the batter.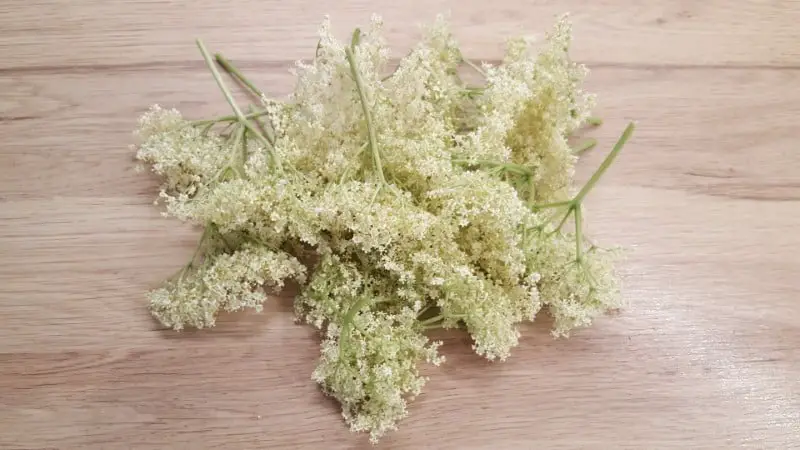 Some extra tips for Elderflower Fritters
Elderflower fritters serve as a perfect dessert, afternoon snack, or even for breakfast.
If you have some batter left, you can use it to make classic American-style pancakes without baking powder, the whipped whites will do the rising.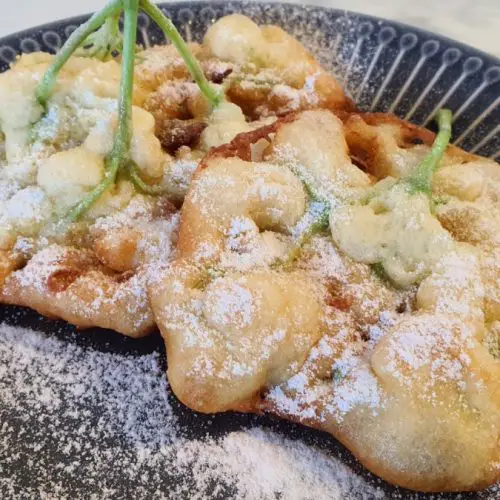 Elderflower Fritters
Ingredients  
12

elder flowers

2

eggs

1

tbsp

honey

20 g (or use sugar)

⅓

cup

milk

80 ml

1

cup

flour

125 g

7

tbsp

carbonated water

100 ml

2

pinches

salt
Instructions 
Separate the yolks from the whites. Whisk the whites with a pinch of salt until they form a stiff foam.

Put the yolks, honey, another pinch of salt, flour, and milk into a separate bowl. Mix well until smooth and then add the carbonated water. Mix again.

Gently fold the egg whites into the egg yolk mixture without breaking the foam.

Heat up 2 inches (5 cm) of oil to 375 F (180 C) to cover the flowers . Dip each flower head into the batter then transfer them immediately into the frying pan.

Fry for 1-2 minutes until golden brown, then drain on a paper towel. Frying can be a little tricky, gently turn the flowers to make sure they cook all the way through.

Serve them fresh, preferably dusted with powdered sugar and cinnamon.