Sometimes the best recipes come from places where you least expect them. This easy pumpkin soup, an all time family favorite, was found in a flyer that I picked up at a gas station.
This recipe is easy to prepare and very delicious. Maybe not the fanciest pumpkin soup recipe, but you can make it in just a couple of steps and sure it will warm you up in a cold autumn or winter afternoon.
A Few Words On The Ingredients
You should weigh your pumpkin peeled and cleaned. The original recipe called for 500 grams, but you're good to go with 1 lbs or 1.1 lbs. That's about a quarter of a regular sized pumpkin.
You don't need to roast or cook the pumpkin. Use raw pumpkin, peel it, remove the seed, and cut it into cubes with a sharp kitchen knife. The pumpkin will cook in the soup as part of this recipe.
You can use vegetable or chicken stock instead of water, it will definitely make your pumpkin soup tastier. But in my opinion this is not necessary, just by using water the flavors will turn out very nice and round in this recipe.
Use salt, ground black pepper, and ground nutmeg according to your taste.
For a faster version, add the leeks with the pumpkin at the beginning. This way they cook together and it only takes 30 minutes.
What To Do With The Excess Pumpkin
About a quarter of a regular pumpkin is all what you need for this pumpkin soup. So you might ask what should you do with the excess or leftover pumpkin. Here are a few ideas:
Cut into larger chunks and bake them as you would do with any baked pumpkin.
Make some homemade pumpkin purée that you can use in a lot of recipes, like this yummy pumpkin muffin.
Dice the rest and freeze it in a Ziploc bag or a regular plastic container. This is pure veggie, it will last for a year in your freezer. This way you'll be able to cook this yummy pumpkin soup every time of the year.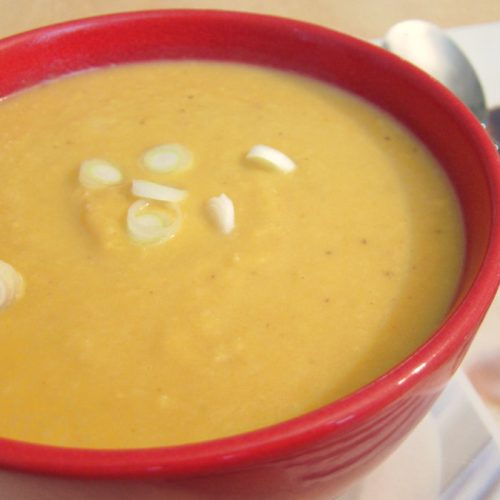 Easy Pumpkin Soup
The easiest and tastiest pumpkin soup ever.
Ingredients
1

lbs

pumpkin

500 g

2

tbsp

olive oil

1

medium

onion

2

leeks

2

cloves

garlic

1 ⅔

cups

water

400 ml

1 ⅓

cups

heavy cream

320 ml

salt

ground black pepper

nutmeg
Instructions
Prepare the veggies. Chop the onion and garlic, cut the leeks into thin rounds. Peel the pumpkin, remove the seeds and cut into 1 inch cubes.

Start sautéing the onion in a pot with the olive oil over medium heat. Add the garlic and pumpkin cubes after 5 minutes and continue cooking without adding any liquids for 2-3 minutes.

Add water, salt, ground black pepper and nutmeg. Cook for 30 minutes over low, until the pumpkin gets soft.

Add the cream and the leek and purée it in a blender, food processor or with an immersion blender. Cook for another 10 minutes to take out the raw flavor of the leek.

Serve warm. It is good as is, or sprinkle with spring onions and add fresh ciabatta or baguette.
The Strange Story Of The Pumpkin Soup Recipe
A couple of years ago I found a flyer at a gas station that also operated a restaurant chain. The flyer itself had a pumpkin shape and it contained a couple of their pumpkin recipes.
We took one just out of curiosity and because it looked good, but I didn't even think about reading it. Somehow we ended up trying a couple of the recipes, including this easy pumpkin soup.
The funniest thing is that the original recipe didn't even have leeks in it. It was only spring onions sprinkled at the top of the soup at the end, but our version was a translation and the translator had made a mistake. They had translated spring onions as leeks, and I didn't understand how on earth could you sprinkle leeks on top of your soup.
But anyhow I sliced the leeks and put them into the soup, and it turned out to be delicious. So what you can read here is an adaptation of the original recipe created by a coincidence. I hope you like this easy pumpkin soup recipe as much we like it.