Moules marinière or French style black mussels are one of the tastiest and most popular, yet perhaps easiest way of prepareing mussels. They are steamed in white wine and their own juice with some onions, butter, and herbs.
The original name of the dish is moules marinière, literally sailor mussels in English. There are actually as many versions of this recipe even in France as there are households or restaurants, but there are some common ingredients. These include dry white wine, onion, butter, parsley, and of course black mussels. You can read more about the different variations below.
To prepare the perfect moules marinière, not only the ingredients are important, but also the cleaning of the mussels and the cooking time. Especially if you cook it in a country or region where seafood is not part of everyday life, and therefore you don't have the centuries-old experience to prepare them. Read the recipe and look below for additional tips on cleaning, cooking time, and what to pay attention to so that the mussels are always guaranteed to be fresh!
How to Serve Moules Marinière
Moules marinière are best served fresh, just after cooking them. You can serve this dish in a deep plate, bowl, or even in a nice smaller pot or deeper pan, the latter being the restaurant version.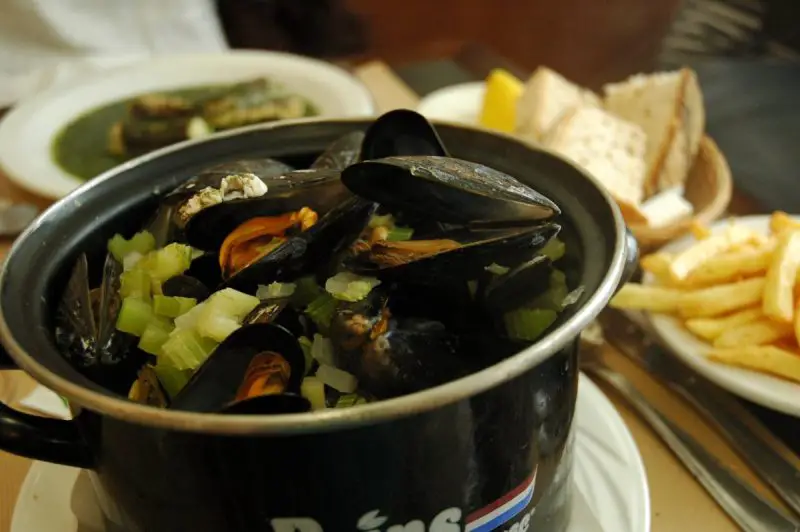 Scoop out the mussels with a slotted spoon, and then add some of the cooking juice with a ladle or pour it directly from the pan. The two (mussels and cooking juice) should be served together, that's how this dish is so delicious!
How big one serving is mostly depends on whether you serve it as an appetizer or a main course, and what you serve it with.
As an appetizer, take 1/2-3/4 pounds or 250-350 grams of fresh mussels per person.
As a main dish, if it is served with a side dish (such as French fries, which are very popular in France or Belgium), take about 1 1/2 pound or 750 grams of mussels per person.
Serving it by itself as a main course, count with 1-1 1/4 lbs or 1 kg of mussels per person.
How to Eat Moules Marinière
The easiest, most popular, and also the most original way of eating black mussels is to take a shell that doesn't have the mussel in it, or to suck the mussel out of one. So you have an empty shell with the two sides.
Then you can use this empty shell as a kind of pair of tongs to grab and eat the mussels. Hold the empty shell in one hand and the one you want to eat in the other. With the empty shell, grab the mussel and put it in your mouth.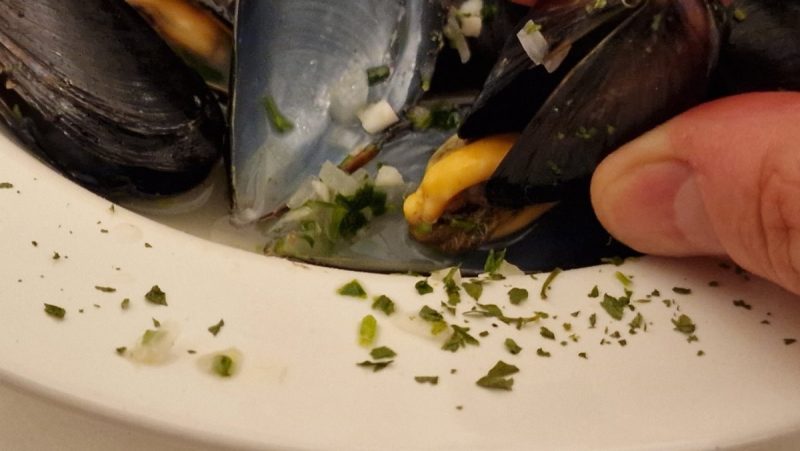 Variations of the Original Recipe
If you check the original French moules marinière recipes, you quickly realize that this dish is like many others: there are as many versions as there are households even where it originates from.
So, on the one hand, don't worry if you don't have all the ingredients at home. On the other hand, dare to experiment with other flavors as well.
It is worth considering though what almost all moules marinière recipes have in common. These are mussels (of course), butter (of course, if it's a French recipe), white wine, onion, and parsley.
Although garlic goes very well with this dish and I think it is indispensable, not everyone uses it. Celery leaves can be completely omitted or substituted by celery, although their taste gives a little extra twist to the dish.
It is important that you don't need to add extra salt, the mussels themselves are salty enough. You also don't need more liquid than the wine. Properly treated and cooked black mussels release their own juice, this is part of what makes this dish so delicious!
How to Clean Black Mussels
Cleaning black mussels is not as difficult as it can seem at first.
In fact, one of the important things to know is that you shouldn't let them stand in water for too long, because then the shells will open – see the knocking tip in the What to watch out for section below. In essence, it is enough to wash them shortly under running water, or even not to wash them at all.
What is more important is to use a knife to remove the hairy seaweed from the shells before cooking. If you don't remove this, it will be unpleasant to eat the mussels.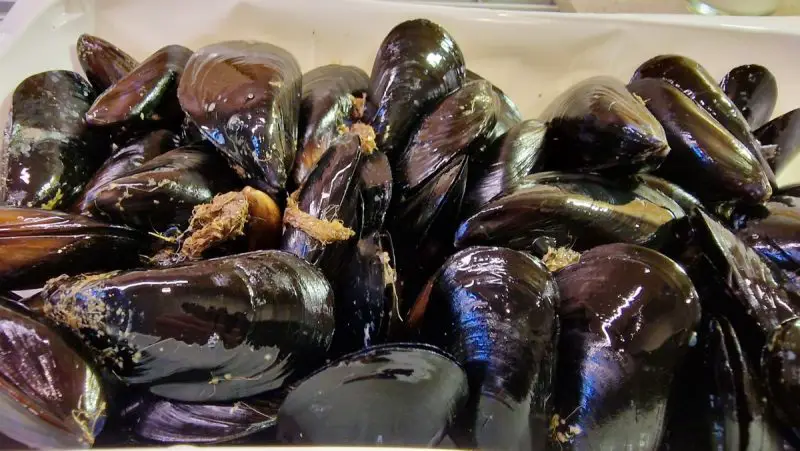 What to Watch out for
When shopping for black mussels, it is best to get them fresh. If you don't have the option to buy them fresh, check when they were actually packed. I only buy and use mussels that are at most 2-3 days old, even if their official expiration date is usually one week.
When you open the package, smell it immediately. What you should smell is the fresh sea. If it has even a slight rotten or unpleasant smell, you are unfortunately better off throwing the whole package away.
Fresh mussels are good if their two shells are completely closed. If there is only a small gap, tap the kitchen counter with the mussel 3-4 times, like if you were knocking on a door, it often closes itself. Check if it is still open after a minute, even just slightly, and throw that mussel away if it is.
If the shell is broken or damaged in any way, throw it away immediately.
After cooking, the mussels are good if their two shells have opened 1-2 inches or a few centimeters apart. Throw away all mussels that have not split open at all, or only a few millimeters.
Moules Marinière Cooking Time
As with all seafood, cooking time is also critical when preparing black mussels or moules marinière. And not necessarily the way most people think of it first.
Regarding the cooking time of black mussels, the most common mistake is to overcook them. Like it or not, all seafood have their optimal cooking time. If you cook them for less time, they will remain raw. But if you cook them longer, they easily become hard and chewy, difficult to eat and of course unpleasant.
Of course, this is also partly a matter of taste and depends on the cooking conditions, but moules marinière should generally be boiled, or more precisely steamed, for 5-6 minutes.
Start the clock right away when you put the mussels in the boiling liquid and put the lid on it. Shake occasionally for 5-6 minutes at most. Then check if it suits your taste and serve. In general, mussels cooked for more than 7 minutes become too small and chewy, and often fall out of their shells.
What Type of Wine to Use
The most important thing is that it should be dry white wine. What most French people recommend, and what is really the most delicious with this dish, is Sauvignon Blanc.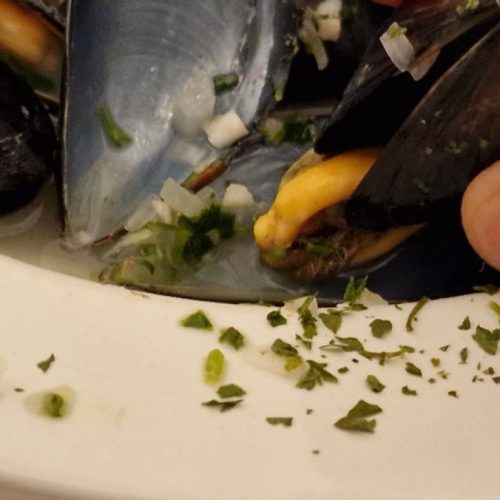 Moules Marinière
Classic French black mussels in a white wine sauce
Ingredients  
2.2

lbs

black mussels

1 kg

½

onion

1

clove

garlic

½

cup

white wine

dry, possibly Sauvignon Blanc, about 100-120 ml

3

tbsp

butter

40 g

3

tbsp

parsley

fresh, chopped

3

tbsp

celery leaves

fresh, chopped

ground black pepper
Instructions 
Prepare the ingredients: clean the mussels (see instructions separately), chop the onion, garlic, parsley, and celery.

Pour the wine into a large pot, add the butter and heat until the butter melts. Add the herbs, black pepper, onion, and garlic and bring it to a boil.

Pour in the mussels in the pot, stir, cover, and cook for 5-7 minutes. Shake the pot occasionally so that all the mussels are covered with spices.

Moules marinière are ready. Serve them as is or with French fries.
Moules in a pot picture by Jpatokal at wts wikivoyage, CC BY-SA 4.0. Sources used to create this recipe: French Cooking Academy, 750g, Philippe Etchebest.