Egg salad sandwich is one of those all time favorite dishes that simply everybody loves. In fact it has quite a stable position on the list of most popular sandwiches. There is no question about it being a staple lunchtime food in the U.S.
To make an exceptional egg salad sandwich, you don't need anything else than 2 exceptional ingredients: egg salad and bread. No kidding – there is no other trick involved here.
Egg Salad
Click on the link to find my favorite egg salad recipe, which is a great filling for this yummy sandwich. There you can find some additional suggestions on how to make the main ingredient of your sandwich finger licking good.
I have two important tips for your egg salad:
Mayo plays a big role in this recipe. Use your preferred type, or the best you can get. This can be a home made version or your favorite brand. But the mayo you use will really determine how good your egg salad sandwich will turn out.
Season your egg salad according to your taste. Experiment with different versions and find what you like the most. Quantities are not set in stone, leave out one or more of the ingredients–other then eggs and mayo of course. You can even try other spices such as dill, chives (substitute for onions), ground nutmeg etc.
Bread
The most important tip here is to use fresh bread. Period. Nothing else qualifies for a good egg salad sandwich. In fact, you can ruin the best egg salad with some stale or low quality bread.
Other than that, the type of bread you use is really up to you. Rye bread can be mentioned as some kind of generally preferred type of bread for this sandwich, but really anything goes. You can even experiment with different types and find out what you really love in this recipe.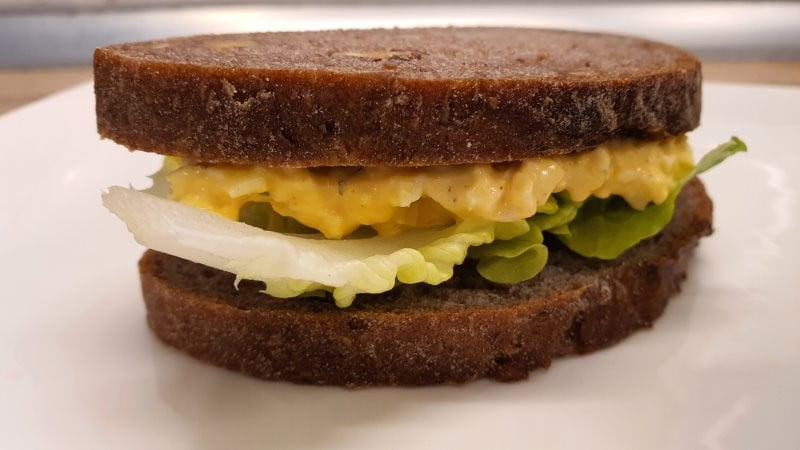 More Egg Salad Sandwich Tips
If you don't have fresh parsley, you can use 1/2 teaspoon of chopped dried parsley in the salad instead. Or you can simply leave it out.
Make sure to chill your egg salad for at least 4 hours (overnight is preferred) before serving the sandwiches. You can prepare the salad 1-3 days ahead and keep it in the fridge. But only assemble the sandwiches right before serving.
For a more attractive presentation, cut your sandwiches in half before serving them. For no particular reason, half-cut sandwiches, especially if they are triangular shaped, tend to be more pleasing and appetizing.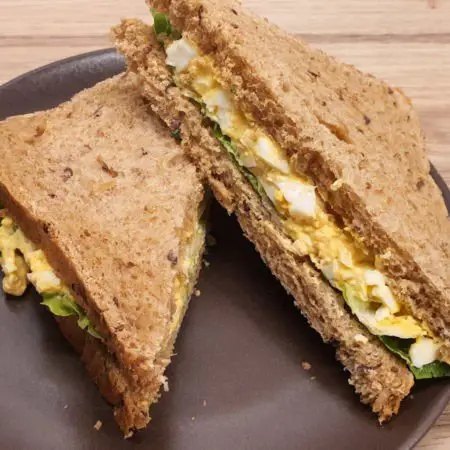 Egg salad sandwich
An all-time favorite American lunchtime sandwich
Ingredients
20

slices

bread

8

eggs

large

½

cup

onions

chopped

½

cup

mayo

1

tsp

Dijon mustard

½

tsp

salt

use ⅓ if you prefer it less salty

¼

tsp

black pepper

ground

¼

tsp

paprika

1

tbsp

parsley

fresh, chopped

10

leaves

lettuce
Instructions
Egg Salad
Hard boil and peel the eggs. Cover with cold water in a saucepan. Bring to a boil over medium heat. Turn the heat to low and simmer for exactly 8 minutes. Run under cold water and break off the shells. Put them in a bowl.

Peel and chop the onion. Chop the eggs in the bowl with a fork, cutting them into small pieces.

Add mayo, chopped onions, Dijon mustard, paprika, chopped parsley, salt and pepper to the eggs. Stir until every ingredient mixes well. Chill egg salad for at least 4 hours.
Sandwich
Use 2 slices of bread per sandwich. Put one large lettuce leave (or 2-3 smaller ones) on one of the slices. Add 4 tbsp egg salad per sandwich, cover with the other slice. Cut in half for a nice presentation.