Egg salad is one of my favorite recipes. Not only for the taste, but because you can really make an exceptional egg salad with literally no cooking experience in just a couple of minutes. And the result is a rich, tasty, yummy dish that you can eat virtually any time.
The two main ingredients for any egg salad are hard boiled eggs and mayo. Other than these, you can basically season it according to your taste and preference.
My Best Egg Salad Recipe
I would never leave out onions and Dijon mustard from a good egg salad. I think they just go so well with the egg-mayo mixture that they elevate this dish into the realms of foods that bring joy to your life.
Salt, freshly ground black or white pepper, a pinch of paprika and dried parsley make this egg salad the best recipe for me and my family. I can make this dish literally every week, and we'll be glad to eat it even the one hundredth time, never getting bored with it.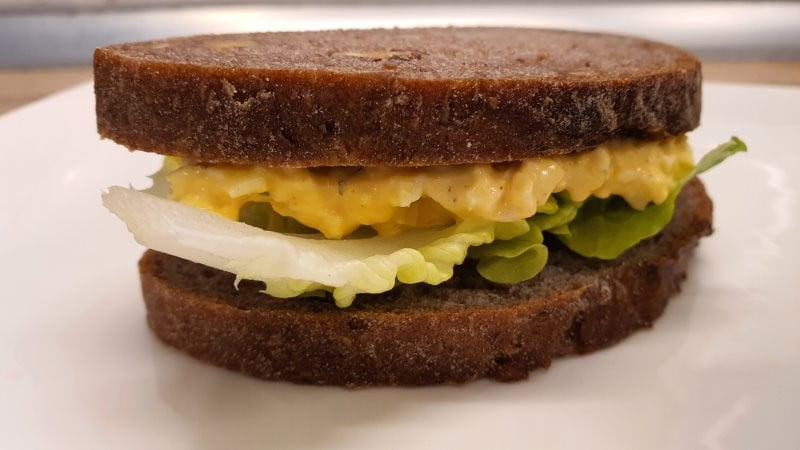 How To Boil Eggs
There is a very simple technique to make hard boiled eggs. Simply cover the eggs with cold water in a saucepan. Bring to a boil and turn down the heat to low. Simmer for 8 minutes.
Cool the eggs by placing them in cold water. Change the water 3-4 times. Break off the shells under running cold water.
To learn more tricks and tips on how to make hard boiled eggs, click on the link.
How To Season Your Egg Salad
There are literally as many egg salad recipes as there are home cooks. My best advice is to try out my recipe first, and than feel free to season it according to your taste.
My recipe tends to be on the spicy and mayo side. I use quite a lot of salt and pepper – use less if you prefer that way. Chopped onions and Dijon mustard also make my version tastier than many other recipes – but this again is only a personal preference. If you don't have fresh parsley, you can use 1/2 teaspoon of chopped dried parsley instead.
Even these quantities are not set in stone. I did measure the ingredients for this recipe, but usually when I make egg salad I simply add what I feel appropriate. So don't be afraid of changing the quantities, leaving out one or more of the ingredients–other then eggs and mayo of course. You can even try other spices. Dill, chives (substitute for onions), ground nutmeg can also be a good tip for your favorite version.
As an example, I usually chop a small onion and add it to my egg salad without measuring it. As you see in this picture, even for this recipe I did not use exactly 1/2 cup. It was somewhere 1/3 and 1/2, but it turned out delicious.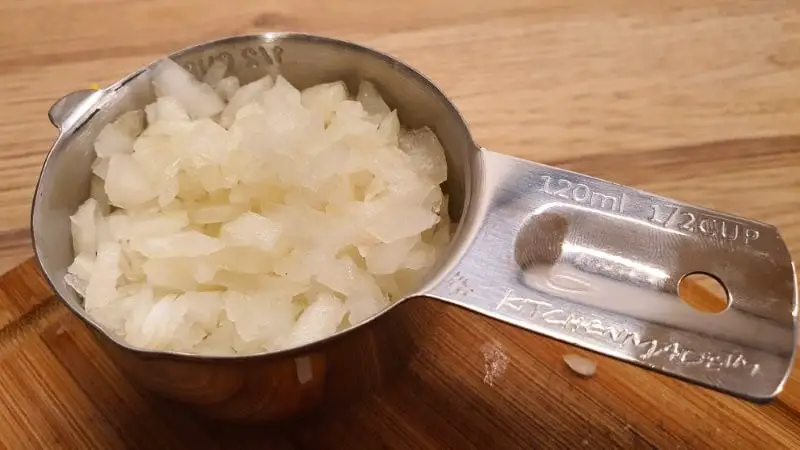 My best tip though is to use your preferred type of mayo, or the best you can get. This can be a home made version or your favorite brand.
Make sure to chill your egg salad for at least 4 hours (overnight is preferred) if you add chopped onions.
Egg Salad
A rich, tasty, yummy egg salad recipe that you can eat literally any time.
Ingredients
8

eggs

large

½

cup

onions

chopped

½

cup

mayo

1

tsp

Dijon mustard

1/2

tsp

salt

use 1/3 if you prefer less salty dishes

1/4

tsp

black pepper

ground

1/4

tsp

paprika

1

tbsp

parsley

chopped
Instructions
Hard boil and peel the eggs. Cover with cold water in a saucepan. Bring to a boil over medium heat. Turn the heat to low and simmer for exactly 8 minutes. Run under cold water and break off the shells. Put them in a bowl.

Chop the eggs in the bowl with a fork, cutting them into small pieces.

Add mayo, chopped onions, Dijon mustard, paprika, chopped parsley, salt and pepper. Stir until every ingredient mixes well.

Cover egg salad with lid or plastic wrap. Chill overnight. Serve on your favorite bread, toast or crackers.