If you are a fan of schnitzel sandwiches, you must try the original katsu sando! This sandwich is a true escape to Japan in one crispy, juicy satisfying dish.
What Is Katsu Sando?
The name katsu sando (Japanese カツサンド), literally means cutlet sandwich. If you feel some resemblance in the words, that's not a coincidence. Both Japanese words, katsu meaning cutlet and sando meaning sandwich, are derived from their English counterparts.
Katsu Sando is basically an easy-to make cold sandwich, a slice of Japanese schnitzel and condiments between two slices of white bread.
The 2 basic ingredients are Tonkatsu (Japanese pork cutlet) and tonkatsu sauce. If you want to find out how to make these at home, click on the links. Some other condiments are almost mandatory if you want to make an authentic katsu sando, continue reading for details.
How To Serve Katsu Sando
The way Katu Sando is served in Japan is by cutting off the the crust of the bread and cutting it in half or in three parts once assembled. In my personal opinion, cutting off the crust of the bread is not necessary at all, that's why you see it left on in the pictures.
Putting some weight on the sandwich is a pretty standard method prior to cutting it into smaller pieces. You can do this with anything heavy you find in the kitchen, I used a ball of rice.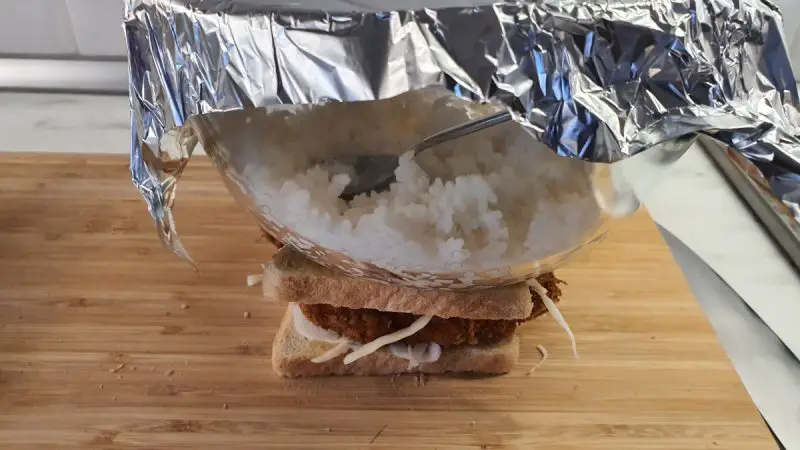 You can eat it this yummy sandwich right away after assembling it or wrap it and take it with you to work or school.
Ingredient Tips
Bread: For the bread, traditionally shokupan is used, that's a Japanese milk bread for sandwiches. They are tender white bread with a slightly sweet milk taste. But you can use any type of regular white bread, the lighter and fluffier the better.
Mustard: In Japan they use traditional Japanese mustard, karashi. That has a pretty strong and sharp flavor, but if you can't find it in your local grocery store just use Dijon Mustard.
Mayonnaise: This is optional, some people like spreading some one the bread, some don't. I personally like my Katsu Sando without mayonnaise, so I didn't include it in the recipe. But of course feel free to add some good quality mayo like Kewpie mayo (that's a traditional Japanese one) if you'd like.
Butter: Also optional. I think the flavor of butter really adds to the Katsu Sando and stops the bread from being soggy.
Tonkatsu sauce: this is essential to make an authentic katsu sando. And as you'll see, it definitely ads to the flavor profile, can't really make a Japanese schnitzel sandwich without it. You can find this sauce in better supermarkets, order it online, or make your own.
Tonkatsu: this is the bread and butter of this sandwich, but of course not literally. Make your own version at home following my recipe on this link.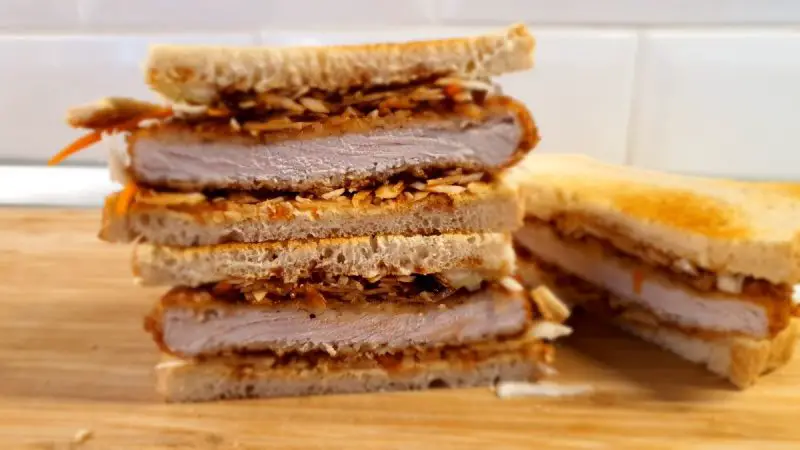 Katsu Sando
Yummy Japanese pork cutlet sandwich
Ingredients  
2

slices

white bread

1

slice

tonkatsu

40

g

shredded cabbage

about 1 cup

Butter

Dijon mustard

4

tsp

Tonkatsu sauce

20 g
Instructions 
Toast the bread (only until you get a light golden brown color just like on the photo).

Butter each slice of bread.

Spread some Dijon mustard on one slice of each sandwich, according to taste. Place half of the thinly shredded cabbage on the Dijon mustard side and drizzle 2 tsp of Tonkatsu Sauce over the cabbage.

Place the tonkatsu slice on top of the cabbage.

Evenly distribute the remaining cabbage on top of the meat and drizzle another 2 tsp Tonkatsu sauce on it.

Place the other slice of bread on top of your Tonkatsu, butter side down. To make the sandwich flat, put something heavy on it.

Cut into 2 or 3 parts and serve your katsu sando.