Schnitzel is popular everywhere in the world. And in Japan, this simple meal even made it to the list of their national dishes. Tonkatsu (or 豚カツ in Japanese) is basically the Japanese version of schnitzel. It is a crispy and crunchy Japanese fried pork cutlet made with panko bread crumbs. Japanese pork cutlet, or Tonkatsu, is one of the simplest meals you can make at home.
Rather than using finely ground, stale breadcrumbs, Tonkatsu requires panko, a Japanese-style breadcrumb made from soft white bread (without the crust). These flakes are bigger than standard breadcrumbs and absorb less grease when fried. This results in an airy, crispy coating.
Traditional Tonkatsu is also made of thicker slices of meat than regular fried pork. Due to its unique preparation method, every bite is perfectly crunchy on the outside yet juicy on the inside. Keep reading to find out how you can make a perfect Japanese Tonkatsu at home.
Best Tip To Making Perfect Tonkatsu At Home
I find this is the secret of the best Tonkatsu: Pound each side of the meat to make it super soft, then press it back with your hands to its original shape and thickness.
Even if we are using a fairly thick slice of meat, this trick will help in tenderizing the meat and you'll feel like you were eating the softest schnitzel that you'd ever tasted.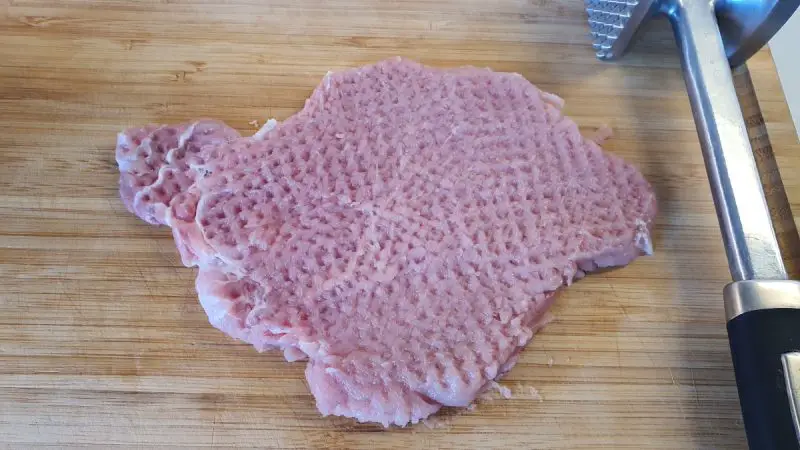 How To Serve Tokantsu
Cut the fried meat into ¾ inch (2 cm) strips before serving. This is a traditional method to serve this dish so that anyone can eat it with chopsticks.
Transfer the meat to a plate and serve it with a ball of white rice, shredded cabbage, and tonkatsu sauce (if you can't buy this in your local grocery store, click for a simple recipe to prepare it at home). This is a very traditional way of serving this dish.
Tip: If you want to lower your calorie intake, simply leave out the rice.
In Japan, very hot Japanese mustard (karashi) is often served with this this dish, but I find that's very difficult to get hold of.
Tonkatsu is also very popular as a main ingredient of a sandwich, called Katsu Sando.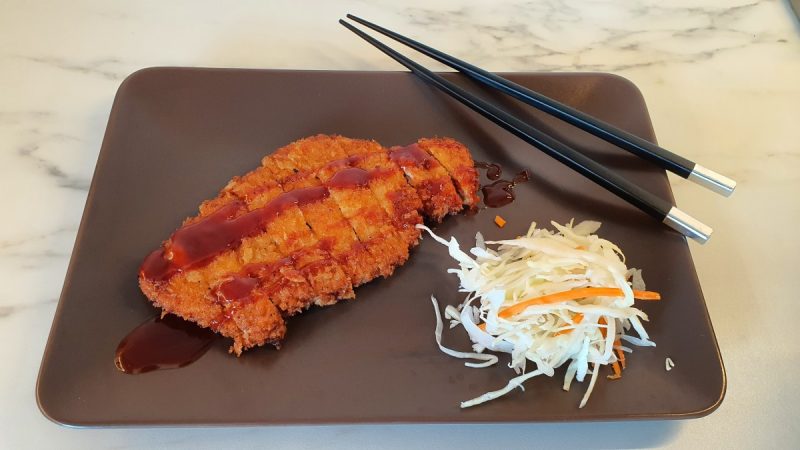 Tonkatsu Meaning
The Japanese word tonkatsu is very simple to understand. Ton (豚) stands for pork and katsu (カツ) for cutlet. This latter even comes from the English word cutlet. So tonkatsu literally means pork cutlet in Japanese.
Therefore tonkatsu is always made from pork, mostly pork loin. But also pork tenderloin is a good choice for your homemade tonkatsu.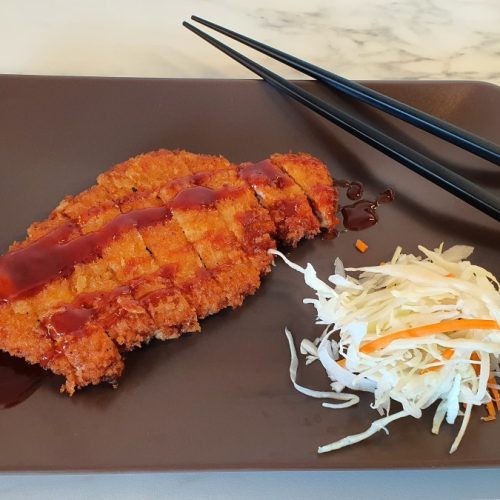 Tonkatsu
Super tender Japanese pork cutlet, as authentic as it can be
Ingredients
1 ¾

lbs

pork loin

800 g

¾

cup

flour

1

cup

panko breadcrumbs

110 g

3

eggs

salt

pepper

oil

for deep frying
Instructions
Tonkatsu Recipe
Cut pork loin into approx. ¾ inch or 2 cm (thicker than usual) slices. 1 ¾ Lbs (800 g) prok loin will yield 6 slices, 1 slice should be around 0.3 lb.

Pound to flatten to about 1/4 inch. Then press back the meat with your hands to approximately the original thickness and form. Salt and pepper on both sides.

Prepare 3 bowls – one with flour, one with beaten eggs and salt, one with panko breadcrumbs. Also prepare an empty plate for the breaded slices.

Optional: Sprinkle some cold water on the panko breadcrumbs to make them slightly wet (only a little bit, it shouldn't be too wet). This step is optional. I only do this to create a sensation of "fresh panko" since it's pretty difficult to get fresh panko crumbs unless you live in Japan.

Let's prep each pork chop: Dip first into the flour, then into the egg mixture, and finally into the bread crumbs. Press the pork gently against the bread crumbs to make sure the crumbs stick to the pork.

In a pan, heat the oil to 350 F (180 C). Deep fry each side for 2-3 minutes until it's golden brown. Take out the slices and place them on a wire rack or kitchen towel.
Based on this original Japanese tonkatsu recipe (with video): https://www.kurashiru.com/recipes/0da34803-80e6-4e2e-87be-ad4733688342