Tokantsu sauce is one of the traditional sauces of Japanese cuisine. It is served with Tonkatsu (deep-fried Japanese pork cutlet) and is often used for other deep-fried dishes.
Tonkatsu Sauce is a sweet and sour sauce that mainly consists of vegetables and fruits such as tomatoes, prunes, dates, apples, lemon juice, carrots, onions, and celery. This sauce also includes more than 10 kinds of spices along with soy sauce, vinegar, and sugar.
In Japan, you can buy Tonkatsu Sauce in most grocery stores. There are many variations — it is almost like ketchup for us, it can taste slightly different depending on which brand you chose.
It's a lot of work to make Tonkatsu sauce from scratch but I created a simplified recipe that tastes just as good.
Can You Buy Tonkatsu Sauce?
Depending on where you live, you might find tonkatsu sauce in your local Asian store or online. But that's not always an option and I find you always have a limited selection compared to the hundreds of different versions you can find in Japan. So it's kind of this is what we have, like it or leave it.
You can find tonkatsu sauce on Amazon for example (click on the link for sponsored results), but the selection is also limited and it also depends on where you live.
It is still recommended to buy a commercial tonkatsu sauce so that you can try what it tastes like. Don't forget though that the taste might differ a lot between brands. As you will see in the recipe, this is a very easy version of home-made tonkatsu sauce, but that also means that it is kind of simplified. An excellent option though if you want to serve your tonkatsu or fried dish with some kind of original Japanese dressing.
About the ingredients
The type of ketchup and Worcestershire sauce you choose will largely influence the taste of your Tonkatsu sauce.
If you're a fan of stronger, spicier flavors and darker color, try adding a little soy sauce to the mix.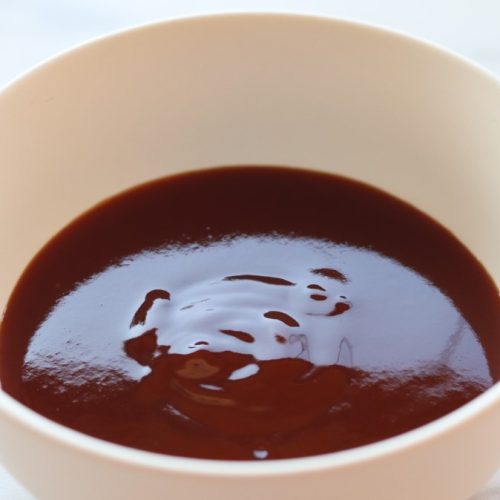 Easy Tonkatsu Sauce
2 minute home-made version of the staple Japanese sauce
Ingredients
4

tbsp

ketchup

72 g

8

tsp

Worcestershire sauce

32 g

4

tsp

sugar

20 g
Instructions
Mix all the ingredients until the sugar completely melts

Depending on how you like your tonkatsu sauce, you can make it sweeter or saltier by adding more sugar or Worcestershire sauce.