Traditionally eaten in the Philippines, Pancit (Filipino stir-fried noodles) is made using wheat flour or rice flour. This dish has been a popular menu in Asian cuisine. In addition, various ingredients, such as shrimp, chicken, pork, and vegetables, are often included in the preparation. And the best partner? Soy sauce and calamansi or lemon juice to add more flavor to the dish.
Filipinos are creative in their dishes and make their own variations out of the original recipe. Thus, any types of this popular recipe have risen, such as Pancit Canton, Pancit Bihon Guisado, Pancit Palabok, and many more variations. They have specific differences based on the noodle thickness, toppings, and how they are cooked.
For this article, we prepared the three types of Pancit that we mentioned above so you can try them at home (the last 2 coming soon).
The Origins of Pancit
Pancit has been a staple food for every occasion in the Philippines since time immemorial. Just like rice that completes every meal for Filipinos, pancit is always served to complete the party's menu.
Initially, pancit came from China and is one of its most significant influences on Filipino cuisine. However, upon adapting the said dish to their tradition, they have made different versions that you could enjoy depending on your preference.
The term Pancit originates from the Hokkien "pian e sit", which means "something cooked easily." It is said that a Chinese trader brought his prepared meal with him upon his quest to trade with the Filipinos. But when he ran out of noodles, he probably made some of them out of rice flour. Because rice noodles are quicker to prepare than rice or wheat noodles and can be used for various toppings and sauces, the demand for pancit grew fast.
Its popularity stems from the fact that it's versatile and easy to prepare. In other words, you'll get a taste of two distinct cultures' cuisines in one recipe: Chinese and Filipino. How's that? Perfect for a quick snack or a little get-together at home in the afternoon!
Fun Facts
For every Filipino, Pancit is a frequent feature of the meal on every occasion. Especially on birthdays, it is always present since they view it as a symbol of long life. It is vital not to cut or trim the noodles upon cooking due to this belief. When pancit emerges as one of the specialties, other events include New Year, Graduation Day, Christmas, anniversaries, reunions, and even simple festivities.
It was also the first "takeout food" under the Spanish occupation, with panciteros (Chinese food stalls) selling ready-to-eat pancit to working women in the cigar factories who had little time for cooking. This event led to other vendors building establishments and eateries at the roadside catering for working people and travelers. Panciterias have become more popular since then.
A single serving of short-order pancit is available at food stands in the Philippines. Panciteria is another name for them. Pancit is available practically everywhere in the Philippines, so it's easy to get your hands on some whenever you want. This noodle dish is available in "bilao", or rice winnower, a sizeable woven platter that can hold more of the dish for larger portions. To put it another way, if you want to serve more people, you may do so by using larger bilaos of pancit.
My Own Versions of Pancit
I have tried these three types of pancit, and at all times, they are a sure hit to the family! See the recipes below.
The recipe worked perfectly for me when I made it, and my family were constantly asking for more. Since it is a firm favorite, we planned to have it on the menu for the upcoming festivities. For "Long Life," indeed!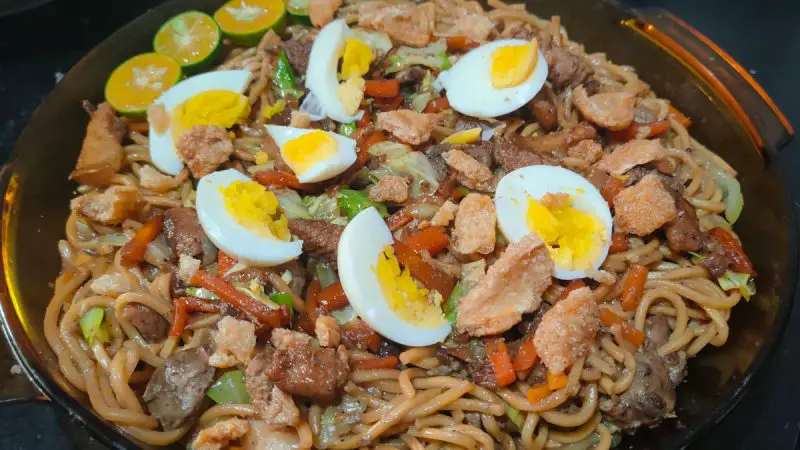 Pancit Canton egg noodles have a distinct flavor that makes them easy to identify. Recipe with easy to follow instructions and subsitutes.
Philippines' Pancit Bihon Guisado uses bihon or thin rice noodles. This recipe's name is derived from the Tagalog word guisa, which translates to "sautéing."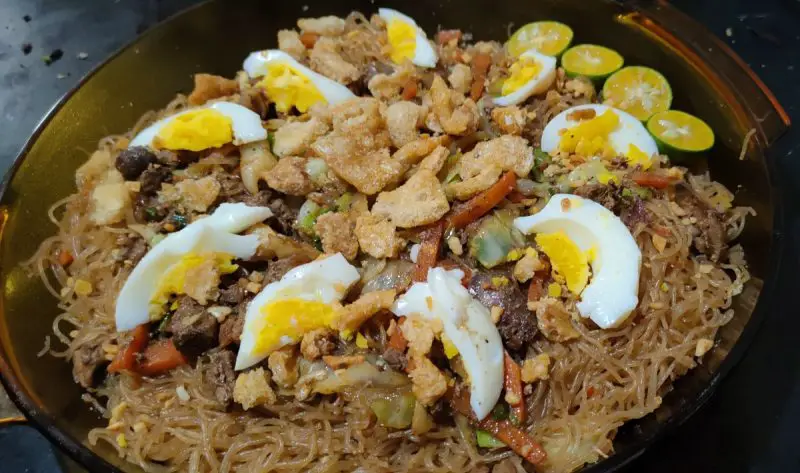 Pancit Malabon (or Pansit Malabon) is a savory noodle dish from the City of Malabon.
Wrapping Up
Pancit is a classic Filipino meal that Filipinos take great pride in serving to visitors from other cultures. You may satisfy your need for tasty food with this recipe's ease and simplicity. Pancit's reputation as a long-life emblem has been passed down through generations, making it a popular choice for festivities. Discover the difference for yourself by trying this delightful recipe!