Pancit Malabon (or Pansit Malabon), a savory noodle dish from the City of Malabon, is popular across the Philippines. It looks like Pancit Palabok, but it differs in that it has a wide variety of seafood toppings and the customary firm and thick rice noodles. The city is near the coast and another town, Navotas, where the fishing port is located. Thus, the dish's name comes after them as both cities are the centers of the seafood market.
For this pancit Malabon recipe, I simply added a few seafood pieces to spice up the dish. More simply, you may eat this pancit even without the seafood. The ground pork and tinapa flakes will create the same taste, though having seafood adds more flavor. Get started and enjoy this savory dish!
Additional Tips
Unlike other pancit, you need to cook the noodles of Malabon ahead of time because of its thick size. Cook the noodles and the meat mixture separately.
The number of toppings is entirely up to you. You may add mussels, fried tofu cubes, and other seafood to your liking.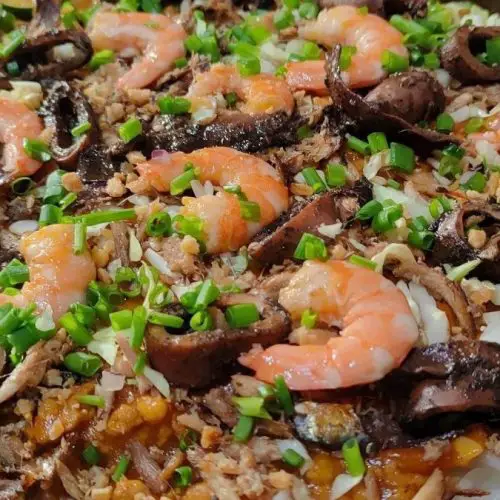 Pancit Malabon
Ingredients
Pancit Malabon Ingredients
½

lbs

rice noodles

250 g, thick rice noodles, cooked (just like cooking pasta noodles)

1/4

cup

oil

cooking

1

tbsp

garlic

minced

1/4

cup

onion

minced

½

lbs

ground pork

250 g

2

cup

water

3

tsp

annatto powder

2

tbsp

cornstarch

+ ½ cup water

1

shrimp bouillon cube

2

tbsp

 fish sauce

½

tsp

ground black pepper
For the toppings
200

g

shrimp

tossed with a bit of oil in a skillet until orange in color

100

g

sliced squid

cooked in a bit of soy sauce/vinegar/water until thickened

½

cup

tinapa

or smoked fish flakes, stir-fried

2

tbsp

onion

chopped spring

1

egg

boiled, sliced

½

cup

chicharon

or pork rinds

1

tbsp

garlic

toasted

1

cup

cabbage strips

2-3

pcs

calamansi

or one quartered lemon
Instructions
To make pancit Malabon, heat a small amount of oil in a cooking pot. Stir-fry the minced garlic and onions until about two minutes more. Add the ground pork and cook, frequently turning, until it is brown.

Make it more flavorful by mixing in the black pepper, fish sauce, and shrimp cube once the ground pork reaches brown.

Combine the annatto powder with the water to come up with the orange-colored mixture. If the color is still bland to you, feel free to add more.

Stir two teaspoons of cornstarch into a half-cup of water to thicken the sauce. Place over the simmering sauce and keep stirring until it becomes thick, about 2 to 4 minutes.

Now we're almost done! It's so easy to cook this type of pancit. To finish off, place the noodles on the plate, pour the sauce on top of it. Follow this sequence when adding toppings – cabbage strip – tinapa or smoked fish flakes – sliced squid – shrimp – spring onions – toasted garlic – chicharon or pork rinds – and sliced boiled egg.

Of course, pancit Malabon is not complete without calamansi or lemon juice. Another way to serve it is by mixing the sauce and the noodles together before adding the toppings to distribute the sauce equally.