Philippines' Pancit Bihon Guisado uses bihon or thin rice noodles. This recipe's name is derived from the Tagalog word guisa, which translates to "sautéing."
You can cook it in various ways, and the most usual is by cooking it with thin rice noodles cooked in soy sauce, occasionally with fish sauce (patis), and a mix of meats, seafood, and chopped veggies. It's best served with citruses, such as calamansi or lemon.
Different Versions Of Pancit Bihon
I cooked my version of pancit bihon guisado with simple ingredients available in the nearby grocery store. You may add other toppings such as squid balls or kikiam, and even change the meat to chicken if you prefer it more than pork.
Also, if you are a vegetarian, you may omit the meats and just go with the veggies. The taste still will be okay. Also there is no restriction on what you can add to your pancit bihon. After all, our taste buds differ from each other. Just enjoy the simple taste, whichever way you choose to cook your pancit.
Tips On The Ingredients
Pancit bihon noodles are the main ingredient of this dish, but they can be hard to come by. You can sub in thin egg noodles or try these sponsored products on Amazon.
Use pork shoulder or belly, cut into smaller parts and precook them before adding to your pancit bihon guisado.
If you don't have pork stock, use chicken or vegetable stock instead. Also you can leave out the bouillon cube, but you might want to add some salt in that case.
Additional Tips
Before beginning to cook, gather all the ingredients and chop the meat and vegetables into thin slices. The entire process takes just a few minutes, but preparing them like this is the best way to avoid anything to get burned.
If you want to cook large amounts of pancit bihon guisado, I suggest soaking the rice noodles in water to soften them. It would help you adjust the stock or water needed to cook the noodles through.
You may add other veggies such as green beans, snow peas, or celery to add aroma and flavor.
Cut the pork and liver to bite-size or small portions to cook them quickly. It results in cooking them more uniformly, allowing easier plating.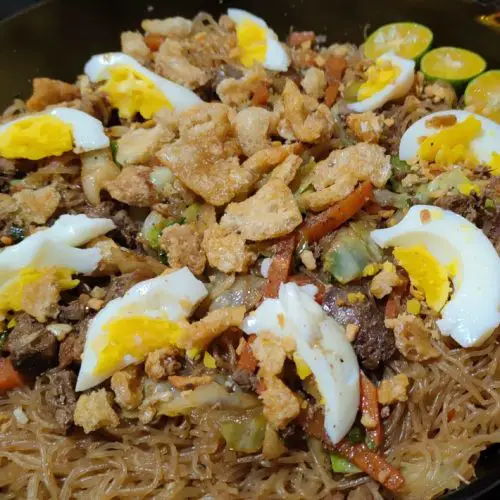 Pancit Bihon Guisado
A variation of the classic Filipino dish
Ingredients  
½

lbs

pancit bihon

rice noodles, 250 g

¼

cup

vegetable oil

2

tbsp

garlic

minced

¼

cup

onions

minced

⅓

lbs

pork

boiled till tender and cut into small pieces, 150 g

¼

lbs

chicken liver

diced, 100 g

5

cups

pork stock

½

cup

soy sauce

¼ cup for the veggies + ¼ cup for the pancit

1

tbsp

fish sauce

(optional)

½

cup

carrots

cut into strips

2

cups

cabbage

cut into thin strips

1

bouillon cube

black pepper

ground
For the Toppings
1

tbsp

garlic

toasted

½

cup

chicharon

or fried pork rinds

2

eggs

boiled, sliced into 2 or 4 lengthwise

2

calamansi

or one quartered lemon
Instructions 
Pancit Bihon Guisado
Heat the oil in a wok or big pan. Sautée the onion and garlic for a couple of minutes. At this point, add the pork to the skillet and cook it for about five minutes, occasionally stirring, until it is cooked through and crispy around the edges.

Add the diced chicken liver, ¼ cup soy sauce, and the black pepper to build up the taste of the meat. Toss it for at least three minutes and put in the carrot strips. Add the cabbage once the carrots are soft to the bite, about 2-3 minutes later. Do not overcook the cabbage to keep the crispiness.—Reserve a small amount of the cooked veggies for garnishing the finished dish.

Add 5 cups of stock, ¼ cup soy sauce, and one bouillon cube to the other ingredients left in the skillet to give it more flavor. Over high heat, bring it to a boil, add the rice noodles (pancit) and toss to coat them in the sauce. You should regularly toss the noodles until they are soft so that they don't stick to the pan. It may take 15 minutes to cook the noodles thoroughly. If you're still not satisfied with the flavor, try adding a tablespoon of fish sauce.

Remove pancit from the fire after it's done cooking and place it on a serving plate. Last but not least, the sautéed veggies and pork will complete the dish.

Arrange the toppings in this order: pancit – sauteed veggies and meat – toasted garlic – sliced boiled eggs – chicharon or pork rinds on top – calamansi/quarter lemon at the side. There is no restriction on what you may use as toppings. Enjoy it while it's hot!
Notes
Tips on the ingredients
For the pancit bihon noodles you can sub in thin egg noodles.
Use pork shoulder or belly, cut into smaller parts and precook them before adding it to your pancit bihon.
If you don't have pork stock, use chicken or vegetable stock.