There's always been a debate about how to make the best pizza sauce for your homemade pizza. In fact the big question is: do you really need to "make" a pizza sauce? Or to make an authentic Italian pizza, is there a better option maybe?
My take on this is the latter. In this recipe I'm going to show you how to make the perfect pizza sauce at home, without even cooking it. And you'll realize how great Italian cuisine is. Just by combining a few ingredients, you get a delicious sauce on your pizza. And you'll feel just like if you were in a real Italian pizzeria.
This recipe is the third of my 4-part How to make homemade pizza series (1. Making the pizza dough; 2. Shaping your pizza dough; 3. Pizza sauce and toppings; 4. Baking your pizza).
The Trick Of The Best Pizza Sauce
The trick of the best pizza sauce recipe is that you really don't have to worry about making a sauce. Just put the sauce ingredients on your pizza dough, and the sauce will form during the cooking process.
Don't believe me? Try it for yourself, and taste the best homemade pizza you've ever had! This prosciutto pizza was made with this very sauce.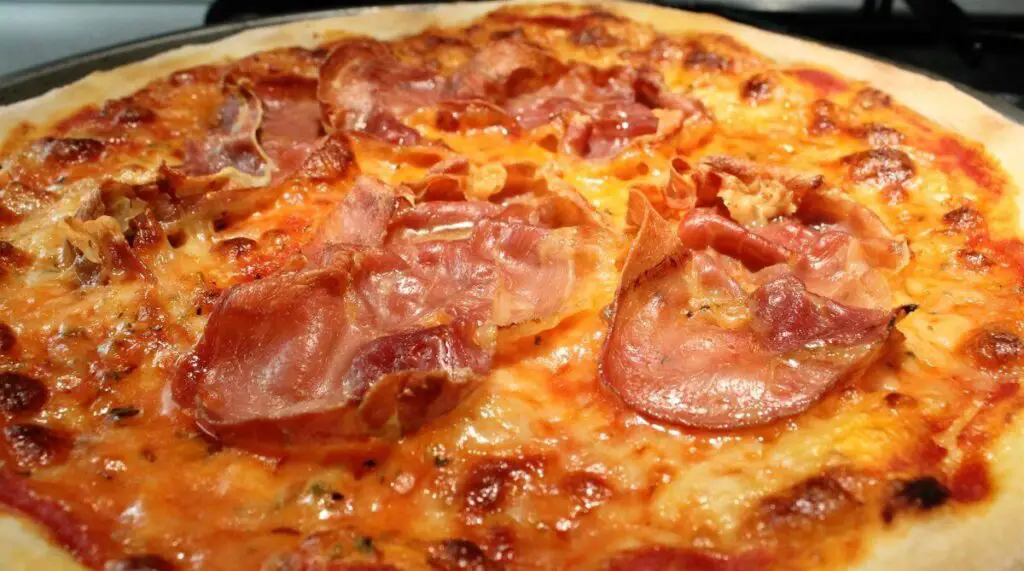 Homemade Pizza Sauce Ingredients
The secret lies in combining the best yet simplest ingredients of Mediterranean cuisine. That is, for this homemade pizza sauce you'll need:
Tomato purée. This is called passata di pomodoro in Italian, and you can get it in larger supermarkets or order online from Amazon. The thicker your tomato purée, the better your homemade pizza will turn out to be.
Extra virgin olive oil. You just need a few drops, but it'll make all the difference.
Dried oregano. This is the spice you need to make your best pizza sauce.
Fresh mozzarella. The key ingredient for your pizza sauce. It will melt together with the tomato, oregano and olive oil, forming the unmistakable sauce you are looking for.
Salt. A good pizza sauce needs a good pinch of salt.
Tips On The Ingredients
Always use fresh mozzarella that comes in water. You can find shredded and other types, but that's just not the same. The best authentic cheese for your pizza sauce is mozzarella di bufala (mozzarella made from water buffalo's milk), but if you can't find that, you can use cow's milk mozzarella cheese.
Drain your mozzarella an hour before using it. Squeeze the excess moisture with your hands, and leave the mozzarella balls in a strainer so that it can release more water. This way you avoid your pizza being soggy.
Use 4 tablespoon (approx. 66 g) tomato purée for a regular pizza, or 2 tablespoons (approx. 33 g) for a small pizza.
There is really no need to be more accurate than "few drops" or "some" when it comes to the olive oil. It depends on your taste, and also on the toppings. If your topping is moist, use less oil.
Pizza Sauce Recipe
To make this sauce, you simply put the ingredients on your shaped pizza dough. To have your pizza dough ready, check the previous step, How to shape pizza dough.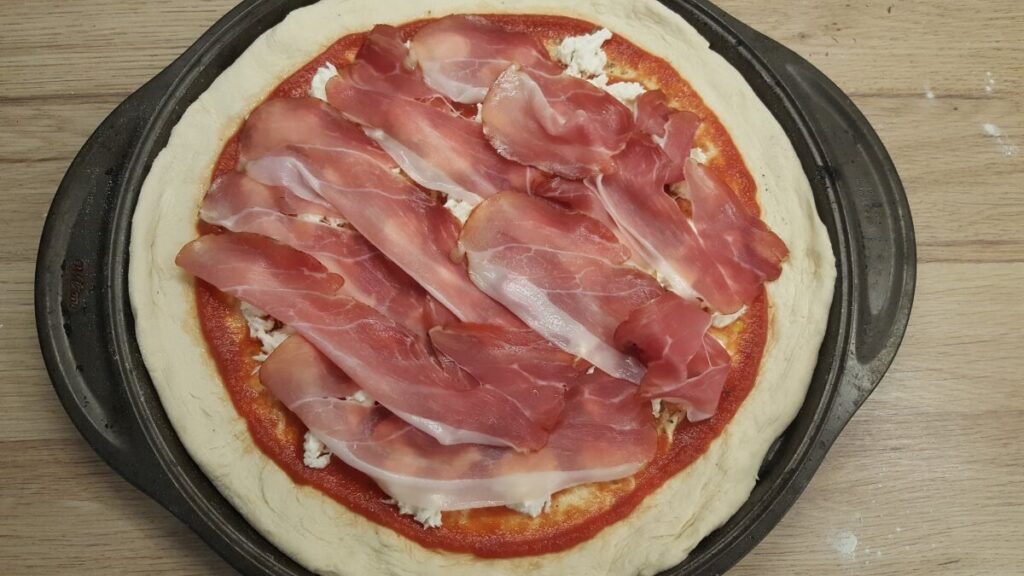 Now your homemade pizza is ready to be baked. Click on the link to see my tips on how to bake your pizza at home »
Buying Canned Pizza Sauce
If for any reason you still decide to buy canned pizza sauce (why would you?), then here are a few tips:
Check the ingredients list. Be sure to know what you put on your pizza.
You'll still need to add mozzarella, and preferably oregano too.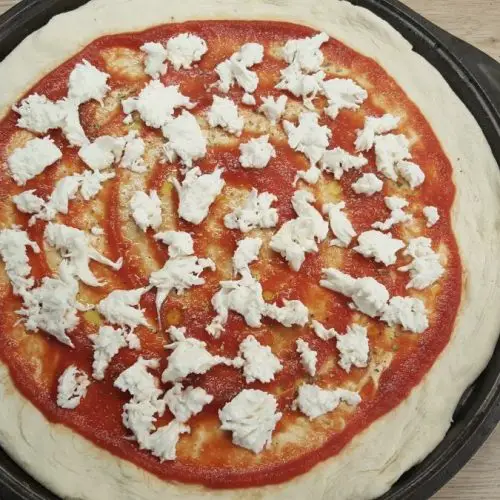 Pizza Sauce
Authentic homemade Italian pizza sauce
Ingredients
Ingredients for 1 regular size italian pizza
4

tbsp

tomato purée

66 g, passata

Extra virgin olive oil

a few drops

1

pinch

Dried oregano

(1 pinch)

1

pinch

Salt

4 ½

oz

mozzarella

125 g, fresh
Instructions
Spread the tomato purée on the pizza dough with circular motion, leaving about 1 – 1½ inch around the edges.

Drizzle some olive oil, add salt and dried oregano.

Tear or slice thinly the mozzarella and spread it on the surface of your pizza dough.

Lastly add your favorite toppings.