This easy tomato sauce is one of my favorites. It requires almost no cooking knowledge, no special ingredients, still it can be a delightful part of your inventory. Make it on a weeknight or weekend, and use it as a simple pasta sauce or in many other ways, see my tips below.
There is one simple trick or tip to make this sauce exceptional, and that is to cook it long enough. I said easy tomato sauce, not quick. In my experience you should cook it for at least 30 minutes so that the sharp, tangy flavors of the tomato smooth down to a mellow, almost sweet tomato sauce. But don't worry, you don't have to stand by it, just let it simmer.
Is it marinara? Yes and no. Marinara sauce is actually an American-Italian invention, and as such, it is usually full of spices. As you will see in the recipe, I don't even add any spices other than salt, still this easy tomato sauce is full of flavors.
But I would suggest you take it as a base recipe, from which you can fork to different directions. And one can be to add dried herbs, such as basil or oregano, and make it practically a marinara sauce.
Different versions
One option to make different recipes out of this one is to cook the sauce thicker or thinner. My version is somewhere in the middle.
Add some more water and make it a thin tomato sauce. Cook it 10-20 minutes more uncovered, and it will turn into a thick sauce, with some flavors resembling to that of tomato paste, in a good way. In this case the sauce drying out on the sides of the dish caramelizes and creates a distinct umami flavor. Yummy. You must try that once!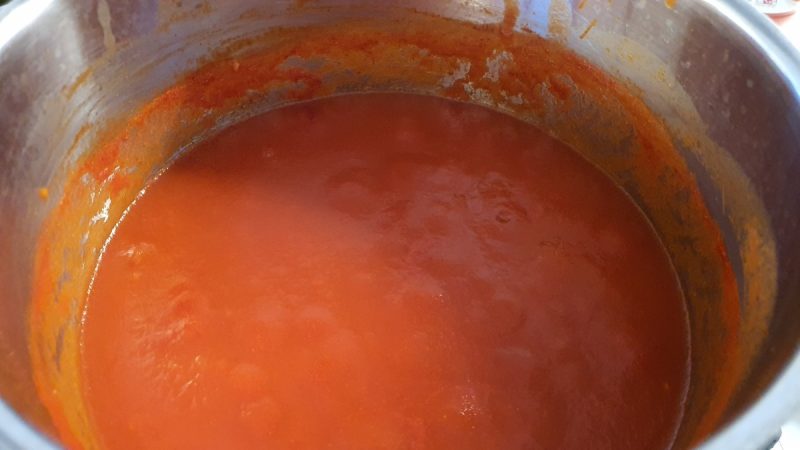 The other option can be to add spices, especially herbs. Your options are almost limitless here, but the two most obvious contenders are basil and oregano. Add fresh or dried herbs, they can give even more flavor to this simple tomato sauce, and as I said before, turn it into what is basically a classic marinara sauce.
But you don't even have to stop there. Other herbs, such as rosemary, thyme, sage would be a very good option to create a new variation of this easy tomato sauce.
The Key Ingredient
The key ingredient is of course tomato purée, or as Italians call it, passata di pomodoro. There are two things that you should know regarding this ingredient in the recipe.
The final taste of your easy tomato sauce will depend on the type of passata you are using. These are usually made from ripe sweet summer tomatoes, but still not all tomatoes are made equal. Make sure to buy good quality stuff.
You can buy these canned or in a bottle. Italian products, available throughout Europe and the US, are generally 690 grams or 24.5 ounces, the quantity I am using in the recipe. But sometimes you can find 26 oz or 28 oz versions. This won't make a big difference though. You can use the same quantities that you find in the recipe with either one of these packagings, your tomato sauce will be just as good.
Tips To Use This Easy Tomato Sauce
Use it as a simple pasta sauce. Top your pasta with some parmesan cheese, and you won't be craving for anything else on a lazy weeknight.
Serve as a tomato dip.
Make a quick chicken parm with it. Spread the sauce thinly in a baking pan, add breaded chicken breasts, top it with the sauce and grated parmesan cheese. Bake it in a 350 F (180 C) oven for 15 minutes.
Serve it with simple pan-fried chicken breasts.
This sauce is also the base for my Italian meatballs recipe, an all-time family favorite.
Smooth it in a blender, food processor or with an immersion blender, add water and serve it as a very simple tomato soup.
Use as a base recipe for many other Italian dishes.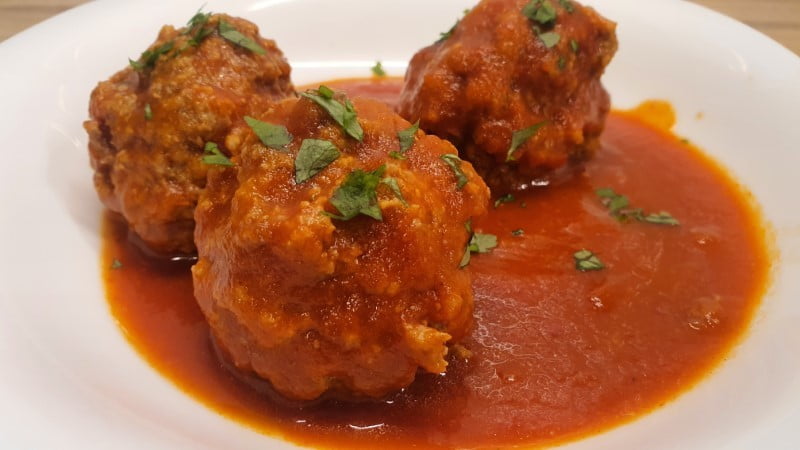 Easy Tomato Sauce
An easy take on the classic marinara, everyone can make it with no cooking knowledge
Ingredients  
24

oz

tomato purée (passata)

690 g or about 2⅖ cups

½

cup

onions

chopped, 60 g

½

tbsp

garlic

chopped, 1 clove

1

tbsp

olive oil

extra virgin

1½

cups

water

4

g

salt
Instructions 
Chop the onion and the garlic.

Sauté the chopped onions on the oil over low heat for 3-4 minutes, until they become translucent but not browned.

Add garlic and sauté for another 30 seconds.

Add tomato purée (passata), water, and salt. Bring it to a boil over high heat. Then turn down the heat and cook for 30 minutes covered. Make sure it slowly simmers, stirring occasionally.

Optional: Cook for another 10 minutes uncovered if you want a thicker sauce.
Notes
Nutrition data only a rough estimate, per serving.
Nutrition
Calories:
46
kcal
Carbohydrates:
5.3
g
Protein:
1.4
g
Fat:
1.9
g
Sodium:
0.74
mg