Did you know that to make authentic Italian meatballs with tomato sauce, you don't necessarily have to bake or sear your meatballs first? There is a simple way to prepare this dish, and it's simmering your meatballs in the sauce until they are cooked.
Yes, this method might produce a bit less flavor than searing them first, but I would argue even that. Try this recipe and you'll judge if it's delicious or not (it is). On the other hand, this method is much simpler to make, and not to forget it is actually the way this dish is often prepared in Italy. The Italian name for this dish is polpette al sugo, literally "meatballs in sauce".
The Secret Spice – Twice
There is a secret ingredient though that you would not even think about as spice. And this is Parmesan cheese, or Parmiggiano Reggiano.
And why twice? The trick I learned from authentic Italian recipes is not to discard the rind of the Parmesan. The rind has all the flavors of the cheese, but it's too hard to eat. But if you add this piece of umami bomb to your tomato sauce, you bet it will make it unforgettable.
Parmesan rind – your secret spice to make exceptional Italian tomato sauce
What Is Passata
The main ingredient in the tomato sauce in this recipe is Italian passata (passata di pomodoro, literally tomato purée). This is simply canned tomato purée, and you can easily find it online. But if you can't get hold of it, you can use any canned tomato sauce instead.
Italian passata does not have salt added. So if you're using any other products, please check the saltiness. Also be aware that spices in your canned sauce might modify the taste.
For this recipe, I used two glasses of passata, 2×690 grams. This is the standard Italian packaging, and this quantity equals to about 5 1/2 cups of tomato purée.
Tips On Making Perfect Meatballs
You can use ground beef or ground pork for your meatballs. You can even mix them, 50% pork and 50% beef.
Add some diary product to make your meatballs lighter. This can be 1-2 tablespoons of sour cream, yogurt or even milk. Adjust the quantity of breadcrumbs accordingly (you might need more).
I used a 1/4 cup measuring cup to form my meatballs. These result in slightly bigger balls than you might be used to, but I figure these are closer to the actual versions they prepare in Italy. 1 pound of ground beef yielded 14 larger meatballs.
Using a measuring cup though will help you produce equal-sized meatballs, consider using a 1/4 or 1/8 cup measure.
And one tip for your sauce. The longer you cook it, the richer it'll get. If you have time, cook the tomato sauce (the sugo) for 30-60 minutes before adding the meatballs.
How To Serve Italian Meatballs
Classic American-Italian Meatballs are served over spaghetti–hence the popular name, spaghetti and meatballs. But yes, you read it right: this is the American version.
Of course you can serve your authentic Italian meatballs over spaghetti or any kind of pasta. I realy mean any type, you should try them with penne, fusilli, or farfalle, just to name a few.
But this is actually not the typical way of serving this dish in Italy. Pasta in Italy is considered kind of an entrée (primo piatto), but meatballs are a main dish (secondo piatto). So generally no spaghetti and meatballs together. They serve their meatballs as a separate main dish instead, usually with fresh Italian bread.
One very common way of serving meatballs in Italy is to sprinkle them with chopped fresh parsley and basil, as you can see in this picture.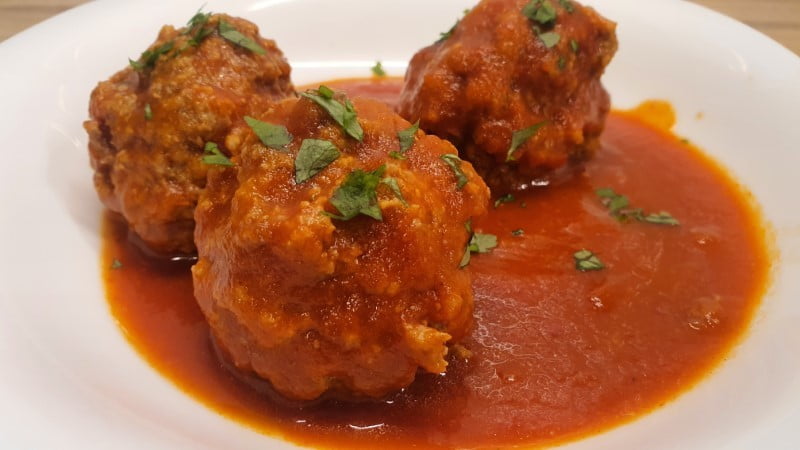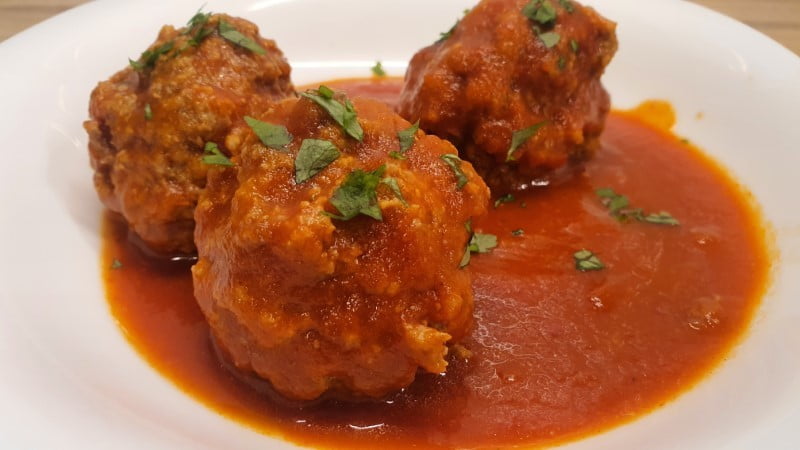 Italian Meatballs in Tomato Sauce
Easy and delicious Italian meatballs in tomato sauce, without baking or searing
Ingredients
Tomato Sauce
⅔

cup

onions

chopped

1380

g

passata

tomato purée, see recipe for tips

1

clove

garlic

1

tbsp

olive oil

1

tsp

salt

1

Parmesan rind

optional

3

cups

water
Meatballs
1

lbs

ground beef

3

eggs

½

cup

Parmesan cheese

grated

½

cup

breadcrumbs

1

tsp

dried parsley

½

tsp

salt

black pepper

to taste
Instructions
Tomato Sauce
Finely chop onions and mince garlic. Heat oil in a large pot over medium heat.

Sautée onions in olive oil over medium heat for 4-5 minutes. Add garlic and sautée for another minute.

Add tomato purée, salt and about 3 cups of water. Optional: add Parmesan rind. Bring to a boil and cook for 30 minutes over low heat.
Meatballs
Mix meatball ingredients in a bowl (ground meat, lightly beaten eggs, grated Parmesan, breadcrumbs, parsley, salt, black pepper).

With wet hands, form balls and put them in the tomato sauce. Use ⅛ cup or ¼ cup of meat mixture for each meatball.

Cook the meatballs in the tomato sauce for 25-30 minutes.