Lecso [original form lecsó, pronounced letsho] is one of the many staple dishes of contemporary Hungarian cuisine. Literally every household in Hungary have their own recipe, and you can be sure this dish makes it into the dining table several times every summer.
It is a very simple dish, a vegetable stew consisting of tomatoes, green peppers (more on this later) and onions. Yet I'd say it is one of the wonders of the Hungarian cuisine that such simple ingredients make such a tasteful dish.
Lecso can be labeled as Hungarian ratatouille, just to give you a rough idea about it. But it is just a distant cuisine of the famous French dish. Lecso has much less variety of vegetables and, other then sometimes paprika, doesn't use any other seasoning. Yet, once you try it, you'll be always craving for a good lecso!
Special Lecso Ingredients
For a good and authentic lecso recipe you need to consider the following, regarding the ingredients:
Fat. You can use vegetable oil, and this will make a great vegetarian and even vegan lecso. That's what most families use these days. You can also use olive oil but I bet nobody is adding that to their lecso in Hungary. But to use lard or duck fat instead is somewhat more traditional. I admit then it's not vegetarian neither vegan, but it adds such a deep layer of flavors to your dish, than if you eat meat, you should try it that way. In this version I'm even using a type of salt-cured pork fat that makes it more tasteful and authentic.
Tomatoes. The key is to use ripe, sweet tomatoes that are in season.
Green peppers. One of the key ingredients of the Hungarian lecso is Hungarian sweet pepper or Hungarian wax pepper. Unfortunately you cannot find this type of pepper easily in most countries outside Central Europe. I find Cubanelle (or Cuban pepper) is the closest thing you can use to make this dish. Read Saveur magazine's article about Hungarian wax peppers, and find them online in season at Melissa's or at Amazon.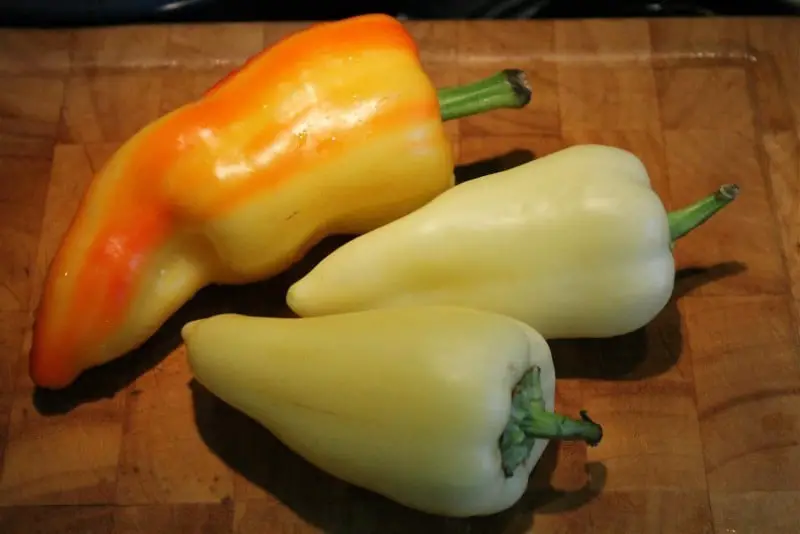 How To Serve Hungarian Lecso
Lecso is best when served warm. Serve it with fresh white bread. You can also easily store it in a fridge for several days and then reheat it. It'll be almost as good as fresh. On hot summer days it is also a nice appetizer when served cold, so basically anything goes here!
It is usually served as a main dish, either fur lunch or dinner. But lecso can also be a good appetizer or entrée or even a ragout-like side dish for meat.
People in Hungary almost always add some other ingredients to enrich their lecso. You can really use your imagination here, but here are the most common ingredients you can serve an authentic Hungarian lecso with:
Maybe the most popular version is made with eggs. Just lightly beat 3-5 eggs for this quantity. Lower the heat and pour eggs into your lecso while still in the pot. Let it cook over low heat for about a minute. Stir occasionally, until your eggs resemble soft scrambled eggs. Serve immediately.
Frankfurters or sausages are also popular with lecso. Just slice them and let them cook in your lecso for about 4-5 minutes.
You can also add rice. To prevent overcooking your lecso, precook your rice in water, then add it to your lecso and let the cooking process finish in a few minutes.
Some people add squash to their lecso. Softer varieties, such as zucchini, work best. Remove the skin and the seeds and dice the squash. Add them to you lecso and cook them to your liking.
Tips To Making Perfect Hungarian Lecso
Of course this depends on what you call the perfect lecso. It's a matter of individual taste and partly of family traditions. Everyone have their own lecso recipe in Hungary, so you can be sure to find hundreds if not thousands of variations of this recipe, all being fantastic.
However, there are some key points that are worth highlighting when it comes to making a good and authentic lecso:
Use lots of onions and cook them in a large amount of fat. When you look up the ingredients, you'll see that this recipe requires 1 ½ pounds (700 g) of onions for 2 ¼ pounds (1 kg) of green peppers, which may appear too much at first. That's exactly what will make your lecso authentic and yummy!
Unless you are a vegetarian, for half or even all the total amount of fat use some high quality animal fat, e.g. duck / goose fat or good quality pork lard.
Use some bacon or other salt-cured and possibly smoked pork. (Here in the recipe I'm using smoked fatback.)
Cook lecso when green peppers are in season. Not all types of green peppers make a good lecso, read my tips above.
The other key ingredient is tomato. Only juicy, sweet summer tomatoes make a yummy lecso and not the ones that you usually buy in the supermarket. In case you would like to cook lecso during winter time, use Italian canned diced tomatoes.
You don't need to be super finicky about the amount of the ingredients. We are not cooking for a Michelin-star restaurant, and your lecso will turn out to be delicious as long as you more or less follow the proportions.
Last but not least, do not overcook your lecso. It is best when green peppers are cooked through, but they don't fall apart and you can still bite into them. Also your tomatoes should be mushy, but you could be able to see some smaller pieces in your dish.
Prepare Your Ingredients
Lecso has quite a quantity of green peppers, tomatoes and onions that take a good amount of time to prepare. Make sure to do this ahead so that when it comes to the actual cooking you don't need to worry about your ingredients. There is a fancy French term for this, mise en place, but it is exactly what we want here.
Chop your onions medium fine. This is quite a good amount, it will take between 5-10 minutes just to prepare the onions.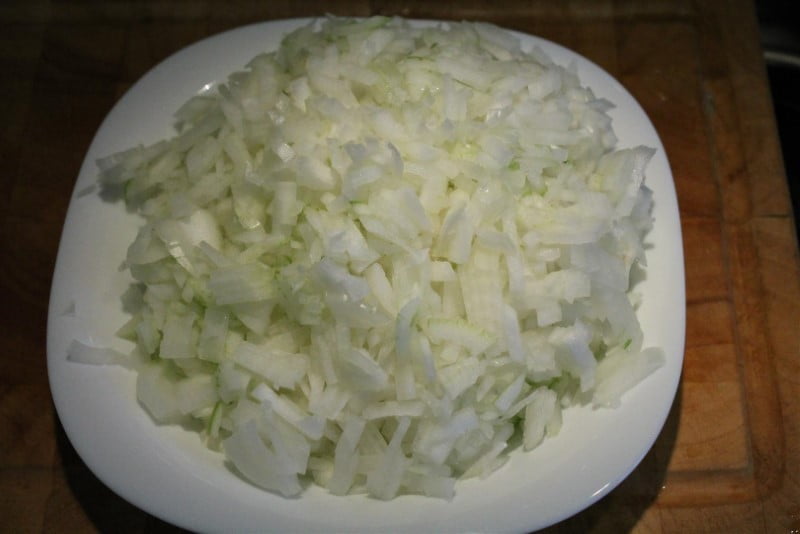 Remove the green peppers' stem and seeds, and cut them into 1/5 – 2/5 inch (5 – 10 mm) slices.
The best way to prepare your green peppers is to hold them in one hand, then push the stem inside with the other hand, while twisting slightly. Pull out and remove the core. Shake it to get rid of the seeds. Cut your green peppers in half lengthwise, and then slice them.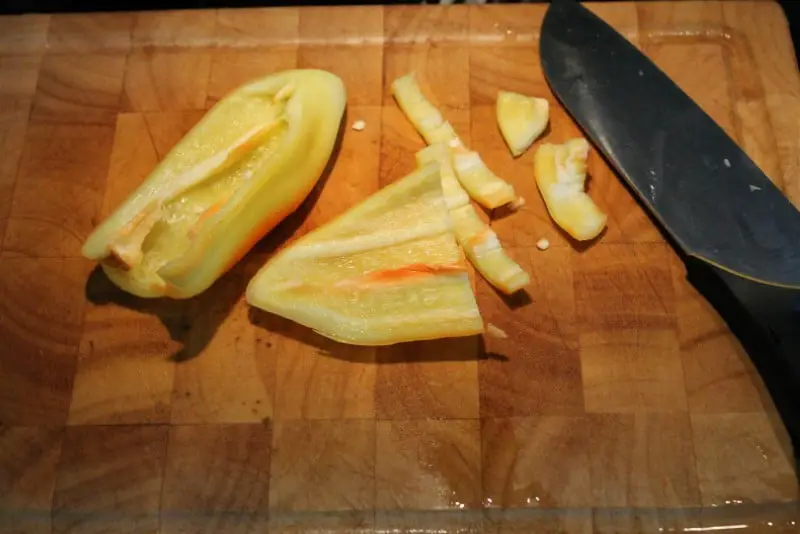 Peel your tomatoes, remove the stems and dice them. Don't need to remove the seeds.
If you are using bacon or any kind of cured pork, cut it into strips.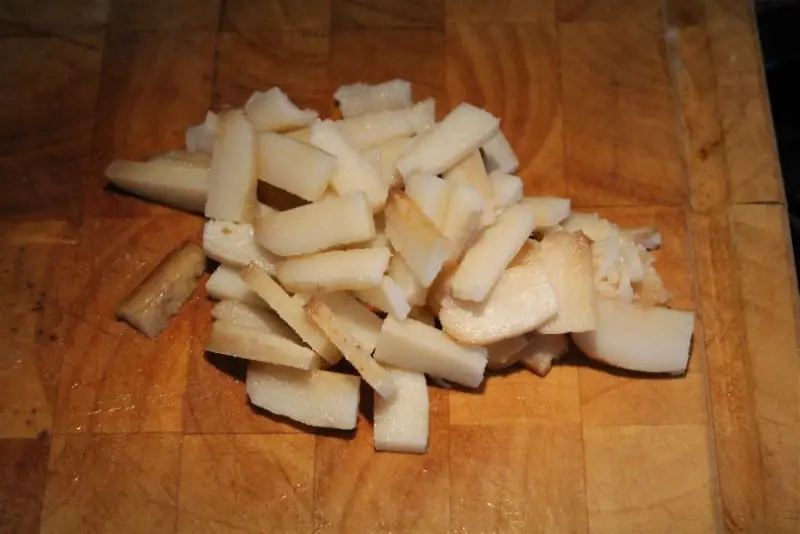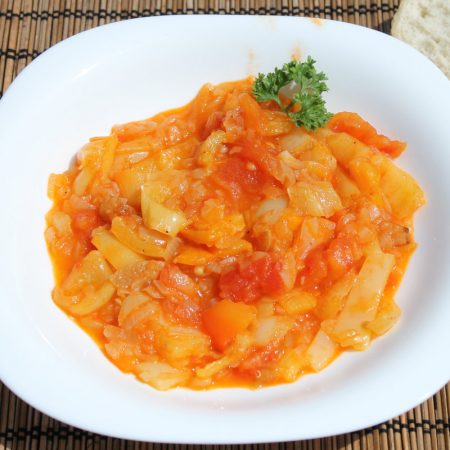 Authentic Hungarian Lecso
A great vegetable stew with the tastes of late summer.
Ingredients
1 ½

lbs

onions

700 g

2 ¼

lbs

green peppers

1 kg, see recipe for tips

1

lbs

tomato

ripe, 450-500 g

1

tsp

paprika

⅛

tsp

ground black pepper

a large pinch

3

oz

bacon

or other salt-cured pork

6

tbsp

fat

vegetable oil, lard or duck fat, see recipe for tips

1

tsp

salt
Instructions
Prepare your vegetables. Finely chop onions; Remove green peppers' core, and cut them into 1/5 – 2/5 inch (5 – 10 mm) slices; Peel your tomatoes, remove stems and dice them.

Cut the bacon into strips. Render fat in a large pot, adding some more fat or oil.

Add remaining fat and start sautéing your onions over high heat with the bacon. Add salt at the beginning so that it can release moisture. Continue to cook for about 6 minutes, until translucent.

Add green peppers. Mix thoroughly, stir occasionally and cook for about 6 minutes over medium-high heat.

Add paprika, ground pepper, and tomatoes. Stir.

Cook over medium-low heat for about 4 minutes.
Notes
You don't need to be precise with the ingredient amounts. As long as you follow the proportions in this recipe, your lecso will turn out delicious.