Ratatouille, a summer vegetable stew, is maybe the most iconic food of the southern French region of Provence. In this recipe I'm going to show you a roasted ratatouille version, which is one of the two most common varieties of the authentic recipe.
Authentic ratatouille though is not a dish of nicely stacked sliced vegetables, what most people in English speaking countries think it is, thanks to Disney's movie with the same title. But more on this below. It is instead a slowly cooked stew of summer vegetables and tomato. Not an Insta-worthy food indeed, yet super delicious. And as you'll see it is extremely easy to prepare.
Roasted Ratatouille
As I mentioned above, roasted ratatouille is one of the two most common 'big' varieties of this dish. In this variation ingredients are sautéed one by one before being cooked together. The other variety is somewhat simpler, they simply cook every ingredient together in a pan.
But this roasted ratatouille is not much harder to make, and I think this small extra work is well worth the effort. By roasting the vegetables over high heat you create an additional grilled flavor without ever needing to use a grill.
Authentic Ratatouille
Several varieties of 'authentic ratatouille' exist even in Provence, as it is the situation with basically every recipe. Other than the the two big differences in the preparing method (see above), seasoning and the way of cutting the ingredients (i.e. diced or sliced) also can vary.
What's pretty much stable is the basic ingredients, which are eggplants, zucchini, bell peppers, tomato and onions. As seasoning garlic, salt, and pepper are used in literally every version, and most contemporary recipes add bay leaves and thyme. But you can use basically any Mediterranean herb; basil, parsley, celery leaves, marjoram, fennel, or even herbes de Provence; and still making an authentic ratatouille.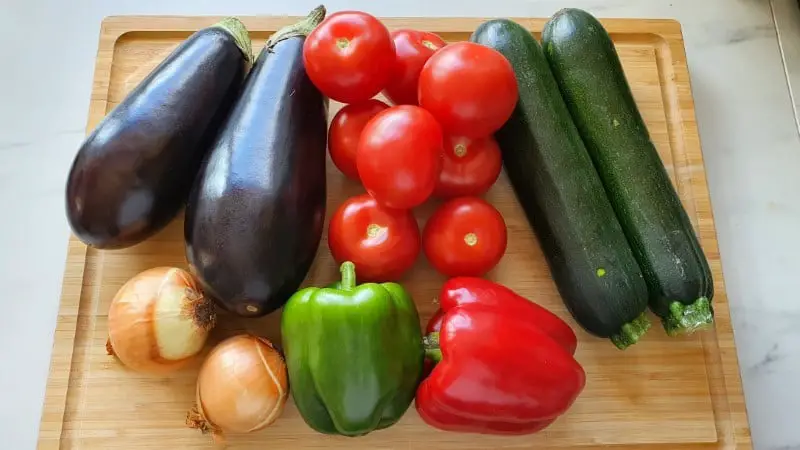 One thing is true though. The nicely stacked, sliced vegetable casserole that most English speaking home cooks are familiar with is not an authentic ratatouille. That one is instead a dish popularized by the Disney movie with the same name, but it is in fact an artistic creation. It's origins go back to another Provençal dish from the city of Nice, the Tian.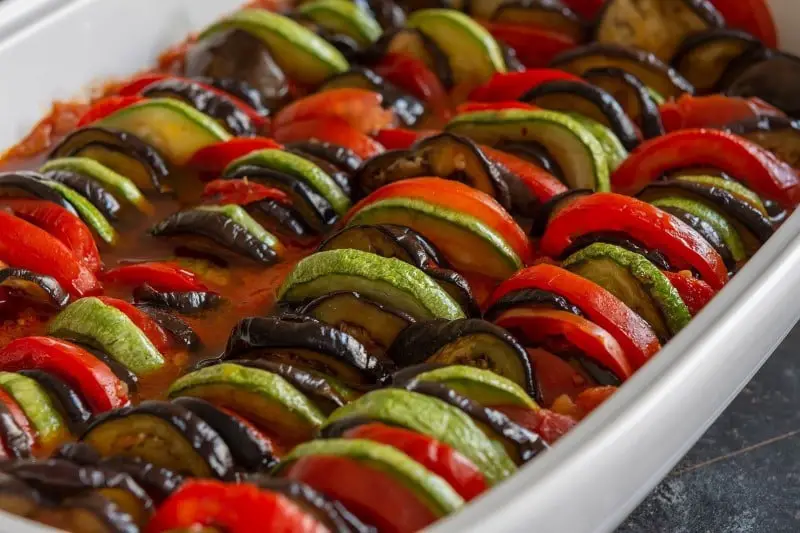 Ratatouille Tips
Maybe the most important tip for a delicious ratatouille is to use sweet summer tomatoes. Unfortunately you rarely find these in a supermarket these days. Try to get them in your local farmer's market if possible. If not, cook your ratatouille in summer or late-summer, using very ripe tomatoes.
My second most important tip is that you shouldn't worry about the exact quantity of the ingredients. Use roughly the quantities I give you in the recipe, but even if your eggplants are a bit smaller and zucchini larger or vice versa, your ratatouille will turn out to be just delicious.
You can use any spices that they would traditionally use in Provence, your ratatouille still will be authentic. Bay leaves and thyme are the ones that I've found to be the most popular in French online recipes these days. But feel free to add basil, marjoram, fennel, celery leaves, or herbes de Provence. All of them are are 'authentic', people use them in their ratatouille throughout South France. Fresh herbs obviously add to the summer feeling, but you can use dried ones as well.
Ratatouille needs quite a big frying pan, even for this quantity. If you don't have a lid big enough for your pan, simply cover it with aluminum foil.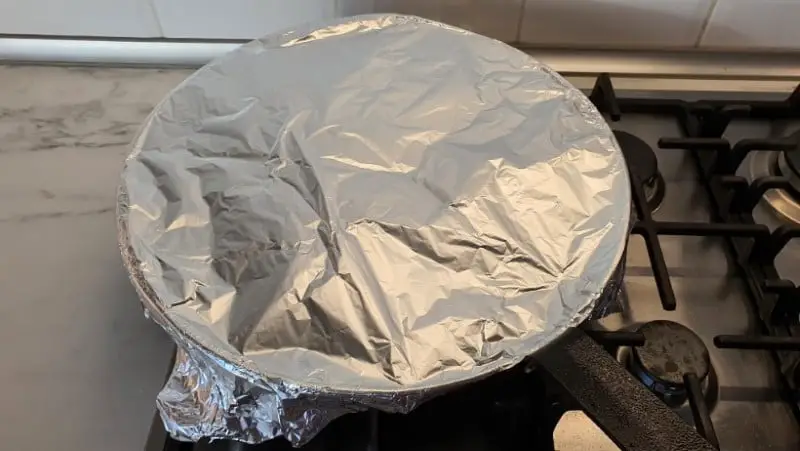 How To Serve Ratatouille
Ratatouille is a very versatile dish. You can serve it as main course, in this case it becomes a very healthy summer vegetarian-vegan dish.
It is often served as a side dish, it goes well with basically any roasted meat. And of course you can serve it both warm and chilled. My favorite temperature for ratatouille is 30-60 minutes after preparing, but of course this is only a personal preference.
You can easily store it in the fridge for a couple of days, and then eat it either chilled or reheat it.
I would add quite a lot of different ingredients to 'enrich' my ratatouille, and basically create another dish. Rice, chickpeas or mushrooms would work great. But if you step outside the territory of vegetarian recipes, chicken, sausage or even fish would elevate your ratatouille to a whole new level.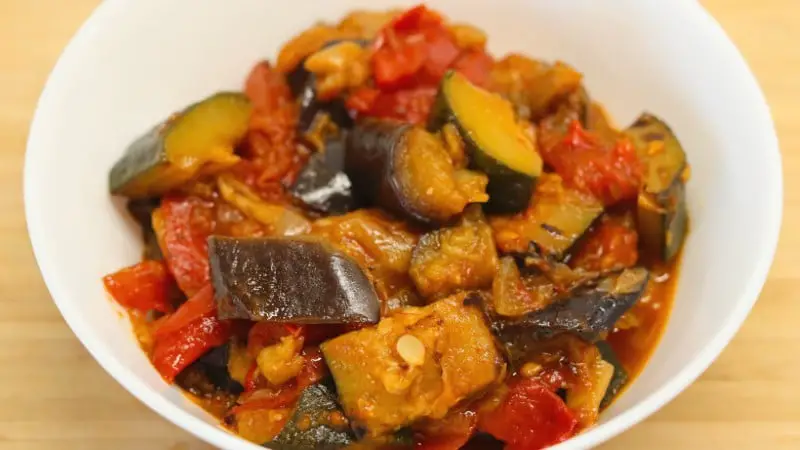 Authentic Roasted Ratatouille
All the flavors of Provence in a delicious homemade summer dish
Ingredients
2

eggplants

about 1 ½ pounds or 700 g

2

zucchini

about 1.65 pounds or 750 g

2

lbs

tomatoes

ripe summer tomatoes, about 9 pieces or 950 grams

2

bell peppers

1 green and 1 red

2

onions

about ½ pounds or 200 g

3

cloves

garlic

2

bay leaves

6

sprigs

thyme

fresh

2 ½

tbsp

olive oil

extra virgin

salt

black pepper

ground
Instructions
Prepare the ingredients. Remove bell pepper stem and seeds and cut them into 1 inch pieces. Cut off stems of zucchini and eggplants, cut them in half lengthwise then again in half lengthwise (you can cut bigger eggplants in 3) and then into 1 inch cubes. Dice the onions in larger pieces and cut the tomatoes in 4. Roughly chop the garlic. Transfer everything into a separate plate or bowl.

Sautée the veggies one by one in ½-½ tbsp of extra virgin olive oil over high heat for 5 minutes. First the bell peppers, then the eggplants and lastly the zucchini. Transfer them back to their plate or bowl.

Sautée the onions and tomatoes in 1 tbsp of olive oil over high heat for 5 minutes. Add the garlic and salt for the last minute.

Add all other ingredients; bell peppers, eggplants, zucchini, bay leaves, thyme, salt, and pepper. Stir, cover and lower the heat.

Cook for about 40 minutes over medium-low, covered. Stir every 5-10 minutes.