Lasagna or lasagne (see disambiguation below) is a very popular type of Italian pasta used for making casserole pasta dishes. And while lasagna bolognese is probably the most well known recipe, there are countless options to make an exceptional lasagna dish without meat.
In this recipe I'm going to share with you a vegan lasagna variation with mushrooms and eggplants. It is completely plant based, so suitable not only for vegetarian but also vegan diets. But what's more important, it is so yummy that no matter what diet you are on, you are going to crave for more!
Vegan And Yummy
I have to tell you I'm not vegan, not even vegetarian. So when I am cooking vegan recipes, I don't want to substitute any animal based product just for the sake of imitating the same flavors. This is the reason for example why I don't put plant-based cheese on my vegan lasagna.
And I accept if this is something you are not comfortable with. You can of course go ahead and top your version with plant-based cheese.
But what this means is that this dish is a family favorite in itself. It does not try to imitate anything, it has its own complex flavor profile. It is yummy and vegan at the same time, no matter if you are vegan or a meat eater. Try it for yourself and let me know in the comment section down below how it went!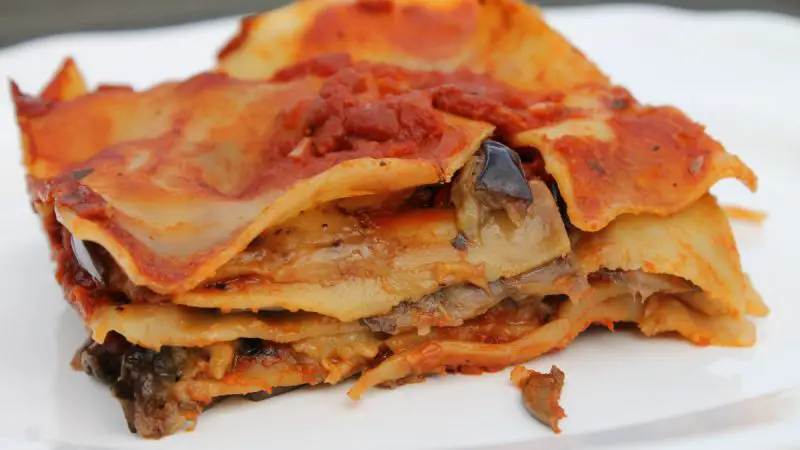 Vegan Lasagna Pasta
If you really want to make this dish 100% plant-based, there is only one ingredient you should be watching out for. And that is the lasagna pasta itself.
Traditionally lasagna sheets are made with eggs. So when shopping for lasagna, make sure that you buy one that does not have eggs. Just looking for durum wheat is not enough as all Italian pasta, with or without eggs, are made with durum wheat.
Preparing Vegan Lasagna With Mushrooms And Eggplants
Other than the lasagna pasta, there are three elements of this recipe; the tomato sauce, the mushrooms and the eggplants.
Prepare the layers separately and then assemble your lasagna before baking. You will need a 9 x 13 inch (25×35 cm) baking pan for the amounts in this recipe. It yields 8 servings.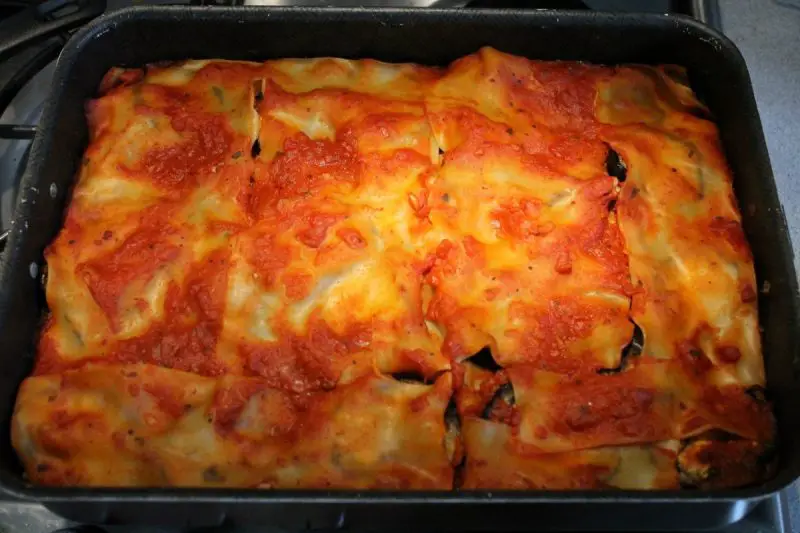 Also I am precooking the lasagna sheets here in this recipe. Traditionally this is not needed, as sauces and cheese provide enough moisture to make the sheets soft in the oven. But here we are using a much thicker tomato sauce and less liquids, so you need to precook your pasta for 5-6 minutes before assembling. And we will also use the cooking water for this same reason, see the recipe.
Lasagna Vs Lasagna
You can hear both the words lasagne and lasagna regarding this dish. But which one is the correct version?
As with every Italian pasta, they have a singular and a plural form. Lasagna is the singular while lasagne is the plural.
All Italian pasta names come in plural when talking about the dish. So lasagna is just one sheet of pasta, rarely used in this form int Italian. Lasagne is the plural form which is used in Italy for the name of the pasta in general, for one pack of pasta, or for any dish made from this type of pasta. So in Italian the name of any dish made with this kind of pasta is lasagne. Also this is the spelling used in British English.
However in American English the word lasagna is used for the pasta and the dishes. So even if it is not correct in Italian, it is the correct form to use in English.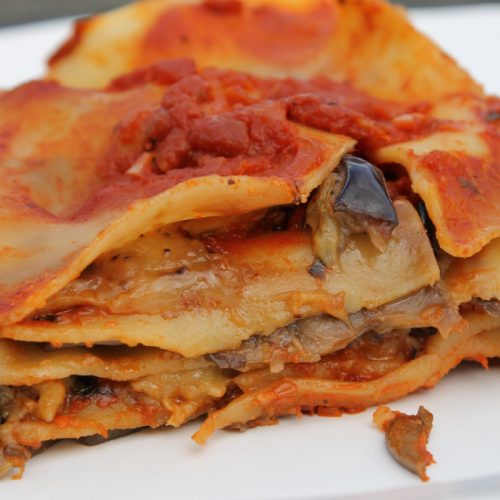 Vegan Lasagna With Mushrooms And Eggplants
A vegan take on the classic Italian dish
Ingredients
Eggplant layer
3

eggplants

2 lbs

10

tbsp

olive oil

extra virgin

3

tsp

salt
Mushroom layer
2

lbs

mushrooms

1000 g

2

onions

3

tbsp

olive oil

extra virgin

1

tsp

salt

1

tsp

black pepper

freshly ground
Tomato sauce
4

cups

tomato purée

passata, 800 g

1

onion

2

cloves

garlic

1

tbsp

olive oil

extra virgin

1

tsp

salt

½

tsp

black pepper

freshly ground

1

tsp

dried oregano or basil
Lasagna pasta
24

sheets

lasagna pasta

egg-free
Instructions
Preparing the eggplants
Slice your eggplants 1/3 – 1/2 inch (1 cm) thick, mix them with 3 teaspoons of salt. Put them into a large bowl and allow them to rest for at least 30 minutes. Wash them with running water and pat them dry with paper towel.

Cook the eggplant slices for 3 minutes on both sides in 1-1 tablespoon of olive oil per batch over high heat.
Preparing the mushrooms
Wash and clean the mushrooms. Slice them into 1/6 – 1/5 inch (4-5 mm) slices. Finely chop 2 whole onions.

Fry the onions with the olive oil over medium heat for 3-4 minutes until translucent. Add the mushrooms and stir fry them over high heat until they evaporate all their liquids. This may take 3-6 minutes. Add salt and pepper. You may need to fry your onions and mushrooms in 2-3 batches.
Preparing the tomato sauce
Finely chop the onion and garlic. Cook the onion over medium-low heat with 1 tablespoon of olive oil for 3-4 minutes until translucent. Add the garlic and cook for 30 seconds.

Add the tomato purée and some water (2-3 tbsp). Season with salt, pepper, and oregano or basil. Bring it to a boil and simmer over low heat for 30 minutes. Stir occasionally until the sauce thickens.
Precook the lasagne pasta
Bring a large amount of water to a boil in a larger pot. Add salt to the water – use a fair amount of salt.

Put the lasagna sheets into the water to precook them. Stir them occasionally, particularly at the beginning, or else they stick together. I cooked my 24 sheets in two portions.

Cook for about 5-6 minutes then transfer them to a plate. They won't be completely soft, but they will continue cooking in the oven. Reserve the cooking water for later use.
Assembling and baking the vegan lasagna
Preheat the oven to 350 °F (180 °C).

Spread 4 tbsp of tomato sauce evenly on the bottom of a 9 x 13 inch (25×35 cm) pan.

Put one layer of lasagna on the bottom of your pan. Sprinkle the top of the pasta layer with 2-3 tbsp of the cooking water.

Spread half of the mushrooms on top of your first lasagna layer.

Put another layer of pasta then spread 8 tbsp of tomato sauce onto the top. Make sure to spread the sauce so that it covers the entire layer, it keeps the pasta from drying out.

Place half of the eggplant slices on top of your lasagna layer.

Repeat layering in the same order; lasagna pasta » 2-3 tbsp of cooking water » remaining half of mushrooms » 8 tbsp of tomato sauce » remaining part of eggplant slices » lasagna » 8 tbsp tomato sauce.

Cover with aluminum foil and bake for 20 minutes. Remove foil and continue baking for an extra 20 minutes. Bring 2 cups (500 ml) of water to a boil in an oven-safe skillet and put it onto the bottom of your oven; The evaporating water will keep your lasagna from drying out.