This pork goulash recipe is the traditional, authentic Hungarian version. Very tender pork stew, cooked in a thick and tasty sauce, the only spice being paprika.
Interestingly, this dish is not called goulash in Hungarian, it's original name is pörkölt. This refers to the fact that the cooking process starts with searing the meat over high heat, and that the dish only contains one type of meat and no vegetables. It's a quite simple pork stew, but incredibly delicious.
If you make it with goose or duck fat, it is even a keto or paleo dish. And even if it needs almost 2 hours of cooking time, it's relatively easy to prepare as you can leave it on the stove for the most part of the cooking process.
The Key: Onions And Paprika
A lot of them. It's not a mistake that 5 tablespoons of paprika are needed for 3 pounds of pork. I know it seems a lot, but this, along with the big quantity of onions, create the unforgettable sauce for your authentic Hungarian pork goulash.
It is also good to know that the right technique of preparing this dish is to only let it simmer on low heat once all the ingredients are added, and let all the liquids evaporate. Then add only a small amount of water (about 1/2 cup) and let it evaporate again. Repeat these steps 3-4 times during the cooking process. This will ensure that by the time the meat becomes tender, the onions will have been melted and formed this incredibly rich sauce with the paprika.
How To Serve Hungarian Pork Goulash
The traditional way of serving pork goulash is with some kind of carb-packed side dish. Boiled potatoes, pasta, or galuska are the most common ones. It is also customary to eat it with fresh white bread.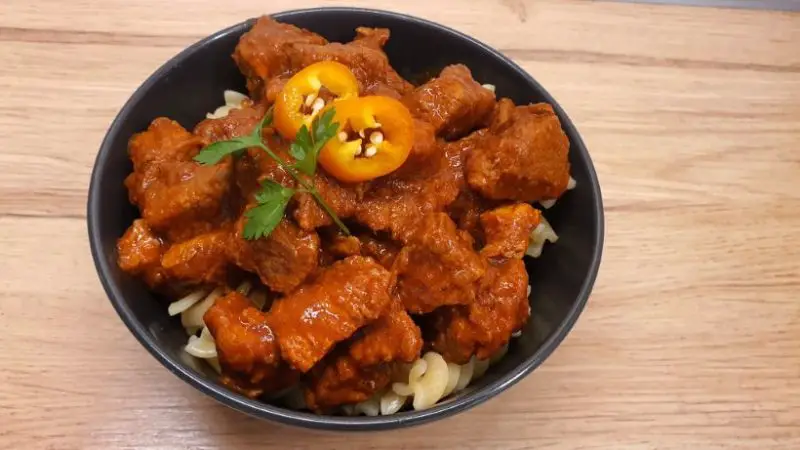 If you want to take this dish to a healthier level though, or stick to your keto or paleo diet, serve it with some steamed, grilled or baked vegetables.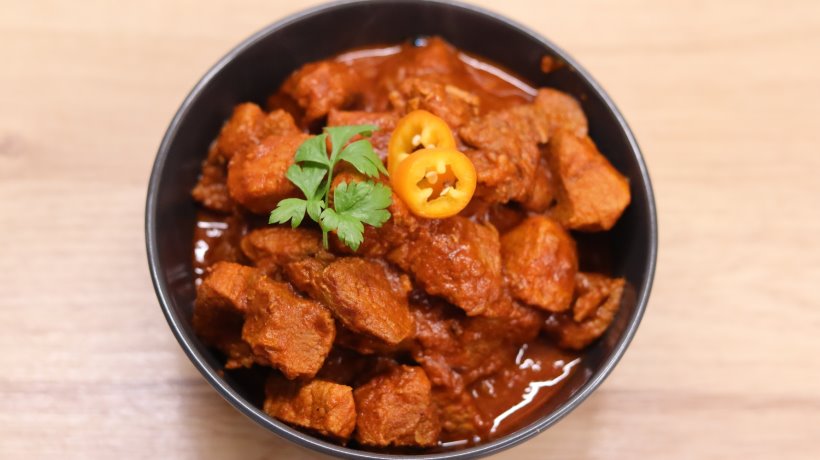 Hungarian Pork Goulash
Very tender pork stew cooked in a thick and tasty paprika sauce.
Ingredients  
3

lbs

pork shoulder

3

cups

onions

chopped, approx. 1 pound

5

tbsp

oil or fat

5

tbsp

paprika

¼

tsp

black pepper

ground

1

tbsp

tomato paste

1 ½

tsp

salt
Instructions 
Cut the meat into 1 inch cubes and chop the onions.

Fry the onions in the oil or fat over high heat for 6-10 minutes, until it becomes lightly golden.

Take off the stove, add paprika and stir.

Put back on the stove over medium-high heat. Add the meat and sear for 2-3 minutes, stirring occasionally.

Add salt, black pepper and tomato paste. Let it cook over high heat for 10 minutes. It will release its juices first and then evaporate almost all liquids.

Set the heat to low. Add ½ cup of water at a time, cover, and let it simmer slowly for about 90 minutes or until the meat becomes tender. Add ½ cup of water every time when the liquids evaporated.