A very simple take on the popular fruit skewers or fruit kebabs, but nevertheless it could be a lot of fun to prepare with the kids. It also serves as a great yet easy plate for any children's party. We actually did these for Halloween and it was real fun.
Fruit skewers are a simple yet fun dish even children can engage in making. Not to mention that they are also a healthy alternative to the traditional candy that kids stuff themselves with over the holidays. No matter what kind of party you hold, fruit kebabs will be a favorite of the kids. What an easy way to feed your kids with healthy food!
So if you are up for a healthy treat, just follow this recipe.
Use Any Fruit For Your Skewers
Whether you arrange your fruits in a rainbow-like color or just simply line them up on the skewer, this dish will be a perfect treat. And while the rainbow-color ones definitely look more Instagrammable, real life kids do enjoy even the simplest form of this dish.
To make the fruit kebabs you see in the pictures, I've used apples, bananas and two types of grapes. It cannot be more simple than that! You can come by these mostly any time of the year, and every kid loves them! See below a list of other fruit ideas to use in your fruit kebabs.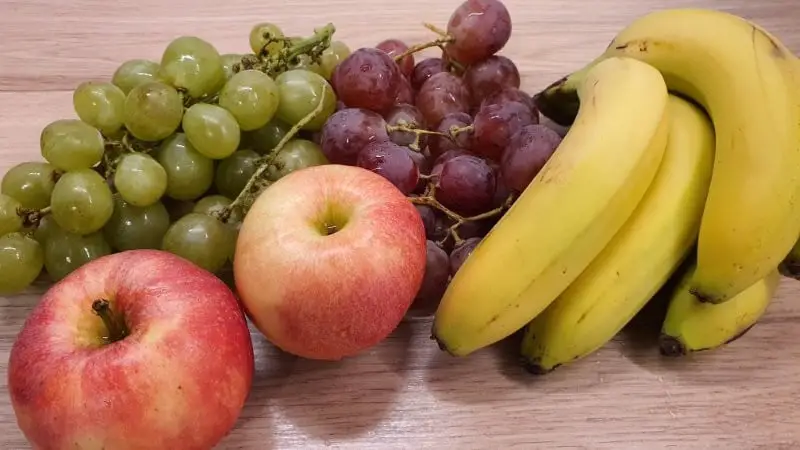 Bring In The Kids!
Arranging fruits on the skewer is an activity that you can partly or entirely leave up to the kids, depending on their age. Youngsters love helping out, so a simple task like this could be a lot of fun for them!
Chop up the fruits, and kids from the age of 3 or 4 could help you arranging them on the skewers. Children old enough to handle a knife may even help you with preparing the fruit.
What Other Fruits Can You Use
This is really up to your imagination or what you can get hold of this part of the year. You can use any fruit that is sweet, firm enough to go on a skewer and can be cut into roughly 1/2 – 1 inch pieces.
Some ideas for inspiration
Apples
Grapes
Bananas
Pineapples
Kiwi fruits
Mangoes
Strawberries
Peaches
Oranges
Mandarin oranges
Clementines
Prunes
Cantaloupes
Blueberries
Blackberries
Apricots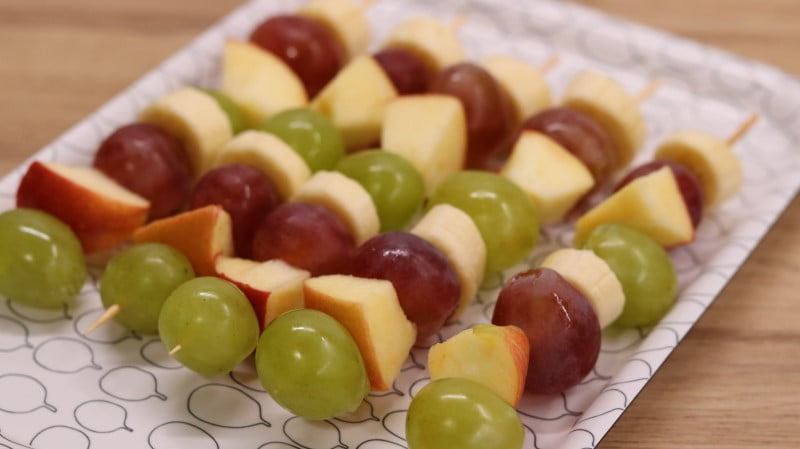 Simple Fruit Skewers
Call it fruit skewers, kebabs or sticks, they are easy to make and healthy, fun to make with kids for any children's party.
Ingredients
Apples

Bananas

Grapes

green and red

Lemon juice

a few drops
Instructions
First prepare the fruit. Chop the apples into 1 inch (2-3 cm) cubes, cut the bananas into half inch (1-1.5 cm) pieces, take the grapes off the stem. Mix the apples eith a few drops of lemon juice to prevent them from browning.

 Take some wooden or metal skewers, place the fruit onto them in any order you like.

Serve your fruit skewers immediately, as fruits don't last long once chopped up.