To make the best pizza dough, you actually should always measure your ingredients by weight. This way you can be sure that you are using the right amounts. That's why I posted this pizza dough recipe by weight, to help you make the best homemade pizza, should you decide to use a scale in your kitchen (which you definitely should).
This homemade pizza dough recipe uses ounces as weight measuring units. If you need a metric pizza dough recipe, click on the link.
Pizza Dough Recipe By Weight
In this pizza dough recipe I give you instructions and weight measurements for making pizza dough for 2 regular pizzas, about 12-13 inches. Please check the conversion table below this recipe to see ingredient amounts for different servings.
This recipe focuses on weight measurements for homemade pizza dough. Please check my original pizza dough recipe for more instructions on how to make pizza at home.
This homemade pizza here on the picture was actually made by weight measurement: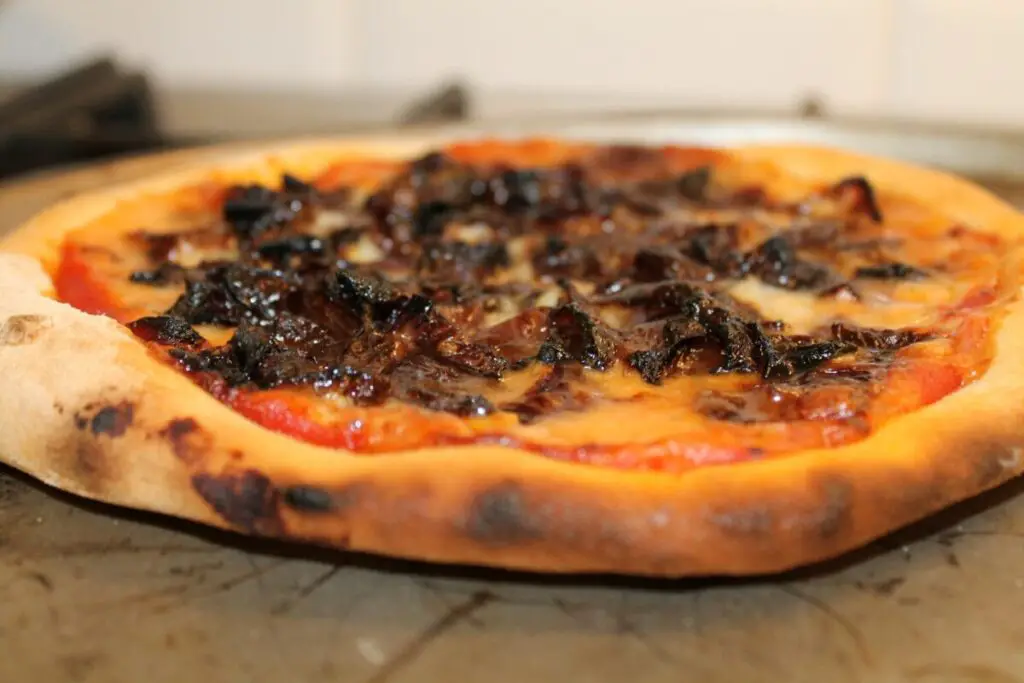 Note On The Ingredients
Alternatively, you can use fresh yeast to make your pizza dough. In this case, use 1 ounce fresh yeast for every 20 ounces of flour. Dissolve your yeast in 2 ounces from your water, with the sugar and 1 tbsp from your flour. Proof for 15 minutes in a warm place. Then add your proofed yeast to your dry ingredients.
This recipe yields about 20 ounces of pizza dough in total. You need 10 oz of dough for a regular size pizza, and 5 oz for a small pizza.
If you follow this recipe, your pizza dough is ready. The next step is to shape your pizza. Then you can add the pizza sauce and your toppings, and finally bake your pizza. Check out these links below to get detailed instructions on all of these steps. Metric ingredient amounts are always included.
Conversion Table For Different Servings
Simply follow this conversion table for different weight units if you want to make 1, 2, 3, 4, 5, or 6 pizzas by weight:
| Ingredient | 1 pizza | 2 pizzas | 3 pizzas | 4 pizzas | 5 pizzas | 6 pizzas |
| --- | --- | --- | --- | --- | --- | --- |
| Flour | 5.88 oz | 11.76 oz | 17.64 oz | 23.51 oz | 29.39 oz | 35.27 oz |
| Active dry yeast | 0.08 oz | 0.16 oz | .25 oz | 0.33 oz | 0.41 oz | 0.49 oz |
| Extra virgin olive oil | 0.32 oz | 0.65 oz | 0.97 oz | 1.29 oz | 1.62 oz | 1.94 oz |
| Lukewarm water | 3.53 oz | 7.05 oz | 10.58 oz | 14.11 oz | 17.64 oz | 21.16 oz |
| Sugar | 0.05 oz | 0.09 oz | 0.14 oz | 0.19 oz | 0.23 oz | 0.28 oz |
| Salt | 0.07 oz | 0.14 oz | 0.21 oz | 0.28 oz | 0.35 oz | 0.42 oz |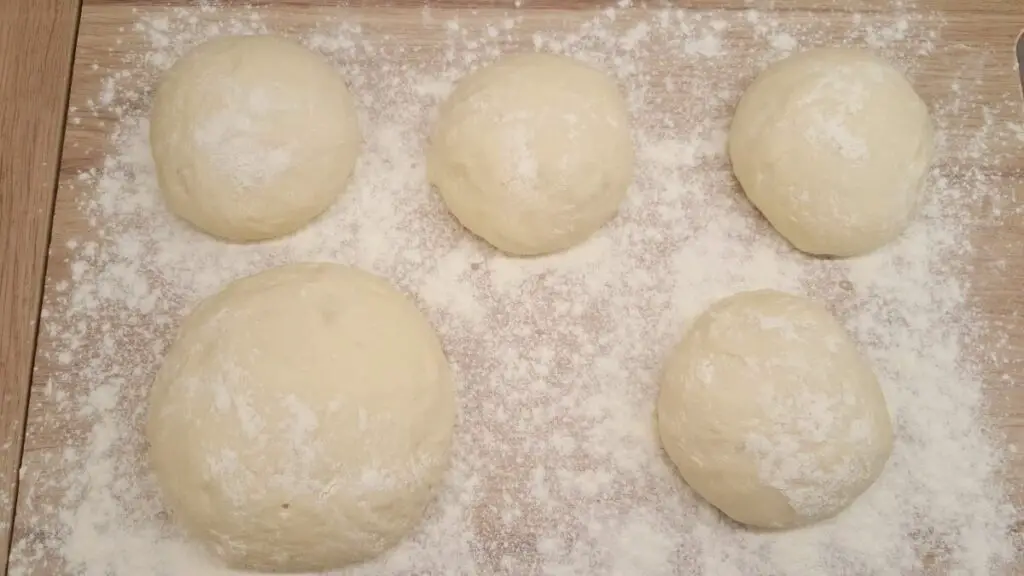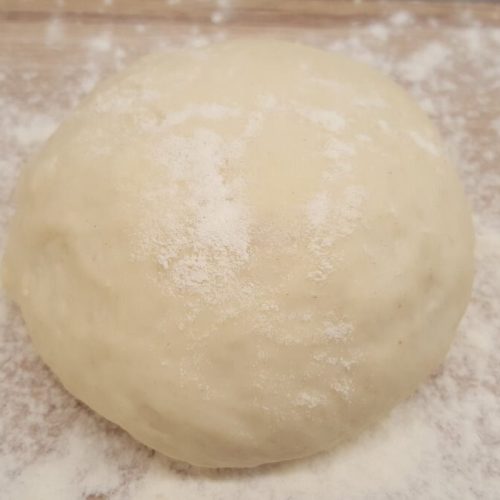 Pizza Dough Recipe by Weight
Ingredients
11.76

oz

flour

0.16

oz

active dry yeast

0.65

oz

extra virgin olive oil

20 ml

7.05

oz

lukewarm water

200 ml

0.09

oz

sugar

⅔ tsp

0.14

oz

salt

⅔ tsp
Instructions
Start making your pizza dough by measuring out your dry ingredients. Add flour, active dry yeast, sugar and salt to a large mixing bowl.

Add olive oil and lukewarm water.

Using your dough hook, knead your pizza dough for 10 minutes.

The perfect pizza dough should be completely smooth. It shouldn't stick to the side of your bowl, but still feel a little bit wet when you touch it.

Place your dough in a large bowl, previously oiled with about 1-2 tbsp extra virgin olive oil. Move it around with your hand so that all parts should be covered with oil.

Let it proof for 90 minutes under a lid.

After 90 minutes, push the air out of the dough.

Cut the pizza dough into equal pieces – 1 for every pizza. For the amounts in this recipe, cut it into 2 equal pieces, about 10 ounces each.

Form a ball from each of the dough pieces. Start by making a circular motion with your palm of your hand, with some pressure. Then release the pressure gradually until you get a nice ball shape. Put the balls on a lightly floured work surface. Dust them with some more flour, and let them proof covered with a kitchen towel for another 15 minutes.