There is nothing more calming and joyous than starting your Sunday morning with your kids in the kitchen, cooking pancakes together. And of course eating them. I mean the pancakes. 😀
Fortunately this homemade pancake recipe is very easy to make. If you follow it, you can always serve fluffy and delicious pancakes at home in literally 15-20 minutes.
The Trick To Make Delicious Pancakes
Well, there is really no trick. If I had to emphasize one thing, it would be that don't overmix the batter. And yet this is extremely important.
Pancakes need to be fluffy. To achieve that, you don't want gluten to be developed by mixing flour with liquid ingredients for too long. You also don't want to let your batter sit for a long time.
So just mix the batter until it is fairly smooth, right before cooking it. Don't worry about small lumps. Even if your pancake batter is not completely smooth, just go ahead and start cooking immediately. It will turn out extremely delicious and fluffy!
How To Cook Pancakes
It is actually very easy to cook perfect pancakes at home. All you need is a nonstick pan and a larger spatula. I tend to use thinner spatulas for this dish, but if its large enough to fit under your waffles to flip them, you're good to go.
Depending on your stove, you should cook your pancakes somewhere between medium-low and medium-high. Any of these settings should be right in fact, you just need to adjust the cooking time accordingly.
I cook my pancakes over medium-low heat. It takes about a minute and a half to brown them on one side, then only 30-40 seconds on the other side.
To cook perfect pancakes at home, first heat your nonstick pan, then lightly oil it. Add about 1/4 cup of batter for each pancake. Depending on the size of your pan, you can bake between 1 and 4 cakes at the same time. Once bubbles appear all over the surface and the batter is not runny anymore, it's time to turn them. Use a spatula, put under your pancakes, and flip them one by one.
How To Serve Homemade Pancakes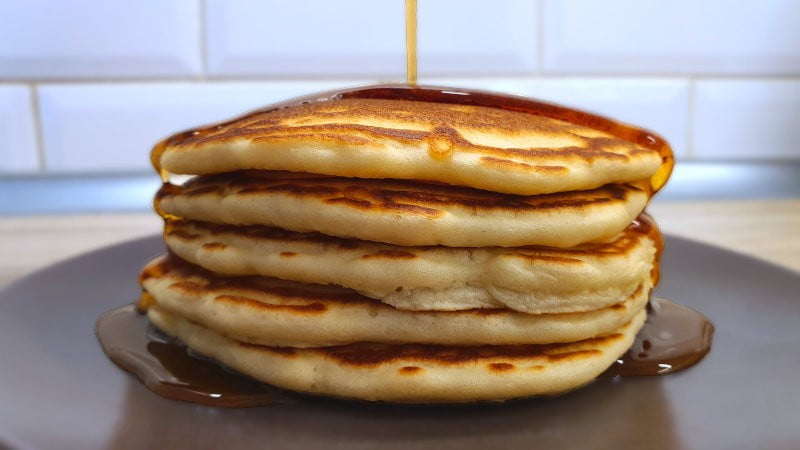 Of course this is really up to you, or your taste. The most important thing is that you serve your pancakes right after cooking. These fluffy miracles are just not as good when stored even for half an hour, let alone longer.
Maple syrup is a classic accompaniment, as is butter. A very popular way of serving pancakes is by spreading butter on the top and then pouring syrup over them. Instead of butter, you an use margarine or coconut oil. You can also use corn or pancake syrup, honey, agave or rice syrup.
A popular way to serve pancakes is topping them with any types of berries. Blueberries, raspberries, you name it. This not only looks good but also makes this food a tiny bit healthier.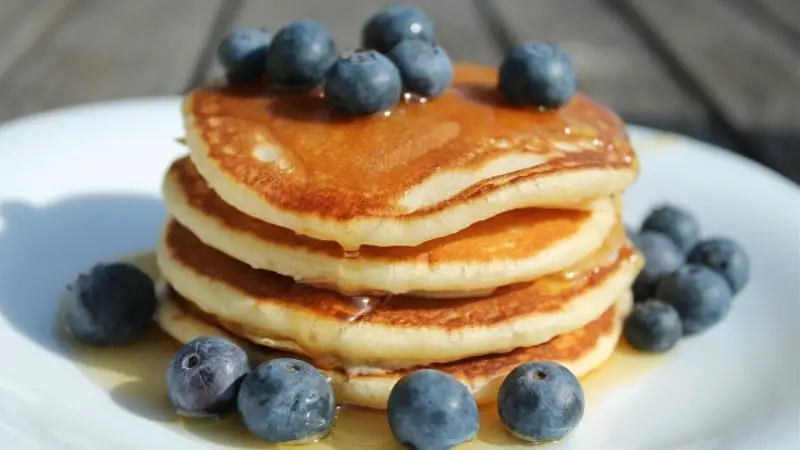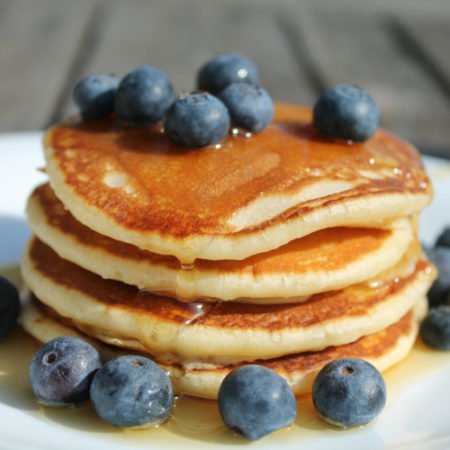 Pancakes
Easy to make fluffy homemade pancakes
Ingredients
1½

cup

flour

1¼

cup

milk

1

egg

1

tbsp

baking powder

1

tsp

salt

1

tbsp

sugar

3

tbsp

butter

melted
Instructions
In a bowl, combine dry ingredients: flour, baking powder, sugar and salt. Make a well in the middle.

Add milk, egg, and melted butter.

Mix until fairly smooth. Don't overmix it.

Use ¼ cup of batter to cook one pancake in a lightly oiled nonstick pan over medium heat until browned on both sides.
Notes
This recipe makes about a dozen (12) pancakes.