This is yummy. And paleo. An easy paleo Thai chicken curry that you can fix in less than 30 minutes.
Unfortunately more often than not, you can have the feeling that if a recipe is healthy, it is not tasty. You download those paleo recipe books as part of a diet program, or click on one of the yummy-looking recipes, just to find out that the author might be a nutritional guru, but they are just awful cooks.
This recipe is far from falling into that category. In fact it is so finger licking good, that even if you have no intention of following the paleo diet, it can still be one of your favorite dishes this year.
Tips On Preparing Paleo Thai Chicken Curry
You can prepare this dish in a wok or in a large nonstick pan. The only important thing to note is that it should be a large enough pan. This is kind of a stir-fry dish, you need enough room for the heat to propagate to all of the ingredients. You want seared chicken and sautéed vegetables after all, not cooked ones.
I have a 14 inch (36 cm) nonstick pan that I often use for this recipe, and a regular wok that you can see in the pictures. If you don't have a wok or a large enough pan, simply make half this quantity at the same time.
Lemongrass is optional, though it gives a nice Thai touch to this paleo curry. But if you find it difficult to get one, simply leave that out. You can also substitute lemon juice for lime juice in the recipe.
If you use lemongrass though, pound it with the back of a large knife in 4-5 different spots before adding it to the dish. This will soften the hard plant and also helps releasing its aromas.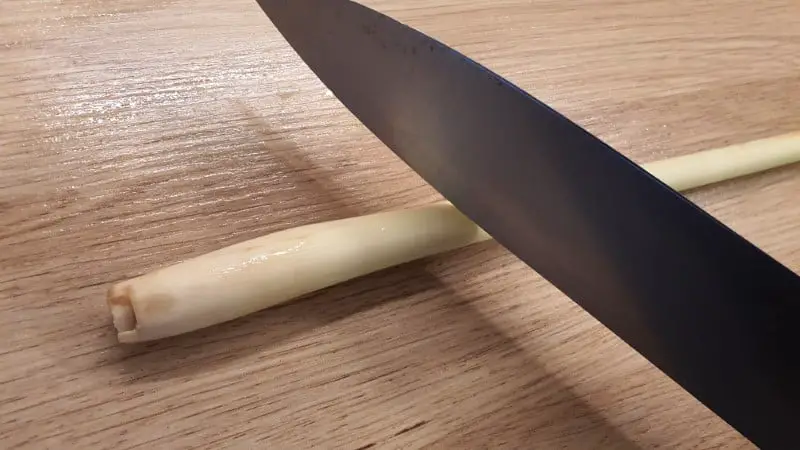 Tips On Serving
This paleo Thai chicken curry is good fresh or you can store it in the fridge for a couple of days. When reheating, you might want to add a couple of tablespoons of coconut milk or water.
If it is served as part of a paleo diet, you can eat it as is, with no side dish. This quantity will serve 3-4 persons this way. But if you serve it as part of a regular diet, it is best with some fragrant Basmati rice.
Sprinkling your paleo Thai chicken curry with some fresh cilantro is an option, though it will enhance the characteristic taste and really kick the flavors up a notch, so you don't want to skip this step.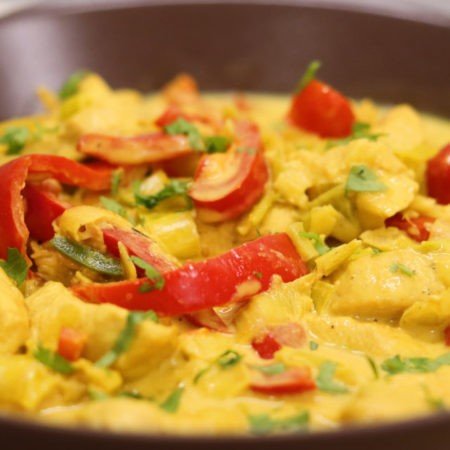 Paleo Thai Chicken Curry
An easy and yummy paleo Thai chicken curry that you can fix in less than 30 minutes
Ingredients
2

lbs

chicken breast

2 ¼

tbsp

fat

4

leeks

¼ inch slices

2

bell peppers

1½

tbsp

chili peppers

fresh, roughly chopped

2½

cup

coconut milk

6

cloves

garlic

minced

3

tbsp

ginger

chopped

¼

tsp

chili

powder

1

tbsp

turmeric

¾

tsp

coriander

ground

1

lemongrass

1

tsp

lime juice

1½

tsp

salt

¼

tsp

black pepper

ground

cilantro leaves
Instructions
Prepare ingredients. Discard the outer layer and dark green part of the leek, cut remaining part in ¼ inch slices. Cut the bell pepper into stripes. Dice the fresh chili pepper and the ginger, mince the garlic. Hit the lemongrass with the back of a large knife in 4-5 different spots. Cut chicken breast into strips.

In a wok or large nonstick pan, sear the chicken with 1 tbsp fat for 6-8 minutes over high heat. Add ½ tsp salt and ¼ tsp ground black pepper. Put the chicken aside in a plate or bowl.

In the same wok or pan, sautée the leek in the remaining 1¼ tbsp fat for 4-5 minutes over high heat. Add the bell pepper and sautée for another 2-3 minutes.

Add minced garlic, chopped ginger, fresh chili pepper and lemongrass. Sautée for 2-3 minutes.

Add chicken, coriander, turmeric, chili powder and the remaining 1 tsp of salt. Sautée for an additional 30 seconds.

Add coconut milk. Rinse coconut milk container with some water and pour onto the dish. Cook over medium heat for 2-3 minutes. Add lime juice at the end.

Serve with chopped cilantro leaves.
Notes
This is a stir-fry dish. Make sure to prepare it over high heat except for the last step when the coconut milk is added. Also stir regularly with a wooden spoon, spatula, or wok ladle.