This green pea stew, cooked with milk, is a staple dish of Hungarian cuisine. It is very simple to make, yet delicious and nutritious. This version is actually an authentic recipe that you could easily find on any table in Hungary these days.
I admit that it might sound a bit strange at first to cook green peas in milk. But that's actually what gives this dish its unique characteristic, a definite sweet flavor. Peas and milk are already sweet and you usually add some sugar too. Try it and decide for yourself whether it's your style or not. Many people love it, but it won't be everyone's favorite.
But it is one of the simplest dishes to prepare. So even if you're a beginner in the kitchen, you should try this easy-to-make Hungarian green pea stew which can add a nice and healthy diversity to your everyday menu.
Fresh Or Frozen Peas
Green pea stew can be prepared using fresh or frozen peas. But frozen peas are the common ingredient for this recipe and also the easiest to handle. Of course if you use frozen peas it will take more time to cook than if using fresh ones. You don't need to thaw out your peas though, dump them frozen into your pot.
You can also use canned sweet peas. Don't forget that these are already cooked so you don't need to cook them at all. Drain them first and add the quantity of water and milk that I recommend in this recipe.
Take attention not to overcook the vegetable though. Cooking time might vary largely depending on whether you use fresh or frozen peas, but also on what type of green pea you are using.
The sweeter and younger peas you use, the more delicious your pea stew will come out.
How To Serve Hungarian Green Pea Stew
One option is to serve it as a main dish or more like a soup. This way it becomes a fully vegetarian dish. It is very tasty but also nutritious because green peas are in fact nutritious.
The traditional or authentic Hungarian way to serve green pea stew is with some kind of prepared meat or eggs. Cooked or fried hot dogs, fried or even hard boiled eggs are typical pairings to this dish in Hungary.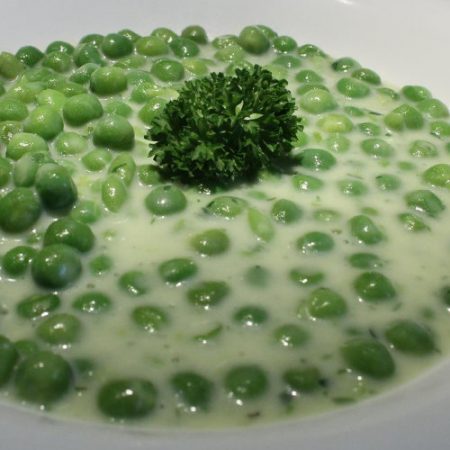 Hungarian Green Pea Stew With Milk
Easy to make vegetarian dish with sweet flavors
Ingredients
1

lbs

green peas

450 g or 3 ¼ cups

1

tbsp

vegetable oil

1

tbsp

chopped parsley

½ tsp if using dried parsley

1 ¾

tbsp

flour

⅝

cup

water

150 ml

½

cup

milk

120 ml

½

tsp

sugar

optional

¼

tsp

salt
Instructions
Sautée green peas in vegetable oil over medium heat until almost tender. This takes between 5-10 minutes depending on the type of your green peas and whether you use frozen or fresh peas. Skip this step if using canned peas.

Add chopped parsley, salt, sugar and flour. Stir and let it cook for another minute.

Pour water then milk, stir. Cook for 3-4 minutes over low heat, stirring occasionally.