Four seasons pizza (Pizza quattro stagioni in Italian) is an internationally known authentic Italian pizza. The four toppings represent the four seasons of the year, dividing your pizza into 4 equal quarters.
The most typical toppings for a 4 seasons pizza are ham or prosciutto to represent winter, mushrooms for autumn, and artichokes for spring. As for the summer, you can use ripe tomatoes, basil leaves or bell peppers, or even mixing these.
In this recipe I show you how to make four seasons pizza at home, with probably the most widely used toppings. But you can of course change these to your own taste or whatever you find in your pantry.
Tips For Making Four Seasons Pizza
Amounts in this recipe yield 1 large 4 seasons pizza.
You need 280 g (10 oz) of dough for a regular size pizza, and 140 g (5 oz) for a small pizza.
If you are making more then one pizza, cut the dough into equal sizes, about 10 oz or 280g each and form a ball for each one of your pizzas.
As for the toppings, you can really use whatever you want and think represent the 4 seasons of the year. And it will still be an authentic four seasons pizza, as there is no set recipe for this in Italy. The whole reason is to represent the seasons and not to worry about the actual ingredients.
See my pizza dough recipe for more details.
Also learn how to shape your pizza at home.
Four Seasons Pizza Toppings Tips
To really enjoy homemade four seasons pizza, I recommend you use quality products. I think one of the most important factors of making a real Italian pizza is to use less toppings, but with excellent quality.
Even if cured prosciutto resembles more winter, I like to use ham. Italian prosciutto cotto (literally cooked ham) is ideal for a 4 seasons pizza.
For the mushrooms, you can use regular button mushrooms. I think Italian brown mushrooms are the best though – which are basically immature portobello mushrooms.
Use ripe, sweet tomatoes. Believe me, they really make a difference.
If you don't want to hassle with preparing your fresh artichokes (or you can't get them), just use canned artichoke hearts. They have a slight vinegary taste, but that goes well with your four seasons pizza.
And as I said before, use whatever you find at home to represent the 4 seasons of the year.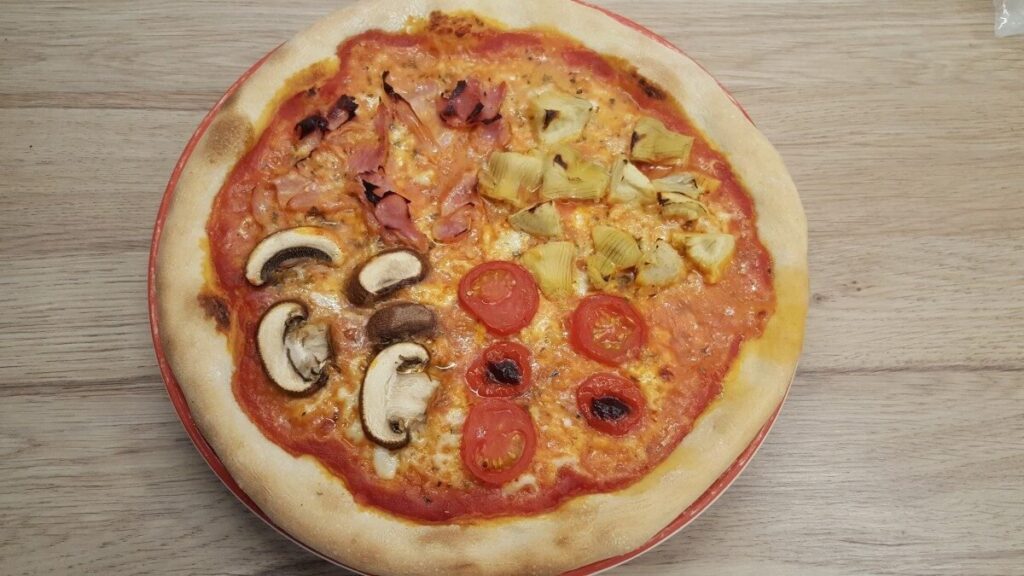 Four Seasons Pizza
A classic Italian pizza, representing the 4 seasons of the year
Ingredients  
10

oz

pizza dough

280 g

4

tbsp

tomato purée (passata)

66 g

extra virgin olive oil

a few drops

1

pinch

dried oregano

1

pinch

salt

5 ½

oz

fresh mozzarella cheese

150 g

1

slice

prosciutto cotto

cooked ham, about 35 g or 1.2 oz

1

medium

Italian brown mushroom

about 40 g or 1.4 oz

1

smaller

ripe tomato

about 35 g or 1.2 oz

1 ½

canned artichoke hearts
Instructions 
Preheat your oven to the highest heat possible.

Form a ball from the pizza dough. Start by making a circular motion with the palm of your hand, with some pressure. Then release the pressure gradually until you get a nice ball shape. Put your pizza dough balls on a lightly floured work surface. Dust them with some more flour, and let them proof covered with a kitchen towel for another 15 minutes.

Shape your dough to form a large, thin disk and place it in a pizza pan.

Put your tomato purée (passata) on top of your pizza dough, in the middle. With a back of a spoon or a ladle, using circular motions towards the edges, make sure the tomato covers your pizza dough. Leave an edge about 1 inch (2-3 cm) thick.

Add mozzarella cheese. Just tear it in bite size pieces, and place them over the tomato sauce. Drizzle a few drops of extra virgin olive oil and sprinkle some dried oregano and salt.

Cut the mushrooms and tomatoes into 1/4-1/5 inch (5-6 mm) slices. Cut artichoke hearts into 8. Tear the ham into bite-size pieces. Your toppings should go into each quarter of your 4 seasons pizza: one quarter for your ham, another for your mushrooms, the third for the tomato and the last quarter for the artichokes.

Transfer your four seasons pizza into the oven. Bake for 10 minutes, or until the edges are slightly browned.