If you happen to live in a climate where elderberry (or elder) grows naturally, then making your homemade elderflower cordial or elderflower drink in May and June is not only a must, but a flavorful and refreshing celebration of the beginning of the summer.
What Is Elderflower Cordial
Elderflower cordial (or elderflower drink) is a fragrant soft drink, made of elderflowers collected during your walks in the nature. To prepare it literally takes 10 minutes, though for best results you need to leave it in the fridge to infuse for 2-3 days.
Some elderflower cordial recipes usually call for lemon zest and/or whole lemons, but make sure to only use the zest of your lemon if it is 100% organic. See below for more explanation.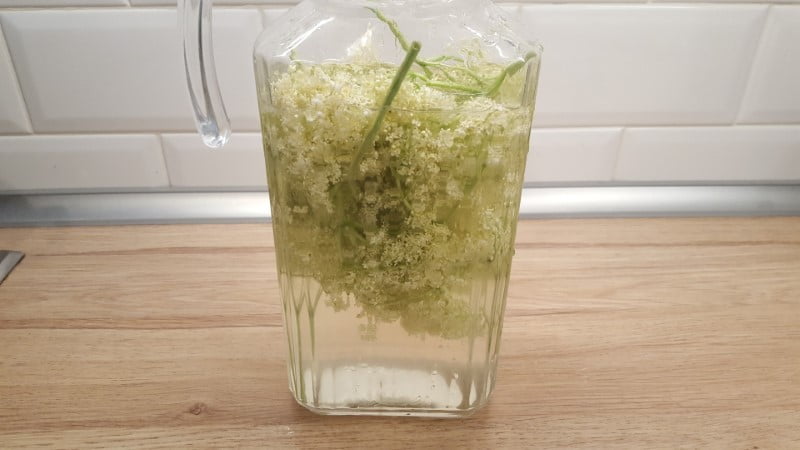 Elderflower Cordial
A fragrant soft drink from handpicked elderflowers to celebrate the beginning of summer.
Equipment
Large pitcher or jug (2 liters or ½ gallons)
Ingredients
10-15

elderflower heads

70 g or 2.5 oz

5

cups

water

1.2 liters

1 ⅕

cup

white sugar

240 grams

4

tbsp

lemon juice

60 ml
Instructions
Mix water and sugar in a large pitcher or jug until completely dissolved.

Wash elderflowers for a couple of seconds in running cold water.

Put flowers in the water.

Close the pitcher and put it in the fridge for 2-3 days to let it infuse.

Sieve your elderflower cordial. Add 1 or 2 parts of water or sparkling water to 1 part of drink.
Lemon Zest or Lemon Juice in Your Elderflower Cordial?
Although you really need the flavor and aroma of lemon in this drink, only add lemon juice unless you can get organic lemons.
Regular lemons are treated with so many chemicals to suppress mold and bacterial growth that you simply don't want to put that into your elderflower drink. Unfortunately you can't even wash these materials off.
Simply add lemon juice (see my recipe) if you are using regular lemons, your drink will taste fantastic! But on the other hand if you can get hold of organic lemons, add the zest of half a lemon to this quantity.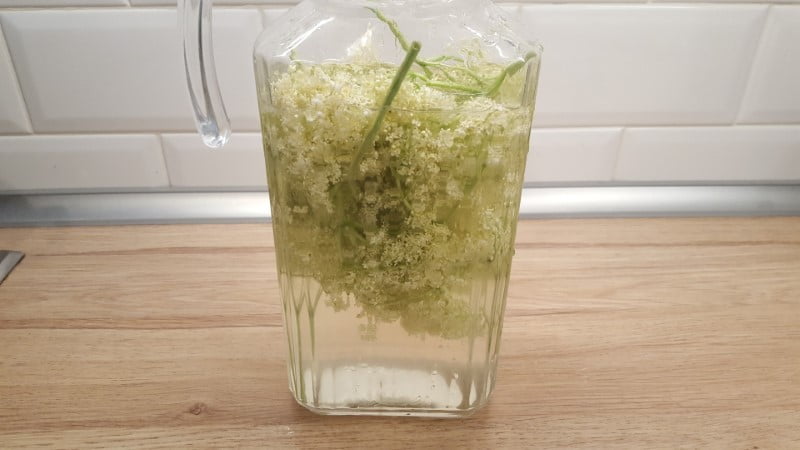 How to Get Elderflowers?
Elderflower cordial is a very popular drink in many European countries, traditionally made from the flowers of the European elder. The plant grows in abundance in the temperate climate. You can pick it's flowers in May and June, depending on the location and the weather.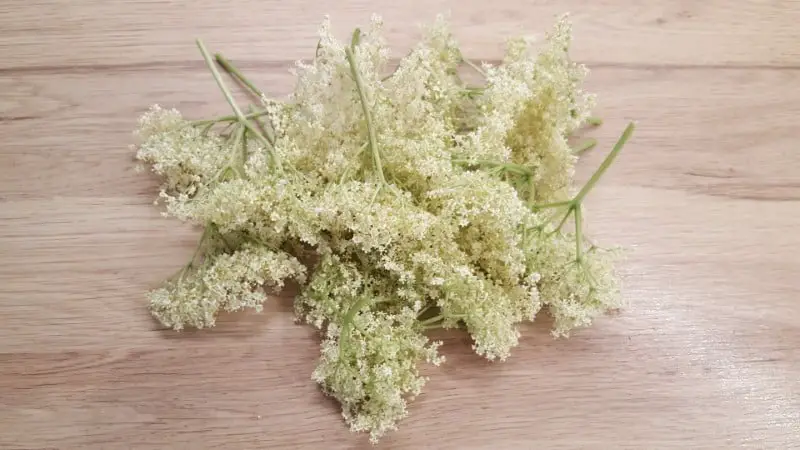 There are two important notes to take when collecting elderflowers:
Only pick the flower of trees that grow far from heavily trafficked roads. You simply don't want to drink the contamination that comes from vehicles.
Use your elderflowers when fresh, right after you've picked them.
I never tested and have not found any reference to whether you can make elderflower cordial from American elder. Still I would definitely give it a shot. Please read this article for more information on elderberry.