Slices of super tender beef with melting onion sauce. An extremely tasty and easy to make dish that every meat lover should try.
This is definitely not a steak, cooking the meat for three hours. But preparing a tougher cut of beef in a way that it almost literally melts in your mouth is in no way inferior than cooking it as a steak. The meat has plenty of time to become extremely tender, and it will as well melt in your mouth as the onion in the sauce.
What's even better in this recipe is that it only uses a couple of ingredients. Nothing more than salt and black pepper are used as seasoning, yet producing a mouthwatering taste you simply never want to forget.
How To Prepare Dutch Oven Braised Beef
To make it clear, you can make this dish even if you don't have a dutch oven. Just make sure to use a large pot that has a lid and can be used in an oven (has no plastic parts).
You need a lot of onions for this recipe. In fact, other than salt and black pepper, onions will serve as the only "spice" in your dish, also melting into a delicious sauce. So the first step is to peel and cut your onions into 1/3 inch slices.
Using a large skillet, sauté your onions over medium high heat until golden brown. Use about 2 teaspoons of vegetable oil. Once ready, transfer your onions into the dutch oven.
While your onions are sautéing, you can prepare your meat. A lean cut is ideal for this dish, so make sure you remove sliver skin, connecting tissues and larger chunks of fat. Cut your meat into 1/3-1/2 inch (1 cm) slices. Season them with lots of salt and freshly ground black pepper. Don't be afraid to add a lot of seasoning, beef tends to need a lot of spices, and we won't season our onions. So even if it looks a lot at this point, I figure it's easier to underseason this dish than to actually overseason it.
Part of braising is first sear your meat over high heat. This depends on the size of your pan, but the quantity in this recipe will take between 3 and 5 batches. Add 1 – 1 and a half tablespoons of fat for each batch, and sear your meat over high heat for about 2 minutes on both sides. Once your meat is browned, transfer it to the dutch oven.
When all of the meat is ready to be cooked, a lot of golden bits are left over in the pan. It would be a sin to discard these, so add chicken broth and dissolve residue over medium heat. This technique is called deglazing. Pour the liquid over your meat and onions.
The last step is to put your pot in the oven and let it cook for 3 hours. Check after 2 hours, add liquid if needed. Make sure your meat is covered with the sauce.
Serve the meat with the onion sauce over your preferred side dish or vegetables. I tried it with couscous and asparagus, and it was just delicious.
Which Beef Cut To Use
It's always a difficult situation when it comes to explaining which cut of beef is ideal for a particular dish. On one hand, you can really make a delicious dutch oven braised beef from different parts of the animal. On the other hand, every country uses different cuts and different names for the cuts.
In practice you can use every lean part of beef which is considered a tougher cut. Ideally you need a 5-6 pound cut. I used what's called bottom sirloin in the US. A tri-tip is usually about 5 pounds, ideal for this dish. In the UK you would want to use the bottom part of the rump or flank. A round steak would be also ideal for this dish.
But as long as you choose a lean cut of beef about 5-6 pounds, you couldn't go wrong with this delicious dish.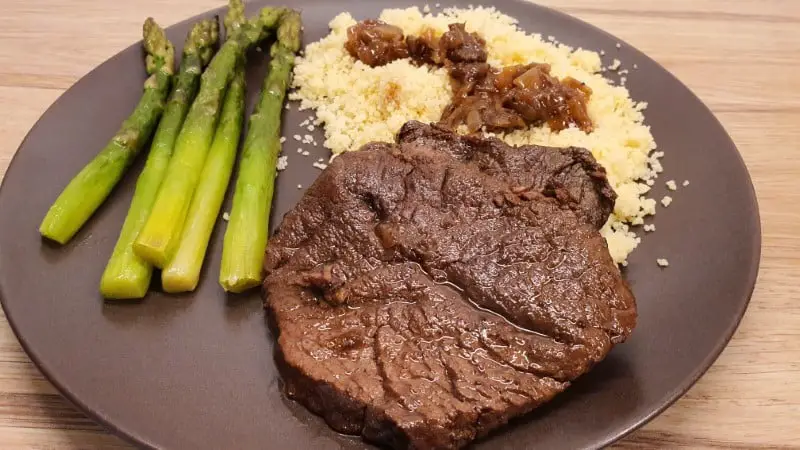 Dutch Oven Braised Sliced Beef With Melting Onions
Melt in your mouth tender beef slices braised in dutch oven with onion sauce
Ingredients
5

lbs

beef

lean cut, e.g. bottom sirloin

3

lbs

onion

2

cups

chicken broth

7

tsp

vegetable oil

ground pepper

freshly ground

salt

to taste
Instructions
Preheat your oven to 350 F (180 C).

Peel onions, cut them in half, then cut into ⅓ inch slices.

In a large pan, sauté onions on 2 tbsp vegetable oil for 6-8 minutes over medium high heat, until golden brown. Transfer onions into dutch oven.

Prepare your beef. Remove silver skin, connective tissues and fat. Cut in ⅓-½ inch slices. Season liberally with salt and freshly ground black pepper.

In the same pan that you used for the onions, sear your meat slices over high heat for 2 minutes on both sides. Use 1 – 1½ tbsp oil for each batch. Once your meat is browned, transfer it to the dutch oven.

Deglaze pan with chicken broth, then pour it over your meat (simply add broth and mix for 1 minute over medium heat to dissolve scrapings).

Cover your dutch oven and cook for 3 hours in the oven. Check after 2 hours, add water if necessary.
Extra Tip
If you really want to kick this recipe up a notch, use duck or goose fat instead of oil. I know this is a big no-no for some people, and if you've never used any other type of fat than oil, just disregard this tip.
But if you're open to new things, go ahead and try it once. Duck and goose fat both have such an intense taste that will go extremely well with the rich flavors that develop in this dish.
This dutch oven braised sliced beef stores well in the fridge for even up to a week.