Chicken cacciatore or hunter's chicken is a very delicious chicken dish from Tuscany. Originally, in Italy it is called pollo alla cacciatora, cacciatora meaning hunter. That's why hunter's chicken is also a popular name for this dish in English.
Authentic Chicken Cacciatore
This flavorful chicken dish exits in many different versions throughout the world but also in Italy. There are Americanized versions, and you can find a similar recipe in almost every country. See some tips below on how to cook different versions of chicken cacciatore at home.
I tried to find the version that can be called the most authentic. Although no such thing that one authentic recipe usually exists, it is important to note that most Italian dishes, chicken cacciatore is no exception, are cooked differently in Italy than in the US.
So if you are looking for an authentic Italian, Tuscan version of chicken cacciatore, I think I can safely say that you've come to the right place.
Tips On the Ingredients
Below you can see several variations of chicken cacciatore. But first let's talk about some tips on the ingredients of the version that I'm sharing with you.
Use a whole chicken to make the dish more flavorful. This is the original version, people used to cook chicken like that back in the days, using the whole bird. This will give a distinct flavor not only by using the different types of meat, but also cooking the dish along with the bones. I also left the skin on for even more flavors.
Cut the chicken into 8 or 10 pieces. The classic 8 pieces are 2 thighs, 2 legs, 2 wings, and the 2 sides of the breast with the bones. I usually cut each breasts into two smaller parts, resulting in 10 pieces total. I find this makes handling the meat easier both while cooking and when serving. And no, it won't affect how well cooked or overcooked your breasts are because we are cooking the dish much longer anyways than modern don't-overcook-meat-for-even-a-second snobs would suggest.
Cooking time with the meat is 30-35 minutes in this recipe. But I think this type of chicken stew just gets better with more time in the pot. So cook it for 45 minutes or even an hour if you like chicken meat that's falling off the bones.
Use fresh or dried herbs, rosemary, thyme, parsley, whatever you find in your kitchen. Of course fresh herbs give more delicate flavor to the dish, but don't let not having them at home stop you from making a delicious chicken cacciatore.
The base of chicken cacciatore is what's called sofrito. This is the very base of a lot of Italian dishes, a key part of Italian cuisine. Sofrito is made by chopping, grating, or processing carrots, onion, and celery, and then sautéing them in oil until all the liquids evaporate.
For the tomato, use either peeled or canned tomato. Click on the link to see how to peel tomatoes at home.
How To Serve Chicken Cacciatore?
Chicken cacciatore or hunter's chicken is a classic main dish. It goes well with any side dish, in my opinion it is best served with polenta or rice.
One option is though to serve chicken cacciatore 'as is', meaning with no side dish. I think a fresh crusty bread would be ideal in this case, a simple and rustic yet perfect serving suggestion.
During my food research I found one Italian cookbook that recommended mashed potatoes as a side dish to serve hunter's chicken with, which seemed a little strange to me, but hey, it is your choice anyways.
Different Versions Of Hunter's Chicken
As with many traditional dishes, chicken cacciatore has lots of variations not only around the world, but also in Italy. To give you an idea, here I gathered some of the different versions. All of these can be still regarded authentic, as you can find these throughout homes and restaurants in Italy.
Carrots and celery are left out. This one may sound unauthentic, but it can happen even in Italy that someone is out of carrots and celery. This is no time for making a fuss whether the dish is authentic or not, but cook with what you have in your kitchen. In this case you should use more tomato, making the sauce less thick and more tomatoey.
Made with mushrooms. This version is the most widely known around the world and is frequently cookied in Italy too. Chances are that, living in an English speaking country, this is the version of hunter's chicken that you are more familiar with. If you want to prepare this version, simply cut up button mushrooms and add them to the sofrito.
Made with boneless white meat. This is a modern version of chicken cacciatore and a favorite of many people these day. The challenge here is to replicate the original flavor profile of hunter's chicken without the bones. My suggestion is, if possible, use both chicken breast and tights to get more flavors and brown the meat before starting to make the dish. Also use chicken stock in this case to make up for the missing flavors.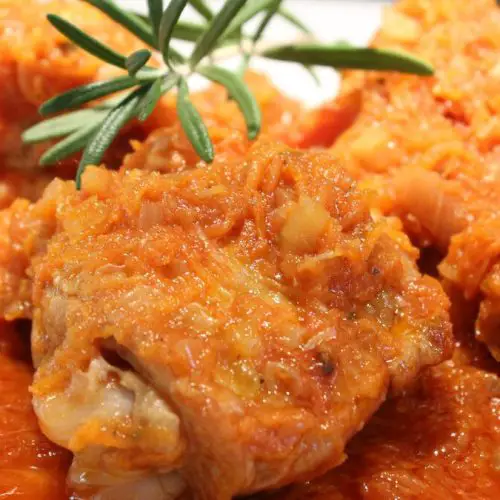 Chicken Cacciatore
Authentic Italian version of hunter's chicken or chicken cacciatore
Ingredients  
1

whole chicken

around 4 pounds or 1.8 kg

3

carrots

5

stalks

celery

2

onions

2

cloves

garlic

1.1

lbs

peeled tomatoes

500 g

⅞

cup

red wine

200 ml

2

sprigs

fresh rosemary

or 2 tsp chopped dried rosemary

5

sprigs

fresh thyme

or 2 tsp chopped dry thyme

5

sprigs

fresh parsley

or 2 tsp chopped dried parsley

salt

to taste

black pepper

ground, to taste

nutmeg

ground, to taste

6

tbsp

olive oil

90 ml
Instructions 
Cut the chicken into 8 or 10 pieces, add salt and pepper. Peel and chop onion and garlic. Grate carrots and celery or chop them in a food processor. Chop the herbs (rosemary, thyme, parsley).

In a large saucepan, heat up the oil and brown the chicken parts on all sides for about 5-6 minutes total. Take out the chicken pieces and set them aside. Leave the oil in the saucepan.

Make the sofrito. Put the onion, carrot, celery, and garlic in the same saucepan you used for the chicken, and saute them for about 10 minutes, until all the liquids evaporate.

Add the wine, peeled tomato, rosemary sprigs, and half of the thyme to the vegetables. Stir it, add salt and pepper, and saute the mix for one or two minutes.

Transfer the chicken pieces back to the sauce. Stir it until the sauce covers the meat. Add salt, pepper, and grated nutmeg to taste. Cover and simmer on low for 30-35 minutes until the chicken cooks through properly. Add ½ cup of chicken stock or water if the liquid is not enough.

When the chicken is cooked through, add the chopped parsley and the remaining thyme. Stir once again and serve it hot.
This chicken cacciatore recipe was originally published on Love To Eat Italian.