A very easy to make, very nutritious, yummy banana raspberry smoothie with almond milk. Ideal when you're craving for something yummy yet healthy.
It is rich in potassium, completely lactose-free and dairy-free, as we use almond milk instead of milk. A splash of coconut oil makes it fragrant, and also this is considered a very healthy fat, recommended by various nutritionists, including most keto gurus.
Why Is There Almond Flour In This Recipe?
This is not a low calorie recipe. Drinking this smoothie in the morning will provide you with the necessary nutrients and calories you need throughout the morning. And sorry to tell you, but in order to eat healthy you do need calories and fats.
That's the main purpose of almond flour here. It will provide you with energy; half of the fats and more than half of the protein in this recipe. Though you can simply leave it out if you don't need it's benefits.
Is It Keto Or Paleo?
Unfortunately this smoothie is not keto or paleo, the two most popular diets of our time. The only reason this recipe is out of the realm of these diets is banana. A very healthy fruit, though high in sugars. So if you're on keto or paleo but still OK with banana, go ahead and try it!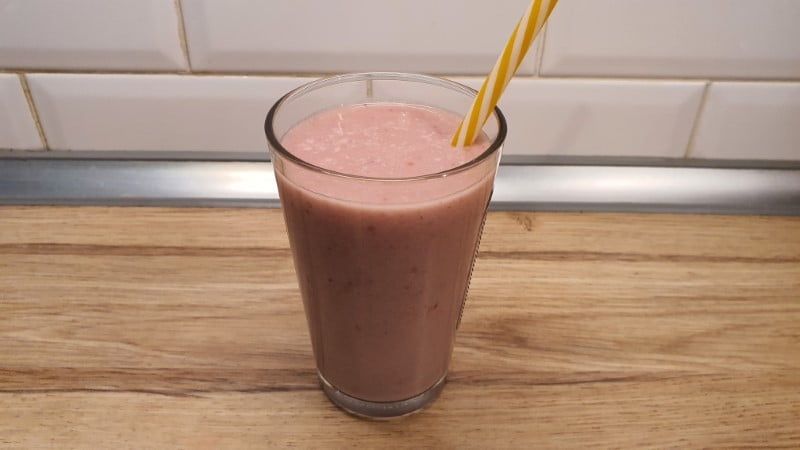 Banana Raspberry Smoothie With Almond Milk
Ingredients
1

banana

large, ripe, about 150 g

¼

cup

raspberries

fresh or frozen, 25g

2

tbsp

almond flour

20 g

½

tbsp

honey

13 g

1 ½

tsp

coconut oil

8 g

1

cup

almond milk

natural, no sugars added, 230 g
Instructions
Put all dry ingredients in a blender, food processor or immersion blender cup.

Blend for 20-30 seconds, until smooth.
Nutrition
Serving:
480
ml
Calories:
411
kcal
Carbohydrates:
49
g
Protein:
7
g
Fat:
22
g
Potassium:
582
mg
Sugar:
30
g